Tell Betsy DeVos Teachers Do Not Want to Bring Guns Into Classrooms | Opinion
Teachers do it all. Over the course of her decades in the classroom and on campus, my mom would teach all day and prepare all night. She taught English as a second language in some of the poorest schools in Texas, trekked across the country on school trips, and inspired her students to achieve beyond what they imagined was possible. She got them out of problems and into college. She didn't just educate—she counseled and protected. School, she understood, was a sanctuary.
When they put more kids in a classroom, my mom taught more kids. When they paid her less, she kept on teaching. When budgets dried up, she dug into her pocket to pay for copies and supplies.
Politicians have a habit of asking teachers to do more with less, but no one ever, ever asked her to pick up a gun.
Most of you don't know my mom, but you know teachers like her. Education isn't just their vocation; it's a labor of love and a fundamental expression of a purpose-driven life. They do not want to carry guns, serve as armed guards, or be asked to undergo firearms training.
The idea seems farcical, but that hasn't stopped Donald Trump's Education Secretary, billionaire conservative activist Betsy DeVos, from considering diverting federal education funds to pay for arming teachers.
It's a real head-scratcher.
82 percent of educators polled said they would not carry a gun at school, even though 63 percent of those polled owned guns themselves.
Law enforcement officials represented by the Major Cities Chiefs Association and the National Association of School Resource Officers—the people we actually trust to help keep kids safe—say it's a bad idea. As J. Thomas Manger, police chief of Montgomery County Maryland, said, "The more guns that are coming into the equation, the more volatility and the more risk there is of somebody getting hurt."
Military veterans, men and women with demonstrated concern for the safety of our country and unparalleled experience with guns and live fire scenarios, think that basing the safety of our kids on a "good guy with a gun" is a recipe for disaster. Citizens with little or no relevant training are likely to make a situation worse, not better.
As shocked as you probably are that the Trump administration and Betsy DeVos could be pushing to arm teachers, you shouldn't be surprised. Because what is this proposal other than the insane (but in their minds logical) conclusion of NRA leaders' tragic vision for America? It's an acknowledgement that we can't protect our kids without new gun laws, that when it comes to the safety of our kids, the best we can hope for is shootouts in classrooms.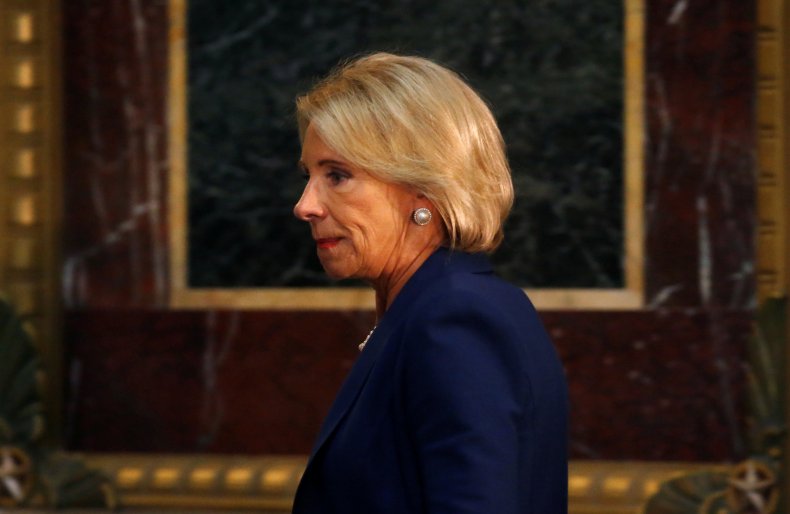 It's imperative that we stop this stupid (yes, stupid) idea in its tracks. Congress should immediately pass legislation that forbids the government from spending money to arm teachers. The appropriations bill currently under consideration is the appropriate place to do that.
However, it's not enough to simply block DeVos. We need to pass laws that truly will protect our kids and communities from gun violence. Universal background checks have reduced violent crime in the states that have them—let's pass that at the federal level. Extreme Risk Protection Orders have been shown to save one life per 10-20 orders issued; let's put that into effect in all 50 states. Over two-thirds of students who used guns to commit "targeted violence" against their school acquired the firearms used in their attacks from their own home or from a relative. We can pass safe storage legislation to keep guns away from children and thieves.
As unacceptable as it is to accept kids being scared to go to school because of the threat of shootings, we can't ignore threats outside of school. Ke'Shon Newman, a Giffords Courage Fellow, eloquently remarked that in his Chicago neighborhood, school is the safest place to go. Where is this administration's concern for his safety and the broader threat of gun violence we all face?
In a year filled with unsettling stories, one that can give us hope comes from the kids you'll find in our classrooms. In one of the most important fights of our time, our collective campaign to save thousands of people every year from being shot, kids are assuming the responsibilities of adults. All the while, adults are acting like children.
Contrast, for example, the behavior of Donald Trump, his cabinet, and our leaders in Congress confronting shooting after shooting, against the young people across this country who are mobilizing to protect their own lives from gun violence. Who would you say is evading responsibility? Who is prone to outbursts and ad hominem attacks? Who's substituting fantasy for reality? Ask teachers like my mom, they will make sure you get the right answer.
Peter Ambler is Executive Director at Giffords.
The views expressed in this article are the author's own.​​​​