Betsy DeVos Thought Black Students Were Too Stupid to Understand Her Agenda, Omarosa Book Claims
Education Secretary Betsy DeVos suggested black students didn't have the capacity to understand her agenda, according to the new tell-all book from former White House aide Omarosa Manigault Newman.
Maintaining that several members of the Trump administration, including President Donald Trump himself, were racist, Manigault Newman hit out at the education secretary over comments she allegedly made after she was booed at a historically black college.
Manigault Newman was with DeVos when she traveled to Florida's Bethune-Cookman University to give a speech in May—but DeVos's presence didn't go down well, and she was given a frosty reception by attendees.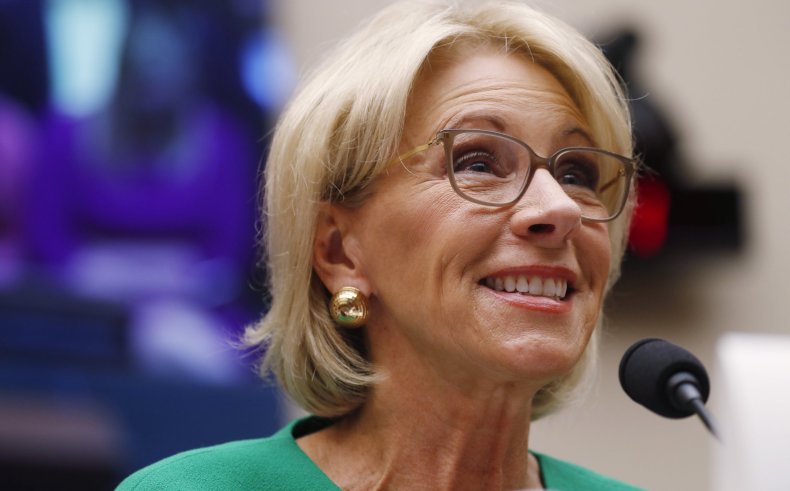 "Betsy got up onstage to give her speech and was immediately, loudly booed by the entire audience," Manigault Newman wrote in her book Unhinged, which was released on Tuesday.
"Graduating students and their families stood up and turned their backs on her. I was seated onstage watching this travesty unfold. When the booing started, she should have wrapped it up, but she went on and on for twenty minutes, talking over the booing. I was thinking 'It's not about you! Abandon your full speech! Adjust, woman!'" Manigault Newman said in her book.
Following the incident, Manigault Newman said she asked DeVos about the speech, and the education secretary said: "I did great!"
Commenting in her book that she must have look surprised by DeVos's response, Manigault Newman said DeVos told her: "They don't get it. They don't have the capacity to understand what we're trying to accomplish."
"Meaning," wrote Manigault Newman, "all those black students were too stupid to understand her agenda." Manigault Newman said she told the education secretary: "They get it. They get it, and they aren't happy about you or your goals."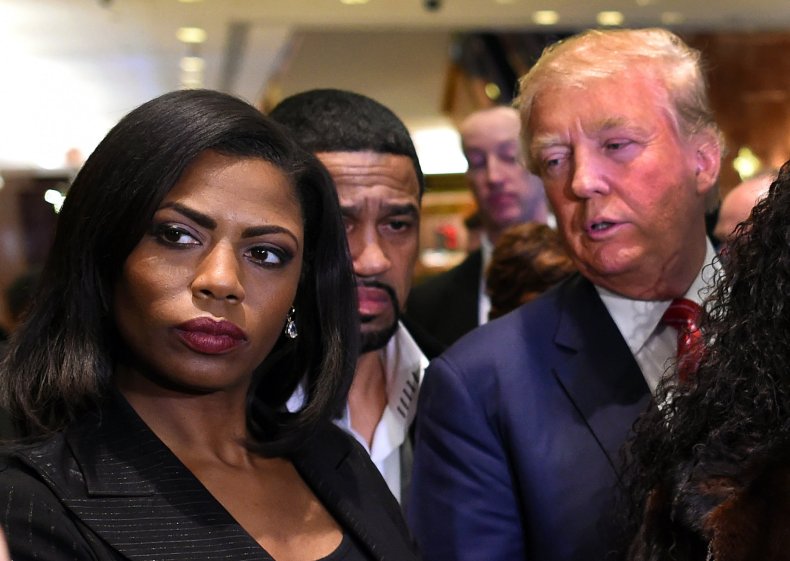 DeVos did not fare well in Manigault Newman's telling of her time at the White House. Manigault Newman wrote that she was "woefully inadequate and not equipped for her job," and alleged that Trump had referred to the education secretary as "ditzy DeVos," Politico reported.
The book has been attacked by the White House, with Trump slamming his former aide as a "dog" and suggesting in a tweet that he had given her a job on his staff because she had begged for one.
"Wacky Omarosa, who got fired 3 times on the Apprentice, now got fired for the last time. She never made it, never will. She begged me for a job, tears in her eyes, I said Ok. People in the White House hated her. She was vicious, but not smart," he wrote.
The White House did not immediately respond to Newsweek's request for comment. The Department of Education issued a sharply worded response Wednesday.
"The book is a joke as are the false claims she's making about Secretary DeVos," Department of Education press secretary Liz Hill said in a statement.
This article was updated to remove a typo in the spelling of Betsy DeVos. It was further updated to include a statement from the Department of Education.