Betsy DeVos Says Trump Admin Is 'Committed' to Students With Disabilities, Yet Doubles Down on Plan to Defund Special Olympics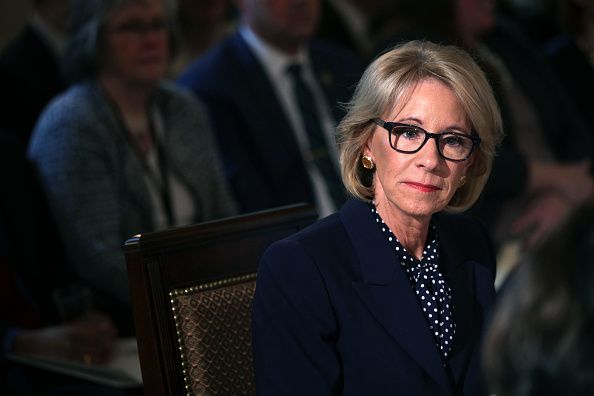 Secretary of Education Betsy DeVos responded to overwhelming criticism over her department's plan to cut money from the Special Olympics, saying on Wednesday that while the federal government is "committed" to students with disabilities it "cannot fund every worthy program."
"It is unacceptable, shameful and counterproductive that the media and some members of Congress have spun up falsehoods and fully misrepresented the facts," DeVos wrote in a statement.
"Make no mistake: we are focused every day on raising expectations and improving outcomes for infants and toddlers, children and youth with disabilities, and are committed to confronting and addressing anything that stands in the way of their success," she added.
Even so, her statement then goes on to defend the Trump administration's budget proposal. The plan aims to cut at least $7 billion from education programs, including nearly $18 million from the Special Olympics.
"There are dozens of worthy nonprofits that support students and adults with disabilities that don't get a dime of federal grant money. But given our current budget realities, the federal government cannot fund every worthy program, particularly ones that enjoy robust support from private donations," she wrote.
DeVos's remarks came just one day after she was grilled by lawmakers on Capitol Hill during a House Appropriations subcommittee about the budget cuts. Overall, DeVos proposed a 12 percent decrease in funding for her department for fiscal year 2020.
During the meeting, Democrat Mark Pocan asked DeVos whether she knew how many children would be affected by slashing the budget for the Special Olympics. When Pocan told her that the number was 272,000, DeVos said that the program is "an awesome organization" that is also "well supported by the philanthropic sector."
DeVos's comments on Tuesday quickly sparked outrage and backlash from the education community and advocacy groups.
A spokesperson from the Special Olympics told Newsweek in a statement on Tuesday that "as is the case each year after the President presents his budget to Congress, we engage in opportunities, such as our annual Capitol Hill Day activities, to educate lawmakers about why grant funding for our health and education programming is critical to protecting and increasing access to these services for people with intellectual disabilities."
The Special Olympics is the world's largest sports organization for people with intellectual and physical disabilities. According to its website, the organization works with more than five million athletes across 174 countries.
In her statement on Wednesday, DeVos also mentioned that she has "personally supported" the mission of the Special Olympics. On Tuesday, a spokesperson for the administration confirmed that she made a donation last year to the organization.