Education Secretary Betsy DeVos has been slammed by LGBT rights advocates for refusing to protect transgender students denied access to bathrooms and lockers based on their gender identity.
During a House Appropriations subcommittee meeting on Tuesday (March 20), Republican representative Mark Pocan asked DeVos how the Education Department planned to respond to complaints put forward by trangender students regarding this issue.
Pocan sought to clarify DeVos' stance after the Trump administration last year withdrew Obama-era federal protections for transgender students at public schools allowing them to use facilities that matched their chosen gender identity.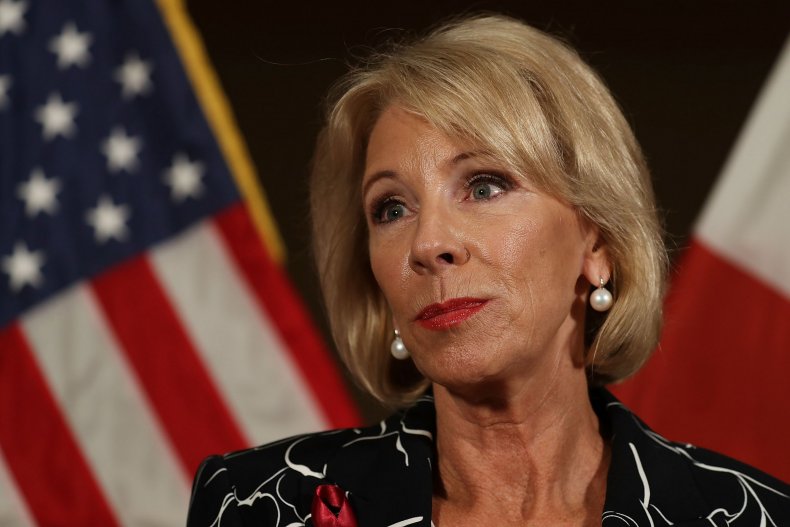 Last month, a spokesperson for the Education Department told BuzzFeed News it would not investigate or take action on bathroom and locker room complaints filed by transgender students. The department did not immediately respond to a request for comment.
The spokesperson said that the department would not interpret Title IX—a 1972 federal civil rights law which prohibits discrimination "on the basis of sex" in publicly funded educational institutions—in regards to transgender students.
As Pocan posed the question, he claimed that DeVos previously suggested that states should be "flexible" on protecting LGBT rights.
"This department is not going to make law; we are going to continue to enforce laws that we are given to do," DeVos told the subcommittee on Tuesday.
"We have continued to protect the rights of students as defined under Title IX and continue to do so [...] until either the Supreme Court or Congress clarifies the law with regard to transgender access to bathrooms, athletic locker rooms, and athletic teams. That is not an area where law has been clarified," said DeVos.
Read more: Academic Says Trans Women Are Parasites for 'occupying the Bodies of the Oppressed'
Vanessa Ford, whose 7-year-old daughter came out as trans in 2015, met with DeVos to discuss transgender children's rights last year.
The former teacher who is a director of training and curriculum at a national education non-profit told Newsweek: "There are schools that will always make sure that all students in their building are valued and safe. There are schools that never will. And then there are the vast majority of schools who have leaders and teachers who want to do the right thing—but are confused and unsure how to do it. These comments from the Department of Education add to the confusion—making people think that they are the law. They are not.
"Students and families still have legal recourse. And while those confused districts will eventually see change through the courts (and expensive settlements) those losses won't be nearly as devastating as the impact on the youth who have to wait to be recognized as who they are. By adding confusion to the mix, this department has pushed an ideology that puts trans youth's lives at risk."
Jessica Stern, executive director of LGBT human rights organization OutRight Action International told Newsweek: "Betsy DeVos is failing as Secretary of Education. She continues to advance policies that harm LGBTIQ students, especially trans students, undermining their rights, and exposing them to discrimination.
"These types of policies will only exacerbate the higher rates of bullying and harassment already experienced by LGBTQ youth. LGBTIQ students deserve access to education, too."
Sarah Kate Ellis, president and CEO of LGBT rights group GLAAD, condemned DeVos' comments: "As Secretary DeVos fumbles through another congressional hearing, her record of walking-back LGBTQ protections and actively refusing to aid transgender students facing discrimination speaks for itself.
"It is long past time for Secretary DeVos to reverse course and clearly denounce policies that target LGBTQ students. Our Secretary of Education should be fighting for all students, not actively making life more difficult for transgender students," said Ellis.
"Secretary DeVos' remarks were disappointing, though unsurprising," said National Center for Transgender Equality executive director Mara Keisling.
Referring to courts upholding the rights of individual transgender students to access the facilities which match their gender identities, Keisling added: "Since last year, the Department of Education has repeatedly and willfully turned a blind eye to federal court decisions, to the needs of school administrators, and to the needs of all students—including transgender students."