Betsy DeVos, Who Wants to Slash Education, Thinks Young Adults Support Socialism Because Education is Inadequate
Education Secretary Betsy DeVos blames young adults' support for socialism on inadequate civics schooling, The Washington Post reported.
In an interview for the Daily Signal Podcast, a production of conservative think tank the Heritage Foundation, DeVos spoke about Americans' views on capitalism and socialism.
Fifty-one percent of individuals ages 18 to 29 have a positive view on socialism, while 45 percent support capitalism, according to an August Gallup poll.
While support for socialism among individuals ages 18 to 29 is the same as it was in 2010—and declined 4 percent from 2016 to 2018—backing of capitalism has significantly dropped during the eight-year period. In 2010, 68 percent of that age group viewed capitalism positively. In 2016, 57 percent still supported the economic system, meaning more than half of the 23 percent drop over the eight years occurred recently.
"We've seen recently some polling to indicate that socialism is on the rise in terms of a belief system that many young people seem to be clamoring for," Robert Bluey, vice president of publishing for the Heritage Foundation, said in the interview. "Do you believe this is a cause of the education system and some of the beliefs that are being taught to students? Or is there another factor why they are gravitating toward such a destructive force like socialism?"
DeVos responded by saying that "students aren't getting the kind of foundation in civics and government that I recall getting as a student in K-12 education. And they're coming then into higher education without the background to even know and understand competing ideas, and then without the ability to discuss and debate them."
The secretary has proposed cutting funding for civics education programs, according to The Washington Post.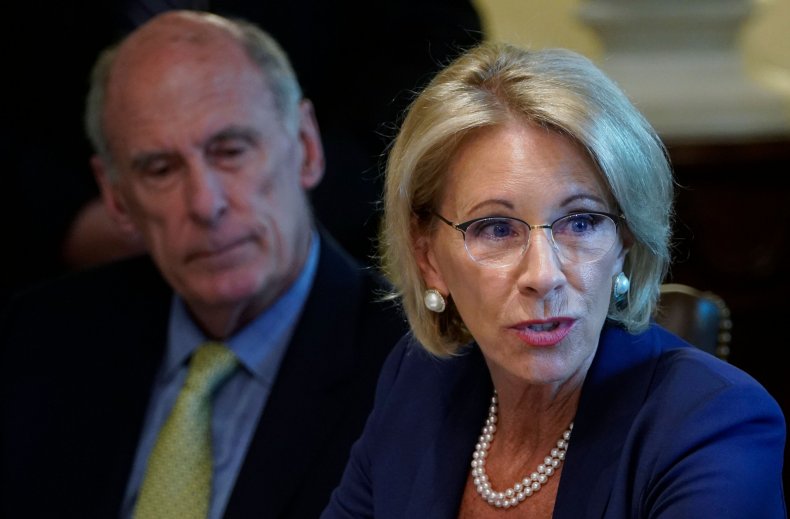 As a cabinet member, DeVos has attempted to alter the country's education policy significantly. She has called for using public funding to allow students to choose charter, magnet and private schools; proposed slashing funding for colleges and universities to pay for more career training; and advocated eliminating after-school programs for children in need.
Congress has rejected many of her spending proposals for two straight years, The Washington Post reported. Earlier in 2018 she attempted to cut funding to America's beleaguered education system by $9 billion, which amounted to nearly 13 percent of the department's budget, according to the Post.
DeVos was among Trump's most contentious cabinet picks. Government accountability organizations and critics noted her myriad conflicts of interest, which derived from business holdings.
"Seldom have we seen a worse cabinet-level ethics mess than that presented by Betsy DeVos," members of watchdog group Citizens for Responsibility and Ethics in Washington wrote in an editorial in February 2017.
Fifty senators voted against DeVos's nomination, and Vice President Mike Pence broke the tie, the first time in history a second-in-command has been the decisive tally on a cabinet nomination, according to The Guardian.