Betsy DeVos's 'House Sucks,' Reflects the Rich Who 'Dismantle the Public School System': McMansion Hell
It isn't only Secretary of Education Betsy DeVos who has come under increased scrutiny in recent weeks. Her house has too.
Kate Wagner, who created the architectural humor blog McMansion Hell and apparently owes $42,000 in student loans, reviewed DeVos's 22,000-square-foot summer mansion in Holland, Michigan, and it wasn't complimentary.
"Betsy's house is, in general, a mess," Wagner wrote in her piece, published by Vox on Monday. Wagner explained that DeVos's house "attempts to play" on the historical American shingle style characterizes by excessive shingles use and three-dimensional details.
"Even though Betsy is riffing on the shingle style, there is a difference between architectural complexity and a mess," Wagner wrote. "Betsy's house looks like a compound of multiple unfinished parts, and nothing about its hulking facade really gels."
In images of DeVos's nautical-style house, Wagner draws arrows for commentary including, "assuming this is the lifeboat," of a room jutting out, and of one of the living rooms writes, "a perfect setting for discussing why poor people deserve to be poor and how teachers are a parasite on this nation."
Wagner also attacks DeVos herself, who recently rolled back Obama era loan forgiveness for college students.
"It's unsurprising that she doesn't want to forgive the student loan debts of those defrauded by for-profit colleges considering that she got her net worth of more than $1 billion from her husband's company, the multilevel marketing giant Amway, which is often described as a cult," Wagner wrote.
DeVos on Thursday took a step to roll back a keystone of the Obama administration's effort to crackdown on for-profit schools, that was intended to cut off federal funding to campuses with low-performing programs. It is just the latest of her plans of which Democrats and others have been heavily critical.
An online petition to replace DeVos with NBA player LeBron James, who last month opened a public school for at-risk youth, has gained more than 29,000 signatures.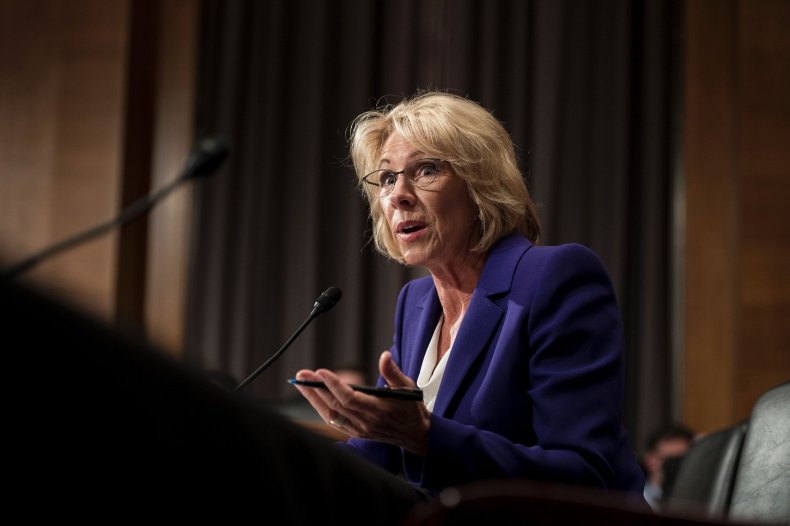 "In America, the rich get richer, and the poor have to beg the federal government to forgive the debts they owe to predatory for-profit colleges run by the rich who keep on getting richer," Wagner wrote. "What do the rich do with all their money? Build horrific monstrosities with eight dishwashers and dismantle the public school system."
Wagner added that architecture "is never a vacuum."
"This house sucks, but like all buildings, it is a reflection of both the people and the broader culture that make building it both possible and desirable," she concluded. "Those, too, irrefutably suck."