Bette Midler, Alyssa Milano and Other Celebrities React to 'Joke' $600 Stimulus Check
The belated and much-negotiated $900 billion pandemic relief deal has been announced by Congress with $600 stimulus checks to be given to struggling Americans.
The second round of stimulus checks come along with steps to improve unemployment benefits as well as an extension on eviction moratoriums for renters.
"We can finally report what our nation has needed to hear for a very long time: More help is on the way," Senate Majority Leader Mitch McConnell (R-Ky.) said on the floor. "I hope we can do this as promptly as possible."
The $600 checks will only go out to those making less than $75,000 a year or couples making less than $150,000.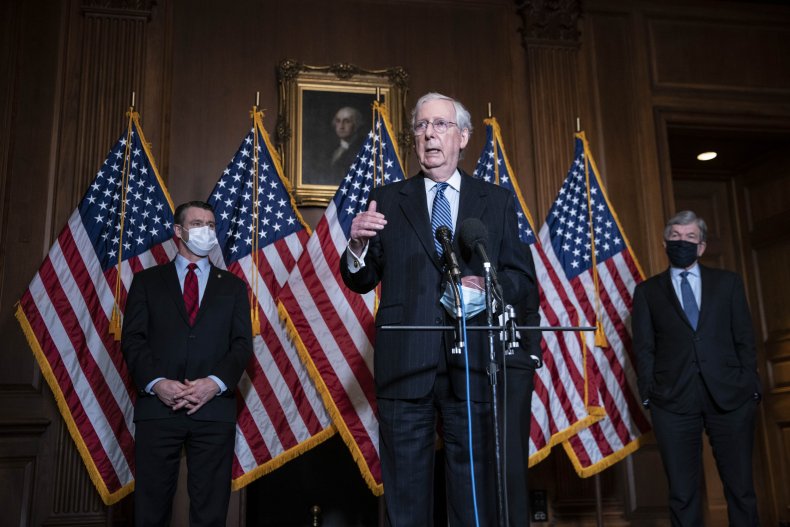 However, the $600 has been deemed an "insult" and a "joke" by some.
A number of celebrities have been reacting to the move with several having harsh words for Congress' decision.
Vocal anti-Donald Trump actress Bette Midler predicted on December 19 that the stimulus bill would pass ahead of Congress taking their holiday break.
"Does anyone doubt that #Congress will suddenly pass a #Covid relief bill this weekend so they get to go on their vacations?" the Hocus Pocus star tweeted, followed by: "Told ya so."
Comedian Eva Victor added: "six hundred dollars wowee what will i do with ok yeah it's gone."
Political commentator Robert Reich described the check as an "insult," tweeting: "$600 is an insult to millions of Americans."
Author Don Winslow added: "Members of Congress were paid $130k to spend 9 months arguing about whether you deserve $600."
Activist Bernice King wrote: "A Space Force. But $600 to aid people during a pandemic."
She then quoted her father, the late Dr. Martin Luther King Jr.: "A nation that continues year after year to spend more money on military defense than on programs of social uplift is approaching spiritual doom."
Charmed star Alyssa Milano was very blunt in her opinion of the check, tweeting: "SIX HUNDRED DOLLARS IS A F****** JOKE."
"$600. $600 is what families get for the hell and death this year has caused. Shame on Mitch. Shame on the Republican Party," actress Amber Tamblyn tweeted.
Meanwhile, controversial comedian Kathy Griffin took aim at McConnell, tweeting: "This f***** right here. Reminder, the stimulus checks will only be $600, because we Democrats LOST the majority in the Senate. The Republicans have more votes than we do. That's how this shit works."
"BREAKING: Members of Congress who spend hundreds of thousands of dollars on living expenses a year are confused why the American people can't live off of $600. Story developing," Chelsea Handler added.