Bette Midler Says Donald Trump Will 'Burn Down' The White House Before He Leaves
Bette Midler has said that Donald Trump will "burn down" the White House before he leaves.
The actress and frequent outspoken critic of the president has been vocal about recent events following the attack on the Capitol in Washington D.C. on January 6.
"5 PEOPLE DIED," Midler tweeted Tuesday referring to the five people who lost their lives during the insurrection last week. "5 who'd be alive except for the viciousness & insanity of #DonaldJackassTrump."
Referring to the U.S. coronavirus death toll, she added: "Let's add them to the over 375,000 corpses already piled up at his feet. How many more will die in the service of this mediocrity? And watch, he'll burn the WH down before he goes."
Calls are mounting for Trump's removal from office in the last days of his term.
Vice president Mike Pence has been urged to invoke the 25th Amendment to strip Trump of power and install himself as leader for the remainder of the term. However, with no movement on this route, Democrats have pursued impeachment.
Trump condemned Congress for planning a second impeachment of him this week, accusing Democrats of the "continuation of the greatest witch hunt in the history of politics."
"It's ridiculous—absolutely ridiculous," Trump told reporters before departing the White House for a visit to the southern U.S. border in Texas. "This impeachment is causing tremendous anger, and it's really a terrible thing that they're doing."
The president has also been permanently banned from Twitter as well as a number of other social media sites—in a move that has concerned world leaders.
Midler famously uses her sizable platform on Twitter to denounce the Trump administration and the GOP—and rarely holds back with her cutting insults.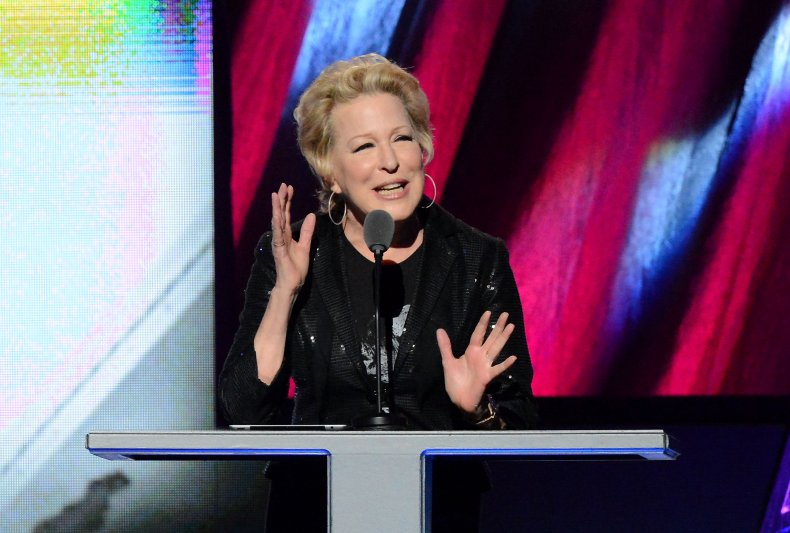 The Hocus Pocus actress previously said that the White House will need to be "fumigated" after Trump's term.
"Before #Biden moves into the White House, it's said to need fumigation," Midler tweeted in November. "It will be misted with disinfectant to kill any lingering Covid from the totally infected #Trump administration. Probably wouldn't hurt to hose it down with holy water, either."
Additionally, the "Wind Beneath My Wings" singer referred to the president as a "vampire" and said he needs a "stake through the heart."
"Sometimes I think Whats-his-name is a kind of vampire and someone needs to drive a stake through his heart, so we can #breatheagain," Midler tweeted in December. "Of course, he's driven a lot of steak through his own heart tho, so...fingers crossed!" she added.