Bette Midler Mocks QAnon, Jokes She is 'Q'
Bette Midler is famously not a fan of Donald Trump supporters and now the highly political actress has unleashed her ire on QAnon.
The "Wind Beneath My Wings" singer mocked the online community by joking that she is their leader, Q.
Supporters of the radical conspiracy have been increasingly making headlines for their ongoing support of the former president and the storming of the U.S. Capitol on January 6, which was attended by many self-proclaimed QAnon members, most famously, Jake Angeli, aka the QAnon Shaman, who is facing criminal charges for taking part in the insurrection.
"Ok, I admit it. I'm Q," Midler tweeted on February 6. "And for every Republican whose heart was broken when Q never showed up, guess what? I was at home being Jewish! Face with tears of joy #IDidItForTheLulz."
She later joked that "being Q was probably the most fun thing I ever did."
"I wanted to see if people would believe lies more insane than the ones Donnie was telling every day & they did!" she said. "And here's a Q-tip! You're never supposed to put any of it in your ears."
The supposed individual behind QAnon goes by the pseudonymous identity known as Q and has never been identified.
In a later tweet Midler added: "Now that you understand that I am Q, the signs are so obvious, right?! There are 5 letters in QAnon, 5 in Bette. We're never pictured together. And for both of us, my husband can only name one or two of our biggest hits.
"Everybody now knows that I AM Q, and they are also asking, why did I pick Q? Because it's one of my favorite letters. I also love L, G, B, T...I & A!"
The conspiracy theorists have been the subject of much derision in recent weeks. Late-night comedian Jimmy Kimmel roasted the far-right movement on his show after Joe Biden's inauguration.
"This has been a very tough week for the QAnon crowd," Kimmel said on a recent instalment of Jimmy Kimmel Live. "The prophecies that they built much of their lives around didn't come to fruition. These guys woke up yesterday thinking they were about to watch Trump round-up and arrest all the elites, the pedophiles and by six o'clock, Tom Hanks was introducing Bill Clinton to congratulate Joe Biden on being president."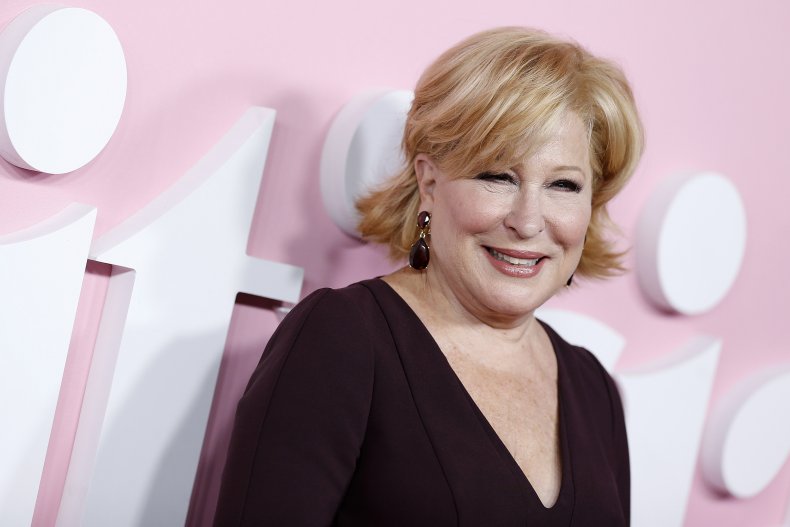 Midler's latest round of tweets come as the actress celebrates the end of the Trump era in the White House.
Last month, she joked that Trump's resort Mar-a-Lago was a "funeral home" in a viral tweet.
Posting to her two million followers, she tweeted: "Seeing reports that the mood around Mar-a-Lago is dark, and that it isn't as 'lively' as it was before."
She mocked: "Um, have you ever seen pictures of that place? It looks like a funeral home for funeral homes."
Midler's statement comes amid reports that the resort—once nicknamed the Winter White House—is seeing its members leave en masse to avoid being associated with Trump.