Bette Midler Says Governor Greg Abbott Is a 'Sociopath Unfit for Office'
Bette Midler is not happy with Greg Abbott. The actress slammed the governor for removing drop-off locations for absentee ballots throughout the state of Texas. Now, the counties are limited to one drop-off location each, which appears to be encouraging the GOP's efforts to restrict voting.
"THIS MAN IS A SOCIOPATH AND UNFIT FOR OFFICE. SO ARE MOST OF THE REPUBLICAN PARTY. THEY HATE DEMOCRACY!" Midler tweeted on Tuesday, blasting the governor's action. "Gov. Greg Abbott limits counties to one absentee ballot drop-off location, bolstering GOP efforts to restrict voting" she added, including a link from the publication Texas Tribune.
The Hocus Pocus actress has been vocal about her criticism of President Donald Trump and the Republican Party. Newsweek did not receive comment from Bette Midler at the time of publication.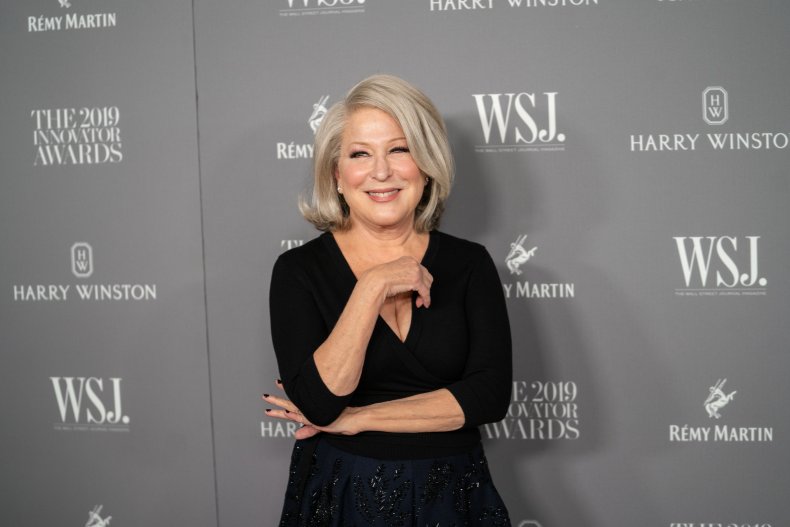 The drop-off locations will also permit political parties to have poll watchers survey the area and process, according to Texas Tribune. The governor described his limiting drop-off locations as an effort to "strengthen ballot security protocols throughout the state."
The Texas Democratic Party was not happy with Abbott's decision.
"Republicans are on the verge of losing, so Governor Abbott is trying to adjust the rules last minute," Gilberto Hinojosa, Democratic Party Chair, said in a statement via Texas Tribune. "We are creating a movement that will beat them at the ballot box on November 3, and there's nothing these cheaters can do about it."
In a state as large as Texas, one ballot box per county could cause a huge obstacle for folks trying to get their votes in. Harris County, for example, previously had a dozen of ballot drop-off locations. Now, the county whose square milage rivals the state of Rhode Island at roughly 1,700 square miles, has just one.
Harris County Clerk Chris Hollins said that the decision "to force hundreds of thousands of seniors and voters with disabilities to use a single drop-off location in a county that stretches over nearly 2,000 square miles is prejudicial and dangerous."
The state anticipates a "unprecedented number of absentee ballots" this year, due to the coronavirus pandemic. Many are opting to mail in their ballots and request absentee ballots, since in-person voting can pose some health risks. The U.S. Post Office previously warned of delays from mail-in votes, The Washington Post reported.
"The Postal Service is asking election officials and voters to realistically consider how the mail works," Martha Johnson, a spokeswoman for the USPS, previously said in a statement in August.