Bette Midler Says She 'Was Wrong' to Insult Melania Trump's Accent
Today, actress Bette Midler admitted that she "was wrong" to insult the Slovenian accent of First Lady Melania Trump.
The Golden Globe-winning actress mocked Trump's background and accent on Tuesday, while the First Lady was delivering a speech for the Republican National Convention from the Rose Garden at the White House. During Trump's speech, Midler wrote, among other things, "Get that illegal alien off the stage!"
As if she were on a roll, Midler continued with the insults, mocking the former model's marriage to President Donald Trump. Midler described the president's wife as "one lucky Slovenian."
"And after all that surgery, you hit a kind of horrible jackpot, chained to a colossal idiot," she added.
The Hocus Pocus actress was criticized widely for her remarks. Initially, though, she defended her comments. On Wednesday afternoon, the 74-year-old multi-hyphenate argued that she was, "Just giving them a taste of their own immigrant bashing medicine. I guess they're not keen."
Eventually, though, Midler acknowledged on Twitter, with perhaps a little bit of sarcasm, that "all hell has broken loose." She added in her tweet, "America is made up people who speak with all kinds of accents, and they are all welcomed always."
Among Midler's critics was Ross Kaminsky, host for Denver's 630 KHOW, who tweeted, "How many languages do you speak, Bette? Melania: Slovenian, English, French, Italian, and German."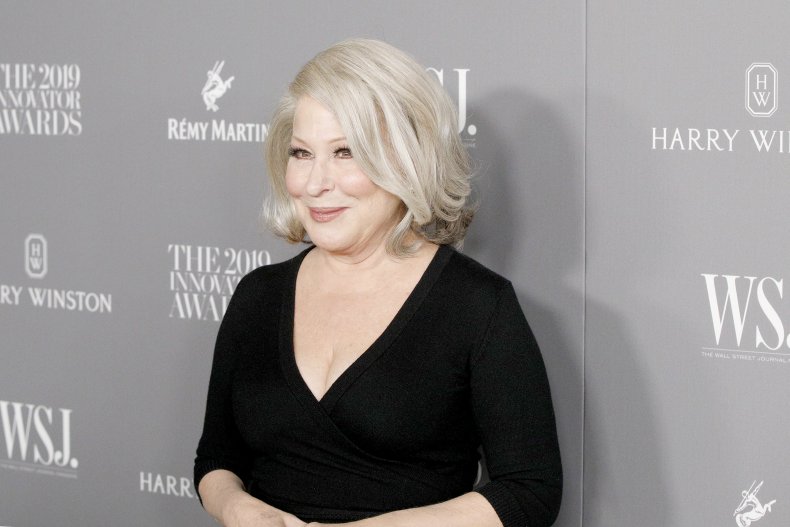 Kennedy, the former MTV host and Fox News personality, also got a jab in. She punned on the title of an iconic Midler song, writing, "Who knew xenophobia was the wind beneath your wings!"
"Dunking on an immigrant for not speaking her second language as well as you speak the only language you know to own the cons," stated Becket Adams, a senior commentary writer for the Washington Examiner.
"It's just not funny to mock a non-native speaker's use of English. And she can speak English. Bette is clearly mocking her accent," argued Civil Rights Attorney Rebecca Kavanagh.
"I always admired your talents but I never realized you had such an unkind spirit. The meanness and ugliness in this tweet truly shocked me," wrote @SusanSpenc.
"I don't like them either but this is unnecessarily mean and beneath you. When they go low, we go high, remember?" argued @SaraHellvig.
Newsweek reached out to a representative at the White House but did not hear back in time for publication.
Updated 8/26/2020, 4:45 p.m. ET: This article has been updated with additional context and comments from people on Twitter.