Why AMC's 'Better Call Saul' is Television's Best Prequel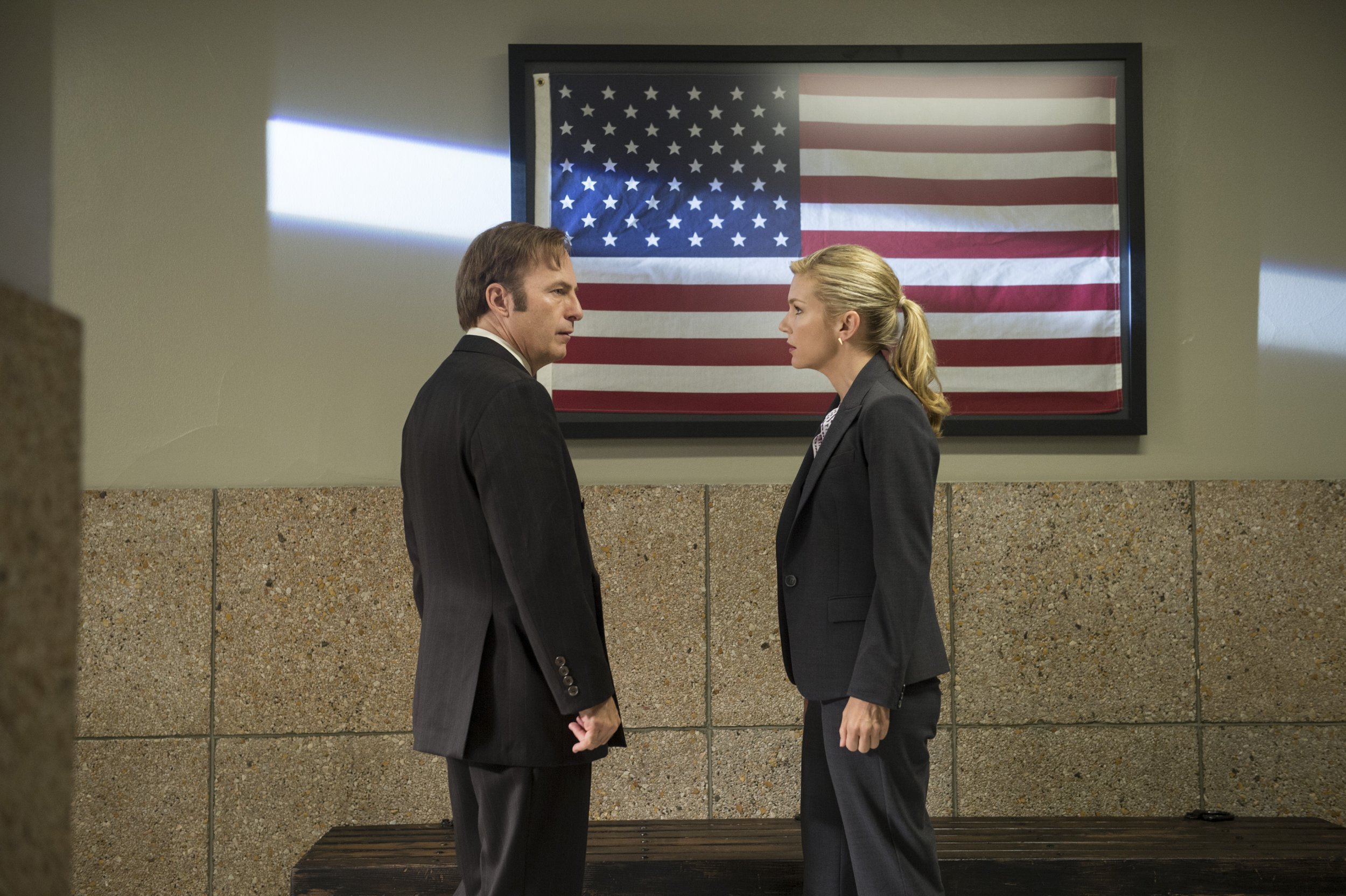 "Couldn't you just..."
"...you know I can't."
How's that for establishing the theme of a relationship? Those were the first lines of dialogue between Jimmy McGill (Bob Odenkirk) and Kim Wexler (Rhea Seehorn) in last year's series premiere of AMC's Better Call Saul. The two frustrated attorneys are leaning against a wall inside a parking garage, sharing a smoke. And before the audience even knows the nature of their union, Jimmy and Kim are finishing each other's sentences and confounding each other's expectations.
"There is an extreme intimacy between the two characters with no labels on it," says Seehorn, who was relatively unknown when she landed the role. "You'll notice that Kim doesn't choose to share the cigarette with Jimmy—he takes it and she doesn't flinch."
The relationship between Kim and Jimmy is television's most intriguing and satisfying affair. Both are lawyers, loners and occasionally lovers who have found in each other an accomplice in the shadow of Albuquerque's Sandia Peak, a pair of captivating drifters—and occasionally, grifters—getting their kicks just off Route 66. "Only two things I know about Albuquerque," Jimmy says in Season 1 when his older brother, Chuck (Michael McKean), proposes he relocate there from Chicago, "Bugs Bunny should've taken a left turn there. And give me a hundred tries, I'll never be able spell it."
For those who have yet to watch, Jimmy McGill is the given name of Saul Goodman, whom devoted fans of Breaking Bad recognize as Walter White's amoral attorney. In Better Call Saul, which has been renewed for a third season and airs this season's finale at 10 p.m. on April 18, Odenkirk reprises the role, adding depth while layering on humor. Seehorn, as Kim, is the Hepburn to his Tracy.
Odenkirk plays a born con man, alias "Slippin' Jimmy," who through a correspondence course with the American College of Samoa ("Go Landcrabs!"), has passed the bar and is practicing law out of a backroom in a nail salon. It doubles as his home. Jimmy is terminally charming, but armed with a law degree, he is, as Chuck artfully describes him, "a chimpanzee with a machine gun."
Kim colors within the lines at a respectable firm, one where Chuck is a partner, but she is seduced by Jimmy's playful nature. She is conflicted: Kim yearns to make partner, but she cannot resist being Jimmy's partner in crime. "There's a romantic vibe there," says series co-creator Peter Gould, "but they're friends first."
When we last saw Saul Goodman, three years ago in the penultimate episode of Breaking Bad, the amiable Albuquerque ambulance chaser was shipping off to a management position at a Cinnabon in Omaha (Jimmy McGill is the character's given name, but by the time we meet him on Breaking Bad, his professional name is Saul Goodman, as in "It's all good, man"). When AMC announced in 2013 that Odenkirk would return as the titular star of Better Call Saul, co-creators Vince Gilligan and Gould were confronted with the task of giving their comic foil some gravitas.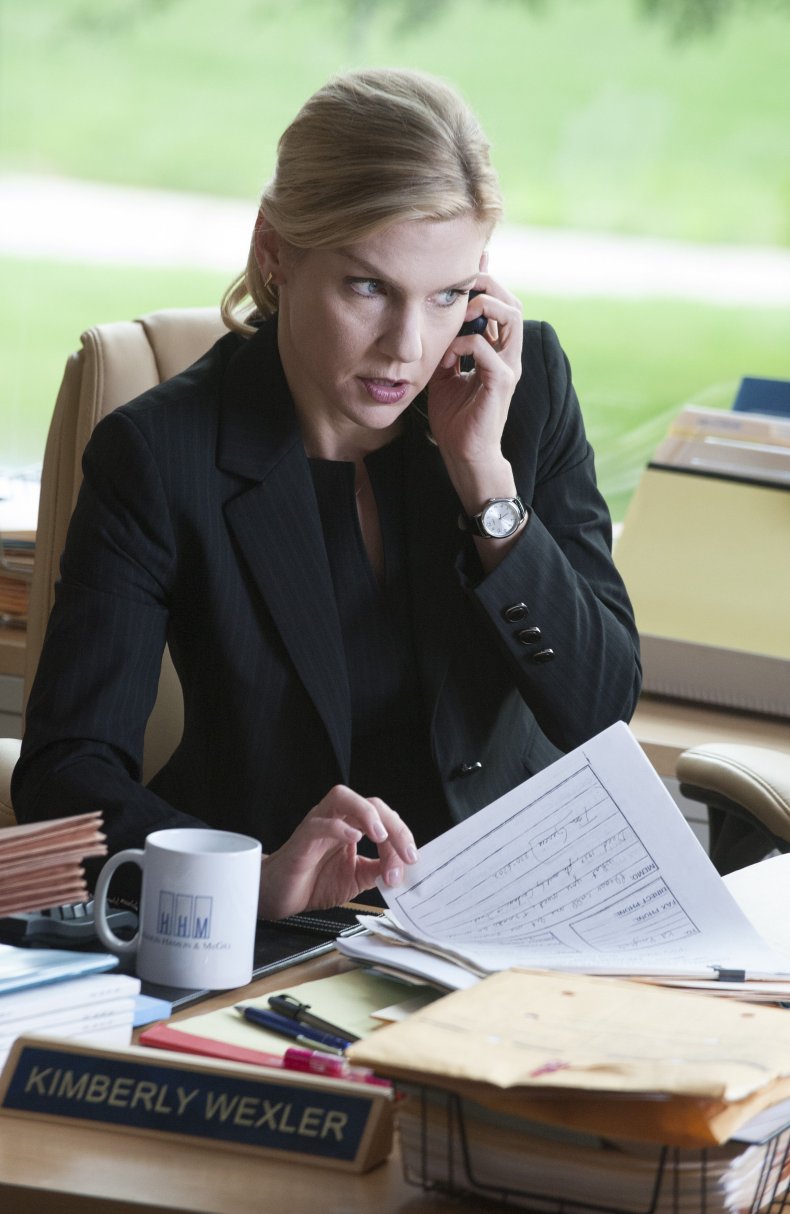 "The problem with doing a show about Jimmy/Saul is figuring out what could hurt him," says Gould, who was a writer on Breaking Bad. "That was our first job: How could Jimmy be hurt? Who does he care about?"
The answer: his older brother, Chuck, an esteemed attorney with none of Jimmy's people skills, and Kim, an associate at the firm of Hamlin, Hamlin and McGill. "We meet them 10 years into their relationship, but from the timeline we know that Kim and Jimmy were both working in the mail room in their late 20s," says Seehorn. "That says something about where they were in their lives. They didn't start out on the fast track."
Nor did Seehorn who, in her early 40s, has been the show's greatest revelation. She is to Better Call Saul what Aaron Paul's Jesse Pinkman was to Breaking Bad: an unconventional sidekick who ultimately establishes the closest relationship with the show's antihero. "We didn't plan it that way," says Gould, "but that's a wonderful parallel, really."
The Virginia Beach native spent a decade in Washington, D.C., followed by two years in New York City, relocating from one section of Brooklyn to the next, a pawn in the game of gentrification. "I lived in Williamsburg, and that got too popular so I moved to Greenpoint," she says. "Then they put a nightclub in our little neighborhood. What was left?"
Like Jimmy McGill, Seehorn fled west. In Los Angeles, she landed a supporting role in the much-hyped but short-lived NBC sitcom Whitney. When that got canceled, Seehorn was only slightly better known than a Cinnabon manager in Omaha.
"I know that Vince and I were not aware of her," says Gould. "Then we got to see her do a scene with Bob in her audition. She threw Bob off his rhythm in a weird way. She brings so much spontaneity. Rhea [pronounced "Ray"] is translucent."
Better Call Saul specializes in the slow reveal. In the series' first two episodes last year, Seehorn had just two lines. "I didn't know where Kim's character was going," says Seehorn, who read Scott Turow's autobiographical "One L" to prepare for her role. "But I knew enough about Vince and Peter to know that these people don't write tertiary characters."
"We didn't exactly know where her character was going either," says Gould. "We wanted someone who had Jimmy's number. And the two of them just have great chemistry."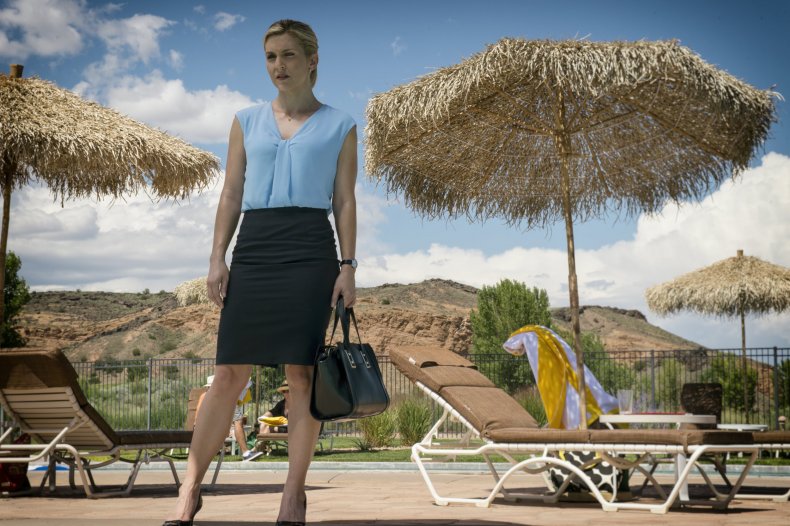 After Seehorn landed the role, she and Odenkirk drove up from Albuquerque, where Better Call Saul is shot, to Santa Fe for a day to get acquainted. "They just took it upon themselves to do that," says Gould. "They were looking for an ease with one another that the two characters already have."
It worked. The Jimmy-Kim dynamic is reminiscent of the banter between the leads in His Girl Friday or The Lady Eve; or, if you don't watch Turner Classic Movies, When Harry Met Sally. In the Season 2 premiere, after spending the night together, Kim balks at Jimmy using her toothbrush. He solves the problem by placing a dab of toothpaste on her index finger and inserting it in his mouth. She snorts. "The brilliance of that scene is that the actors make it feel like it's improvised," says Gould. "The way Kim laughs. The devil's in the details."
Seehorn is gifted at what Better Call Saul writer Genny Hutchison glibly calls "face acting." That is, portraying mood without speaking. In the most recent episode, Jimmy aims to smooth over a pothole in their relationship by karaoke-ing a different song on her voicemail every morning. We see Kim sitting upright on her bed, waiting impatiently. Then, as Jimmy croons the lyrics to "Bali H'ai," a smirk of recognition appears. Kim closes her eyes, swallowing Jimmy's affection like that first gulp of morning coffee.
"Jimmy's definitely carrying a torch for Kim," says Gould. "When he proposes that they go into business together in Season 1, offering her the corner office, that is tantamount to proposing marriage. Kim's feelings? They take a little longer to unfurl."
Kim is the conscience Jimmy so desperately needs. Jimmy is the renegade who lies dormant within Kim (unless she happens to be on her second Moscow Mule). In the Season 2 premiere, he cajoles her into pulling a harmless con on a boorish wealth-management guru (one of a few minor characters with whom Breaking Bad fans were already familiar) where they pose as siblings Victor and Giselle St. Clair. In the most recent episode, Kim is the one finding the mark and instigating the grift, convincing Jimmy to play hooky from the respectable job that she helped him land.
Better Call Saul is so much more than Moonlighting revisited, or even Breaking Bad Lite (with a third-less meth-related homicides than your regular Vince Gilligan fare). It is fluent with terms from Black's Law Dictionary while also coining terms for the Urban Dictionary (e.g., "Chicago Sunroof"). It has a fraternal rivalry subplot bordering on Cain and Abel. And it exists within that inimitable Vince Gilligan biosphere, populated with a menagerie of bizarre characters (a veterinarian who is connected to the mob) and predicaments, such as our hero scribbling a letter of demand on toilet paper.
But it also has Jimmy and Kim. These two can't quit each other. And yet every dedicated fan of Breaking Bad already knows the answer to "Will they or won't they?" As Kim admonished Jimmy in a recent episode, "You don't save me. I save me." She's going to have to.
Correction: An earlier version of this story incorrectly quoted Rhea Seehorn as saying Jimmy McGill "snatches it from her lips." The quote has been corrected to read "takes it from her." An earlier version also misstated that Rhea Seehorn spent "a decade or so in New York;" Seehorn spent a decade in Washington, D.C., followed by two years in New York City. The following quote, attributed to Seehorn—"Then they put a nightclub in our little neighborhood with no subway line. What was left?"—has also been corrected to, "Then they put a nightclub in our little neighborhood. What was left?"