Better Flooded With Negative Reviews After Mass Firing Over Zoom—'CEO Is a Garbage Person'
Better.com has been flooded with negative reviews online after the company's CEO fired around 900 employees over a brief Zoom call just weeks before the holidays.
Vishal Garg, the CEO of the mortgage lender startup, informed employees that about 15 percent of the workforce was being let go in a one-way video call last week.
"If you're on this call, you are part of the unlucky group that is being laid off," Garg said on the call, a recording of which has since circulated widely on social media. "Your employment here is terminated effective immediately."
Garg told the employees that the "market had changed" and that the cuts were necessary for the company's survival. But Better.com recently received a $750 million cash infusion from investors with a valuation of around $7 billion, according to Forbes.
Fortune reported that Garg later accused some of the terminated employees of "stealing" from their colleagues and customers by being unproductive and working just two hours a day.
The reports have led to Better.com's page on review platform Trustpilot receiving numerous one-star posts that feature criticism of Garg.
"The CEO is a garbage person," one post said.
"Terrible company led by a horrible man," another added. "Laying off this many people at this time of the year is a horrible thing to do and all to line his own pockets whilst blaming those he laid off."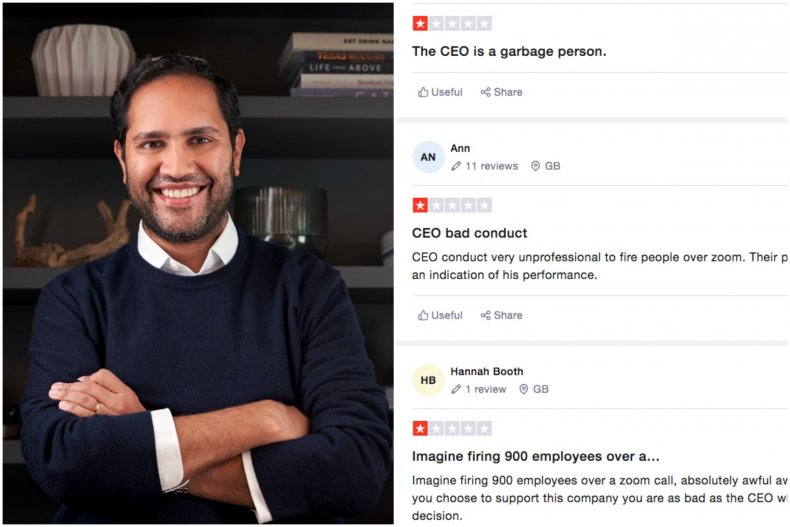 Some recent reviews urged people to boycott the company due to the layoffs.
"I wouldn't use this company as the CEO just laid off loads of employees right before the holidays while just receiving $750 million from SPAC [special purpose acquisition company] backers," one person wrote in a one-star review.
Another added: "Avoid using this company at all costs. Vile CEO has ruined many peoples lives just before christmas and even labelled people he doesn't know as 'lazy.'"
Some reviews called for Garg's resignation.
"The company CEO fired 900 employees just before Christmas over a Zoom call even though the layoffs were fiscally unnecessary and the company was thriving. It had literally just received a billion dollar cash infusion on top of its already massive profits," one review said.
"Until the board of directors removes CEO Vishal Garg in a Zoom call or he resigns, no one should use this company. If he is this unethical about how he treats his own employees how can you trust him for your mortgage? I definitely will not be using this product now."
Kevin Ryan, Better.com's CFO, said in a statement to Forbes that the company had laid off 9 percent of its employees.
"Having to conduct layoffs is gut-wrenching, especially this time of year; however, a fortress balance sheet and a reduced and focused workforce together set us up to play offense going into a radically evolving homeownership market," Ryan said.
Better.com has been contacted for additional comment.