Bette Midler Calls Donald Trump a Vampire Who Needs Stake Through the Heart
Bette Midler has called President Donald Trump a "vampire" in her latest tirade against the president.
The veteran actress and singer lashed out at Trump once again in a scathing in which she also said the outgoing commander in chief deserves jail time.
"Sometimes I think Whats-his-name is a kind of vampire and someone needs to drive a stake through his heart, so we can #breatheagain," Midler tweeted in the early hours of Wednesday, referring to Trump.
"Of course, he's driven a lot of steak through his own heart tho, so...fingers crossed!" she added.
Midler, 75, regularly takes to Twitter to express her great disdain for Trump—rarely holding back with the cutting insults.
Wednesday morning's tirade also saw Midler express her wishes to see the president incarcerated following his term.
"The #Trump campaign is asking its donors if Donald should run again in 2024, but they forgot to include the key phrase 'Well, you know, like if he's not in prison,'" she wrote. "Hope he goes to jail until BARRON graduates Borough of Manhattan Community College.. #TrumpIsALaughingStock."
Responding to a Twitter user who called Trump a "genuinely good man," the Hocus Pocus actress shot back to call him "a con-man, a fraud, blot on the American body politic HE deserves to go to jail."
She added: "Anyone who does not understand this is simple-minded, dimwitted, or a product of the American public school system, which teaches NOTHING!"
This tweet saw Midler criticized by Twitter users for disparaging the public school system.
"Bette, I've always liked you and your movies. However, as a retired teacher, I resent you saying the school system teaches nothing! I mean, I don't tell you how to act, you have absolutely no idea, the life of a teacher, or the long hours we work," one person tweeted.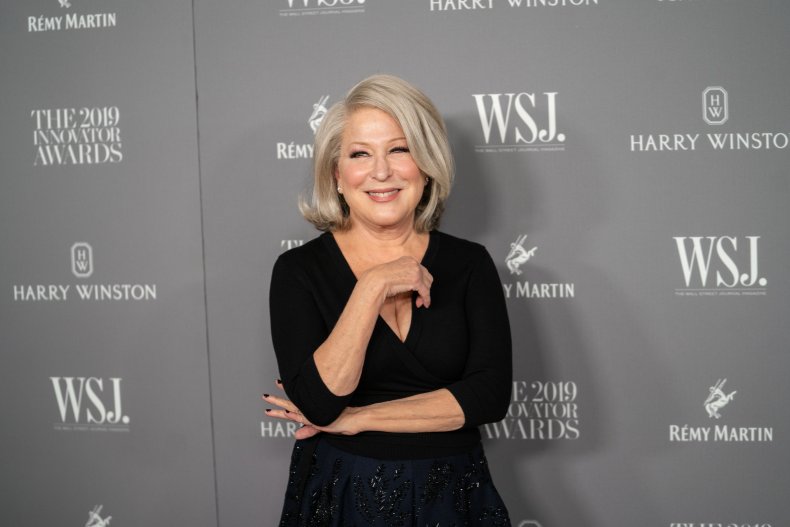 Last week, Midler said that the White House needs to be "fumigated" when Trump leaves.
The "Wind Beneath My Wings" singer mocked the number of COVID-19 infections that have been associated with the current White House.
"Before #Biden moves into the White House, it's said to need fumigation," Midler tweeted. "It will be misted with disinfectant to kill any lingering Covid from the totally infected #Trump administration. Probably wouldn't hurt to hose it down with holy water, either."
Midler's mockery came as Trump's personal attorney Rudy Giuliani was diagnosed with coronavirus—at least the 40th person in Trump's White House inner circle to contract COVID-19.