Betting Company Pays Out Early on Ukip By-Election Win, Predicting Whitewash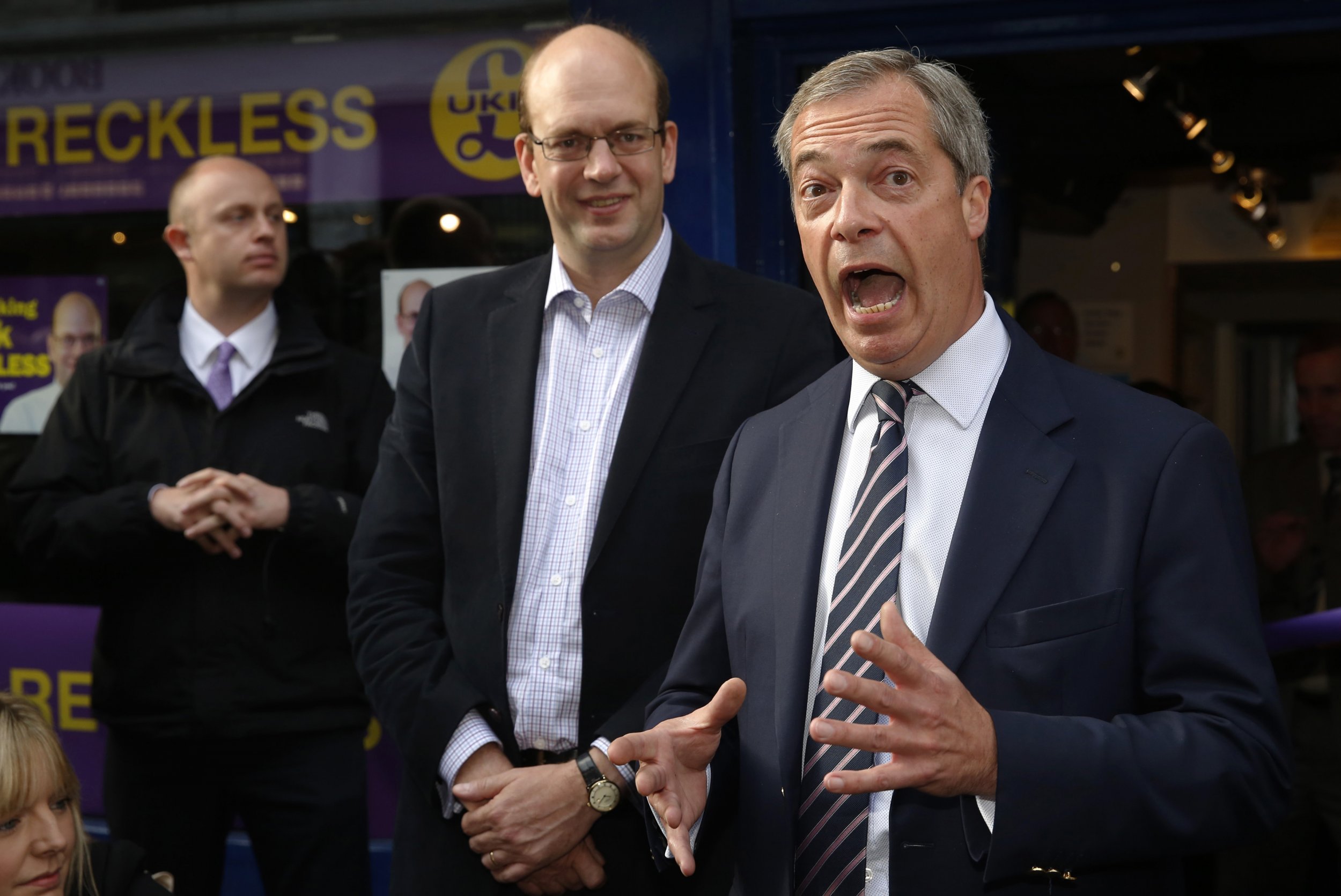 Betting company Paddy Power is so confident that the UK Independence Party (Ukip) will triumph in the Rochester and Strood by-election next week and win their second seat in parliament, that they have already started paying out to gamblers who put money on Ukip candidate Mark Reckless to win.
Mark Reckless triggered the by-election in his Kent constituency of Rochester and Strood when he announced his defection from the Conservative Party to Nigel Farage's Ukip in September.
"With under a week until voters of Rochester and Strood head to the polls in one of the most eagerly anticipated by-elections ever, Paddy Power is betting on a Ukip whitewash and has today paid out a whopping five figures to punters who backed Farage and his band of merry men to claim their parliamentary scalp," a spokesperson for Paddy Power said.
Earlier in the week Paddy Power slashed odds on Ukip winning the seat from 1/20 to what they described as a "ludicrously unbackable" 1/25, despite Farage playing down his party's chances.
According to the bookmaker, 75% of all bets were made on Reckless winning his seat as a Ukip candidate, while 95% of the four- and five-figure bets were made in favour of a Ukip win.
Reckless was a popular MP in his constituency, claiming just under half of all votes during the 2010 general election and beating out four other candidates.
However his defection to Ukip and likely triumph in next week's by-election will see Nigel Farage's party of self branded anti-Westminster, political class outsiders strengthen their presence in the House of Commons and cause further headaches for prime minister David Cameron who is seeing right-wing support for his Conservative Party splinter.
Ukip won their first seat in parliament in the Clacton-by-sea by-election, after another popular former Conservative MP, Douglas Carswell, defected to Ukip last month. Several former Conservative backers announced a shift of allegiance to Farage's cause during the Conservative party conference.
The right wing party has been gathering momentum in the lead up to the UK's general election in May 2015 and their surge in popularity has prompted the ruling coalition government and Labour opposition party shift their focus to Ukip's areas of concern like immigration and EU membership.
Paddy Power now predict that, should Reckless win in Rochester, the odds of two more Conservative MPs following him to Ukip before May 2015 will be 9/4.
Currently Philip Hollobone MP for Kettering is the favourite to jump ship first, while John Baron, Peter Bone and Mark Pritchard are other potential defectors.
In an interview with Newsweek Europe last month Nigel Farage expressed his ambition to be minister for Europe, leaving the door open for a possible coalition between his party and the Conservatives.
Farage, currently a member of European parliament, divides public opinion as, by his own admission, his eurosceptic, anti-immigration views have been labelled racist, though he believes his ability to communicate without patronising sets him apart from his political rivals.
A poll conducted by Conservative backer Lord Ashcroft has predicted Ukip's surge will continue in Rochester with his latest poll predicting Reckless will take in 44% of the vote, beating out the Conservatives with 32% and Labour with 17%.
In September another UK bookmaker, Betfair, paid out bets on Scotland's independence referendum ahead of the result, correctly anticipating that more Scots would vote against independence, despite some polls indicating that the pro-independence side was ahead just two weeks before the day of the referendum.