'Dirty John': Everything Betty Broderick Has Said about Her Killings
Dirty John: The Betty Broderick Story recently landed on Netflix and fans of the anthology series cannot stop talking about the harrowing case. Today, Broderick is serving 32-years-to-life in prison for the murder of her ex-husband Dan Broderick and his second wife, Linda Broderick. She has been denied parole three times and will not get her next hearing until January 2032. Here's a rundown of everything Betty Broderick has said about her crimes.
Everything Betty Broderick has said about her crimes
Dirty John: The Betty Broderick Story is a dramatization of the harrowing true story of Betty Broderick, who shot her ex-husband and his new fiancée dead while they slept in the early hours of November 5, 1989.
Betty and Dan Broderick married in April 1969 and had four children together: Kim, Lee, Daniel and Rhett.
In 1983, Betty Broderick began to suspect her husband was having an affair with his 21-year-old assistant, Linda Kolkena, something he denied for two years. However, in February 1985, Dan moved out of the family home and later admitted to having an affair with Linda.
What followed was a bitter and traumatic divorce and custody battle, which resulted in Dan Broderick taking full custody of their four children, ultimately devastating Betty Broderick.
Seven months after Dan and Linda married in 1989, Betty Broderick entered their home at around 5.30 a.m., using her daughter Lee's key without her consent.
Betty Broderick then fired five shots, two of which hit Linda in the head and chest, killing her instantly.
One bullet hit Dan in the chest, also killing him, and the other two hit the wall and nightstand.
Betty Broderick was sentenced to two consecutive life terms of 15 years to life plus two years for illegal use of a firearm in 1991.
Betty Broderick on the shooting
Betty Broderick immediately called her daughter Lee and Lee's boyfriend, saying she may have shot at Dan and Linda Broderick.
She then turned herself in to police, never denying killing the couple.
Betty Broderick told police she never planned to kill Dan and Linda Broderick. At her second trial, she argued the shooting was an accident and she had been startled after Linda Broderick shouted "Call the police!"
Recalling the events in an interview with Oprah Winfrey in 1992, Betty Broderick said: "I was extremely fearful. I didn't sleep for the last two years of this. My life had become a scream in the dark. I felt like he was all-powerful in that legal system and I had no defense whatsoever.
She continued: "What was going through my mind the morning at that house is the whole world fell in and it was a combination of every single injustice and indignity and horror that I had experienced as the victim of Dan and Linda Kolkena since 1983.
"It was totally unnecessary for them to have abused me and my children as much as they did. We did nothing in life to deserve to be treated so badly."
Betty Broderick also explained she went to the house that morning to talk to Dan, after she claimed to have received a set of legal threats on behalf of the Brodericks including threats to put her in jail and block all contact with her sons.
She explained: "I did bring the gun as a way to make Dan and Linda listen to me. For the first time in this whole thing, I couldn't prevail in court no matter what. Dan was the kingpin in this town legally."
Betty Broderick also stated she took the gun to prevent Dan and Linda from calling the police. When she heard Linda shout for Dan to make the call, she had a "panic reaction" and pulled the trigger.
She told Oprah she then went to her daughter's house claiming she was unsure if she actually shot anybody.
Betty Broderick on trial
At Betty's Broderick's two trials, (the first was declared a mistrial) evidence was presented by the prosecution that Betty Broderick had unplugged the phone in Dan Broderick's bedroom so he could not call for help.
Further medical evidence indicated Dan had not died instantly.
At both of Betty Broderick's trials, Betty Broderick's defense team argued Betty Broderick suffered from battered woman syndrome (BWS), a category of Post Traumatic Stress Disorder where a woman has suffered psychological, physical or sexual violence at the hands of her male partner.
They argued after years of psychological and physical abuse at the hands of Dan Broderick, she was driven over the edge to commit the killings.
On the other, the prosecution portrayed Betty Broderick as a cold-blooded killer and not a battered woman.
At her trial, Betty Broderick said she planned to take her own life after the killings but had ran out of bullets.
She also insisted she shot the couple after they startled her and threatened to call the police.
Speaking to the Los Angeles Times immediately after her conviction, Betty Broderick said: "It wasn't like I planned to kill somebody and now I'm sorry."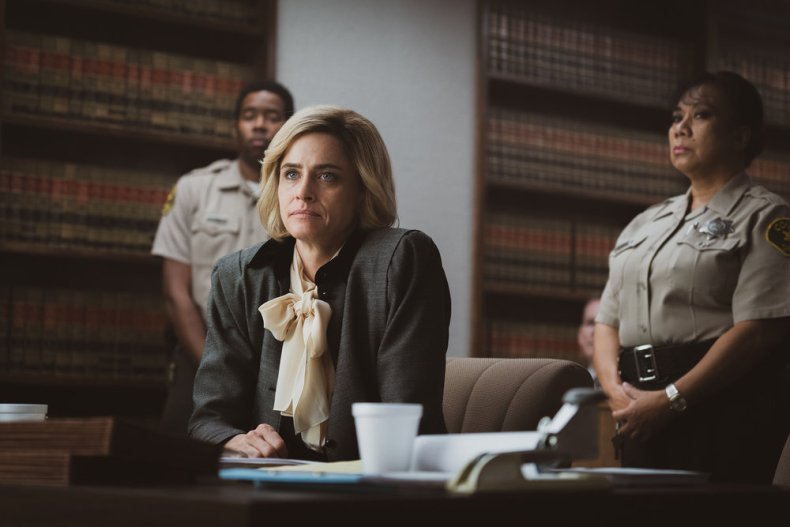 Betty Broderick at her parole hearings
Betty Broderick's first request for parole was made in January 2010, which was subsequently denied by the Board of Parole Hearings.
CNN reported Betty Broderick told the parole board in 2010: "I allowed the voices in my head to completely take over.
"I took the lives of two wonderful people who were loved by many."
When asked for more details regarding her actions, Betty Broderick said: "Linda came at me and the gun went off."
San Diego prosecutor Richard Sachs, who heard Betty's request, said: "She was totally not remorseful, didn't even try."
At her November 2011 parole hearing, Betty Broderick was denied parole for a second time and again in January 2017.
At her 2011 parole hearing Betty Broderick told the board she did not intend to kill Dan and Linda Broderick and claimed she had violent thoughts when she approached the property.
CBS News reported Betty Broderick as saying: "I had one choice: to shoot them or myself."
She also said she recalled thinking: "I couldn't let them win."
Betty Broderick explained to the board her world was turned upside when Dan Broderick left her and won custody of their four children.
She said: "I couldn't get a settlement, and I couldn't get the kids. I allowed the voices in my head to completely take over."
Denying Betty Broderick parole for the second time, Board of Prison Terms Commissioner, Robert Doyle said: "Your heart is still bitter, and you are still angry."
He continued: "You show no significant progress in evolving. You are still back 20 years ago in that same mode. You've got to move on."
Dirty John: The Betty Broderick Story is streaming on Netflix now.