Betty White is bringing her 100th birthday celebrations to the big screen, and everyone is invited to join her.
On January 17, Betty White: 100 Years Young—a Birthday Celebration will be available to watch in select theaters. The movie special will feature an array of White's celebrity pals who'll join her to help celebrate the momentous occasion. It's a special one-day-only event, so fans will want to book ahead to make sure they don't miss out.
Not only will White and her famous friends feature in the movie, 100 Years Young will also look back at the funniest moments from her career. Clocking in at 1 hour and 40 minutes, it will also feature lost footage from her very first TV sitcom.
The trailer shows White is talking to the camera while the countless showbiz cameos pay tribute to America's sweetheart.
Celebrities in 100 Years Young
White has over 120 TV and movie credits to her name, and has therefore had hundreds of co-stars over the years. Some of those former colleagues return to pay tribute to White in the new feature film Betty White: 100 Years Young—a Birthday Celebration.
White shared details on her social media accounts of the movie, and revealed who'll be joining her.
The guest list for White's on screen birthday party includes Ryan Reynolds, Tina Fey, Robert Redford, Lin Manuel-Miranda, Clint Eastwood, Morgan Freeman, Jay Leno, Carol Burnett, Craig Ferguson, Jimmy Kimmel, Valerie Bertinelli, James Corden, Wendy Malick and Jennifer Love Hewitt.
Professionally she's crossed paths with many of these celebrities in the likes of The Proposal, 30 Rock, Saturday Night Live and The Lost Valentine.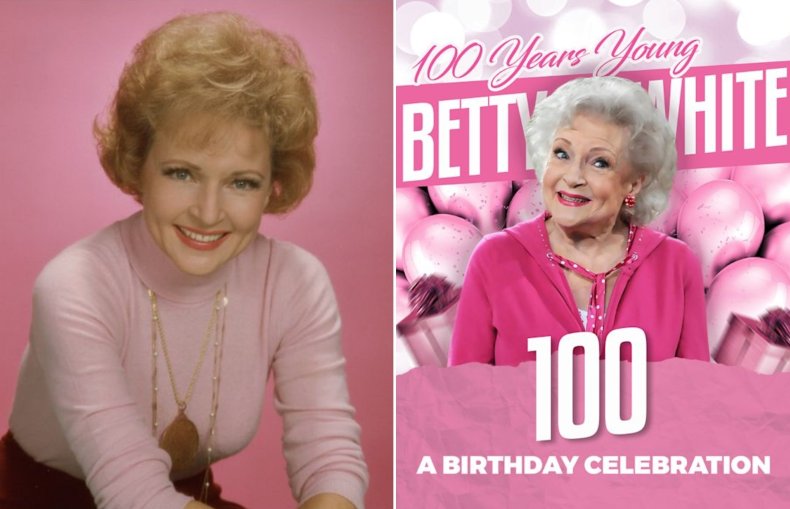 Betty White's career highlights
Betty White: 100 Years Young—a Birthday Celebration promises to feature some of her best comedic moments, including the footage from her first TV sitcom.
The highlights include The Golden Girls, hosting SNL in 2010, Hot in Cleveland, The Proposal and The Mary Tyler Moore Show. She's also featured on late-night talk shows dozens of times, which Kimmel and Leno will no doubt be reflecting on too.
How to get tickets for Betty White: 100 Years Young—a Birthday Celebration
The movie will screen for one night only in theaters across America and tickets are available now.
Head to Fathomevents.com and enter your city or ZIP code to find out where the nearest screening is to you. The majority of the screening are happening at the same time — 4:00 p.m. ET, 1:00 p.m. PT.