Happy Birthday Betty White: Tributes Pour in As Iconic Actress Set to Turn 99
Happy Birthday tributes have already started to pour in for Betty White as the iconic actress prepares to turn 99 this weekend.
Although White's birthday is not until Sunday, January 17, fans took to social media to celebrate the beloved six-time Emmy Award-winning actress who has enjoyed a career in show business spanning more than 75 years.
Former ESPN co-host Trey Wingo said he was initially "terrified" when he saw Betty White was trending on Twitter.
"Man do not PLAY with me like that," he wrote. "Whenever I see Betty White trending I'm terrified. Happy 99th birthday to the legend."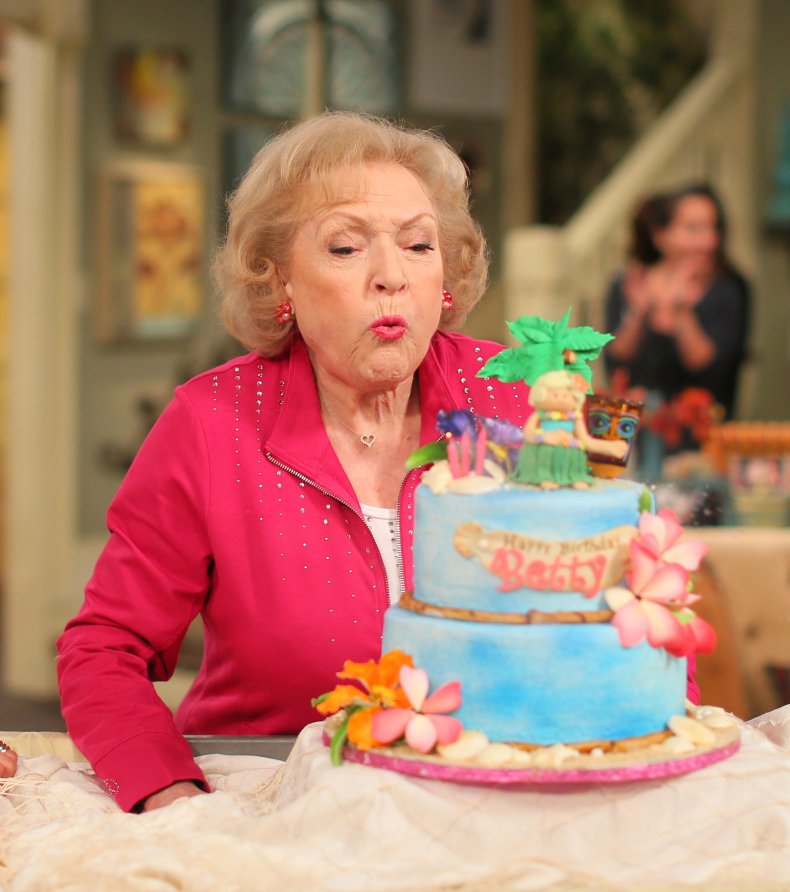 Meteorologist Matt Serwe of KETV took a break from the weather to acknowledge White's upcoming birthday.
"I'll get back to talking about wind and blizzard conditions, but I want to take a moment to acknowledge Betty White turning 99 today," Serwe said. "An absolute icon. Of course Golden Girls, however she is a game show legend. My ideal Password partner. Quick and quietly brilliant."
Attorney and former Florida congressional Democratic candidate Jen Perelman also wished a happy birthday to the screen legend.
"Admit it, you held your breath when you saw Betty White trending," she tweeted. "Happy 99th Birthday to our favorite Golden Girl!"
Many panicked at the sight of White's name trending on social media, fearing the star could have passed away.
"Betty White is ok guys," one woman reassured fans. "It's just her 99th BIRTHDAY!!! Hope she gets down with her bad self!!!!"
"2020 was awful, but we smuggled Betty White out alive," another added.
The Golden Girls actress said she was "blessed with good health" in an interview with People magazine ahead of the big day. "So turning 99 is no different than turning 98."
The 98-year-old said she would be celebrating her birthday quietly this year amid the ongoing coronavirus pandemic, saying she's simply looking forward to "visiting with close friends and bringing food to my animal friends" once life begins to return to normal and she can socialize again.
"What am I doing for my birthday? Running a mile each morning has been curtailed by COVID, so I am working on getting 'The Pet Set' re-released, and feeding the two ducks who come to visit me every day," she told Entertainment Tonight.
In August, Betty White's name was trending on social media as fans urged music producers to replace Kylie Jenner from Cardi B and Megan Thee Stallion's "WAP" music video with the Golden Girls actress.
A Change.org petition was created to remove Jenner from the video, reading: "The video was perfect until we saw K and I wanted to throw my phone."
Twitter users also started a campaign for the music video to be reshot with New York Magazine writer Yashar Ali tweeting, "Betty White is trending because people are saying they wish she would have been in 'WAP' instead of Kylie Jenner."
In May last year, White spoke to Closer Weekly about her well-being during the pandemic. She said she was keeping busy with crossword puzzles and playing Scrabble with friends over Zoom.
"I'm blessed with incredibly good health. That's something you appreciate a lot," she told the magazine.
White scored her first role in the 1945 short Time to Kill. She has since been a staple of film and television throughout the decades, with roles in The Mary Tyler Moore Show, The Golden Girls, The Proposal, and Toy Story 4.