'We Love You Betty White': SNL Episode Rerun Leaves Mourning Fans In Stitches
Betty White—the late, great entertainer—posthumously delighted her fans last night, when Saturday Night Live reran the Emmy-winning episode she hosted 12 years ago.
Tributes have poured in for The Golden Girls star since her publicist confirmed on Friday that she had died at 99, just weeks shy of her 100th birthday.
In its own tribute, NBC broadcast White's episode, a Mother's Day special which first aired on May 8, 2010, that won her an Emmy for outstanding guest actress in a comedy series.
White became the oldest person to host the show, at the age of 88, following a massive Facebook campaign. SNL's executive producer Lorne Michaels told EW at the time that White had previously turned down three requests to host the show.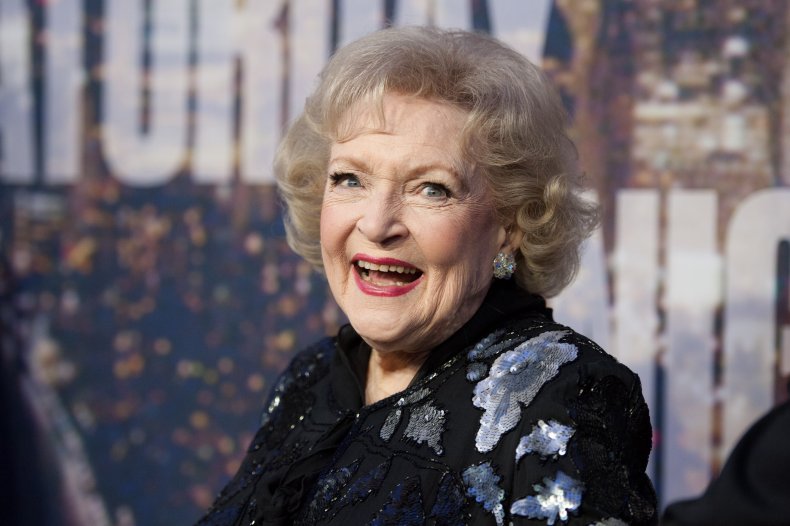 "When I first heard about the campaign to get me to host Saturday Night Live, I didn't know what Facebook was. And now that I do know what it is, I have to say it sounds like a huge waste of time," White joked in her monologue.
She went on: "People say, 'but Betty, Facebook is a great way to connect with old friends'. Well, at my age if I want to connect with old friends. I need a Ouija board."
A number of SNL's famous alumni returned for White's episode, including Tina Fey, who played a census taker confused by White's answers to basic questions in one sketch.
In another sketch, Kenan Thompson plays a prison inmate who brings his grandmother Loretta, played by White, to scare some bullies straight.
One of the episode's most memorable skits left the audience howling at the double entendres as White appeared as Florence Dusty—"a rock star in the confectionary world"—who brought her muffins to share with the hosts of an NPR show called, "The Delicious Dish."
The episode also saw musical guest Jay-Z perform Young Forever, which he ends by dedicating "to the most incredible Betty White."
Seth Meyers, a former cast member and writer on SNL, tweeted that White was "the only SNL host I ever saw get a standing ovation at the after party. A party at which she ordered a vodka and a hotdog and stayed til the bitter end."
On Saturday, viewers took to Twitter to thank SNL for airing the rerun, saying it was a great way to honor White.
"Dear @nbcsnl, thank you for re-airing the episode hosted by @BettyMWhite tonight!" Jason Rae wrote. "Having her make us laugh is just how we needed to end the first day of 2022. While she is and will be deeply missed, this is a great reminder that she truly is the Greatest of All Time."
Flagging the episode, Racer magazine's Kelly Crandall implored: "Do yourself a favor by flipping it on and enjoying Betty White being a national treasure. Here's to you, Betty."
Ken Rudin wrote: "Thank you SNL for loaning Betty White to us one more time. Watching this week's rerun brought not sadness or tears but pure delight."
Ari Odzer added: "So @nbcsnl is doing a service to the nation by replaying the Betty White episode. Her muffin is still deliciously funny. Good times."
Sharing a picture of her own set, TV producer Jen Vargas wrote of White, "We love you."