Netflix's 'Between Two Ferns: The Movie' Has 22 Celebrity Cameos, Including Keanu Reeves, Chrissy Teigen
In Netflix's new Between Two Ferns: The Movie, a fictionalized version of Zach Galifianakis interviews celebrities with cruel and ignorant questions on his cable access talk show. Expanding on the Funny or Die web series, the Between Two Ferns movie features a bevy of celebrity cameos.
The central conceit of Between Two Ferns: The Movie is the filming of Behind Two Ferns, a fictional feature-length documentary following Galifianakis and his "award-losing" talk show on public access TV in North Carolina.
"I originally wanted to call it Betwixt Two Ferns," Galifianakis tells the documentary crew before a disastrous interview with Matthew McConaughey causes a flood at the station, "temporarily" murdering the True Detective star. But before water starts flooding the room, the opening of Between Two Ferns: The Movie recaptures the combination of barbed questions and blithering incompetence that makes Galifianakis' alter-ego such a great celebrity foil.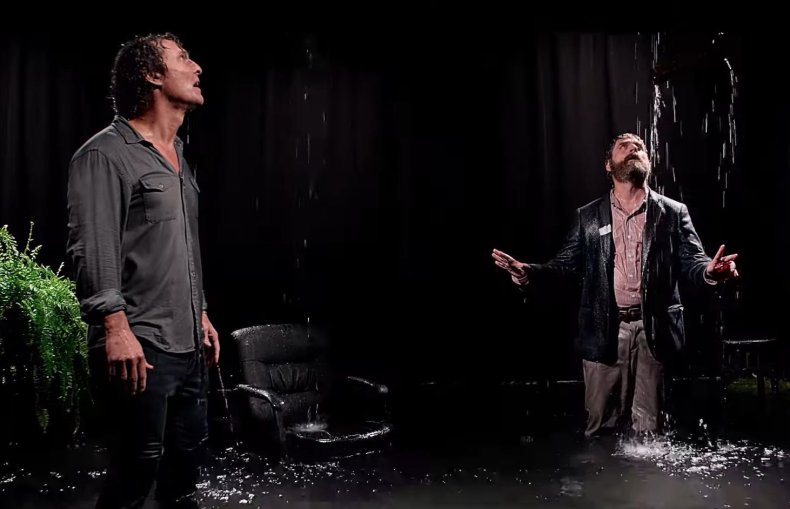 "Alright, alright, alright," Galifianakis says, introducing McConaughey. "Sorry, I was just reading the box office returns for your last three movies."
"Here we go," McConaughey said. "I'm out of here in about 15 minutes."
"What do you have to do, go drive around in a Lincoln convertible, shirtless?" Galifianakis responds.
With the studio destroyed, Galifianakis and his crew must hit the road to appease Will Ferrell (who explains he discovered Between Two Ferns on a VHS compilation of "America's Dumbest Television Hosts"), playing himself as a cocaine-loving Funny or Die executive looking to juice his internet clicks. What follows is a road trip full of the kind of interviews fans have come to expect between the ferns, linked by a loose narrative that barely manages to stretch Between Two Ferns into something resembling a feature-length movie, with the clock running out—after bloopers and a post-credits scene — at an hour and 22 minutes. But in that span, between driving montages, diner pit stops and, of course, ferns, the film manages to squeeze in a slew of celebrity appearances.
Every Celebrity Cameo in Between Two Ferns: The Movie
Bruce Willis makes a brief appearance in a clip from a previous episode of Between Two Ferns. "Where do you keep your Oscar... I mean, your Blockbuster Entertainment Award?" Galifianakis asks him.
In BTF: The Movie, Keanu "Bill or Ted" Reeves makes his second appearance in a Netflix Original this year, following his turn as a cocky version of himself in Always Be My Maybe. Galifianakis goes after his acting and intelligence:
"Do you research your roles," Galifianakis asks.
"Yeah," Reeves replies.
"Have you ever considered researching a character who has taken acting classes?"
"Right now, I'm acting like this is fun. How am I doing?"
Up next is Chance the Rapper. "You're friends with Kanye West," Galifianakis says, as if starting a question. "That's the joke."
A brief montage of celebrity appearances early in Between Two Ferns: The Movie includes Adam Scott, John Cho, Rashida Jones and Jason Schwartzman.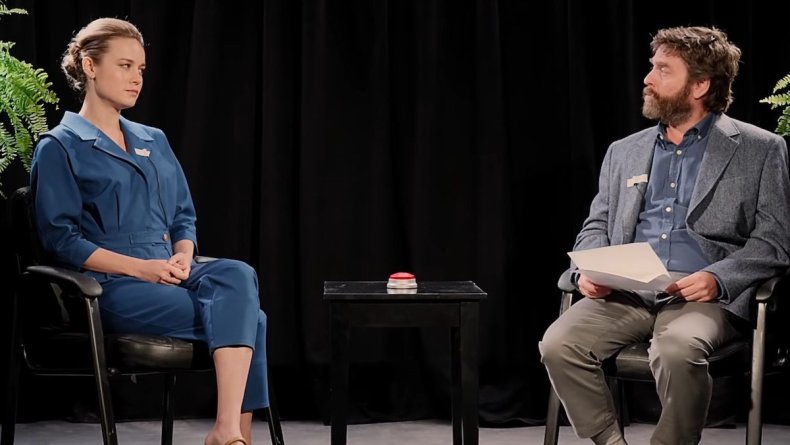 Afterwards, Galifianakis interviews both Brie Larson and David Letterman.
"My guest today is Santa Claus with an eating disorder," Galifianakis says to Letterman. "Did you just wake up from a 15 year nap? You look like Steve Jobs, now."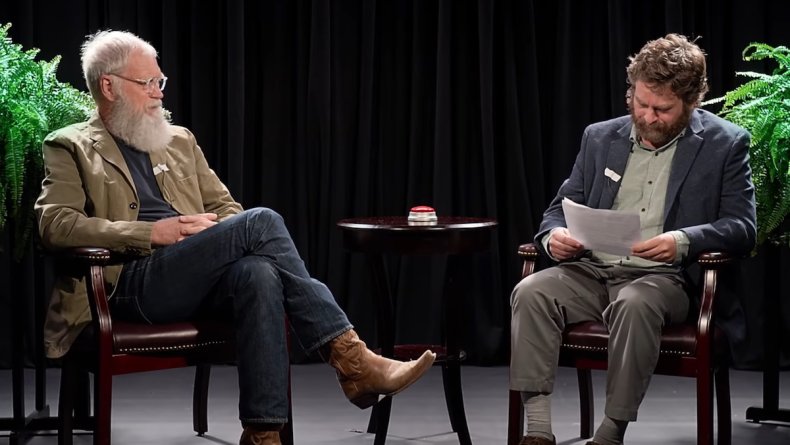 Paul "Aunt Man" Rudd, who's in Chicago doing work for his fictional foundation "Bone for Kids," solicits arm bones from Galifianakis, for use as shins by kids born without.
While on the road, Galifianakis also runs into, and sleeps with, Chrissy Teigen, with John Legend getting his revenge the next day by bringing a can of mace to the Between Two Ferns set.
Interview subjects appearing in the back half of Between Two Ferns: The Movie include Jon Hamm, Hailee Steinfeld (or, as the show labels her, H. Lee "Seinfeld"), Awkwafina, Tiffany Haddish and Benedict "Benadryl Cumberbash" Cumberbatch.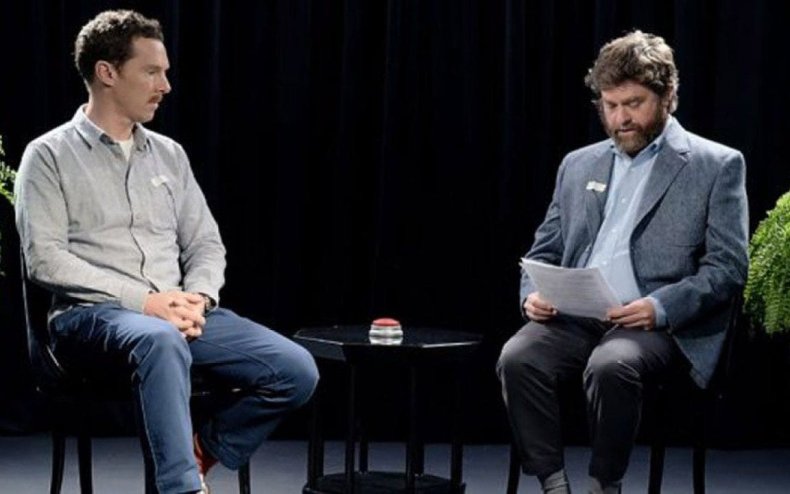 In Colorado, Galifianakis interviews Tessa Thompson, then robs Peter "Tyrone" Dinklage of his Fabergé egg collection (Dinklage also shows off his copy of "The Winds of Winter," the next, unpublished book in George R.R. Martin's "A Song of Ice and Fire" series).
Before the credits returns to previous interviews for outtakes, Galifianakis squeezes in one last interview with Wonder Woman's Gal Gadot.
Since Between Two Ferns: The Movie is primarily set "behind-the-scenes" of the show, Galifianakis is joined by a cast playing his associates, incompetents and oddballs who are nevertheless more capable in their roles than the host. Highlights include Lauren Lapkus (Jurassic World) as Galifianakis' assistant, Carol Hunch, and Edi Patterson (The Righteous Gemstones) as station manager Shirl Clarts.
Between Two Ferns: The Movie, directed by Scott Aukerman, is now streaming on Netflix.