Insider's Weekend: Beverly Hills, California
Turns out, you can have nice things. Here's our tips and tricks for an A-list adventure.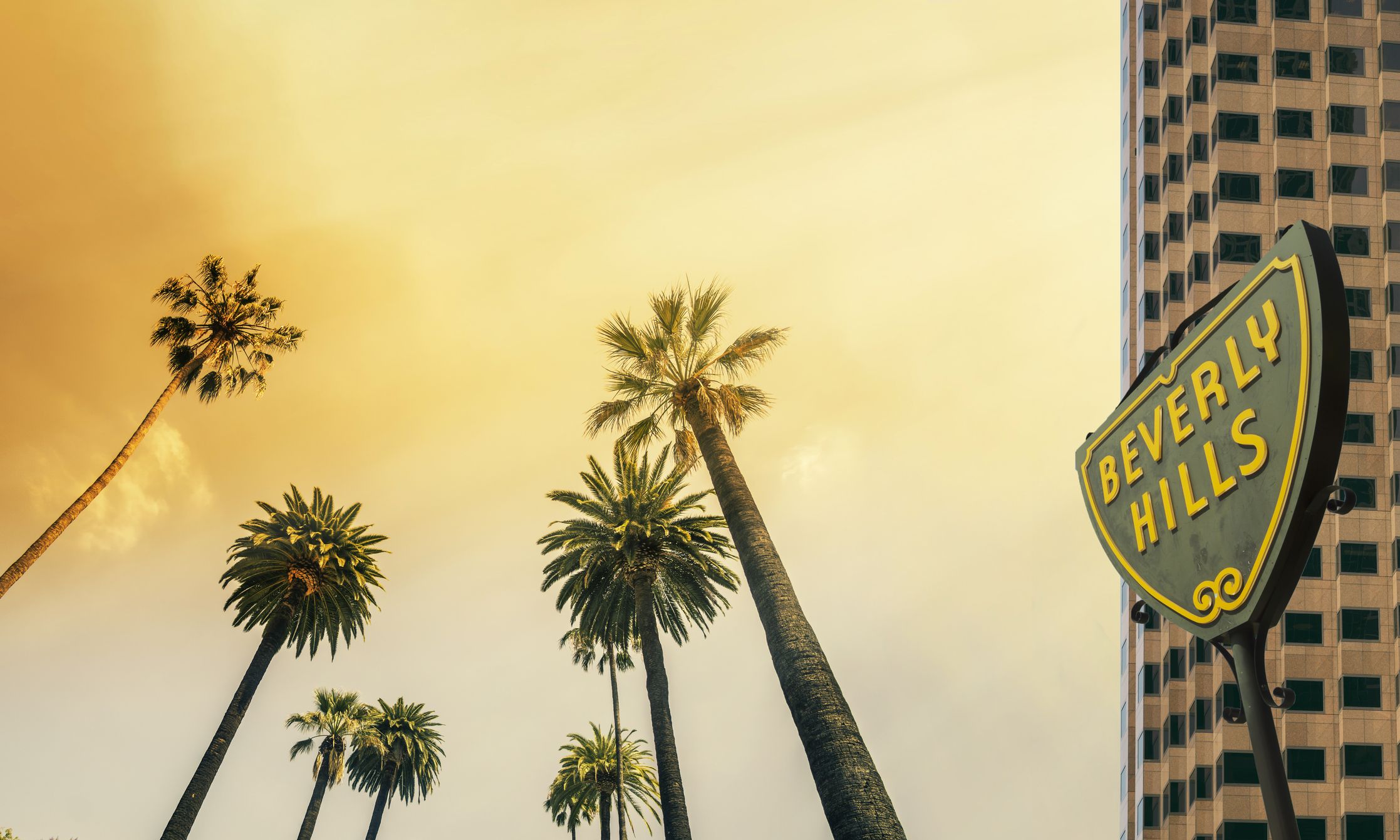 To quote the great Rivers Cuomo, "Beverly Hills: That's where I want to be."
Of course, this sentiment is not just for Matt Damon. Beverly Hills is a hot spot for hot people and has been since the 1920s when too-many-room mansions and shiny things on Rodeo Drive lured the finest in the film industry, and eventually crowned the city "home to the stars."
Today, Beverly Hills seems to shine as bright as ever for travelers still seeking the silent seduction of an impossibly chic window display, and the tantalizing possibility of sharing the room with a bonafide celebrity (sorry, "influencers"). On a recent weekend stay, we found what's new, noteworthy and insider-y from people who live, play and dine around America's most glam getaway.
Stay
The Peninsula Hotel, rates start at $595.
Pulling up to the half-circle entrance in a shared Uber, I find myself in like company next to a Mercedes Benz in the front of the five-star Peninsula Hotel. It's raining and four men with umbrellas rush to make sure my airport hair stays perfectly unkempt. I pass a woman getting into said Benz clutching her tiny dog saying "He doesn't do rain!" Thank goodness they are wearing matching raincoats. The concierge is notably sympathetic (sidenote: I love how people in California are so apologetic for the weather. Like you finally got to our fantastic city and it's raining?! What. The. Fendi.)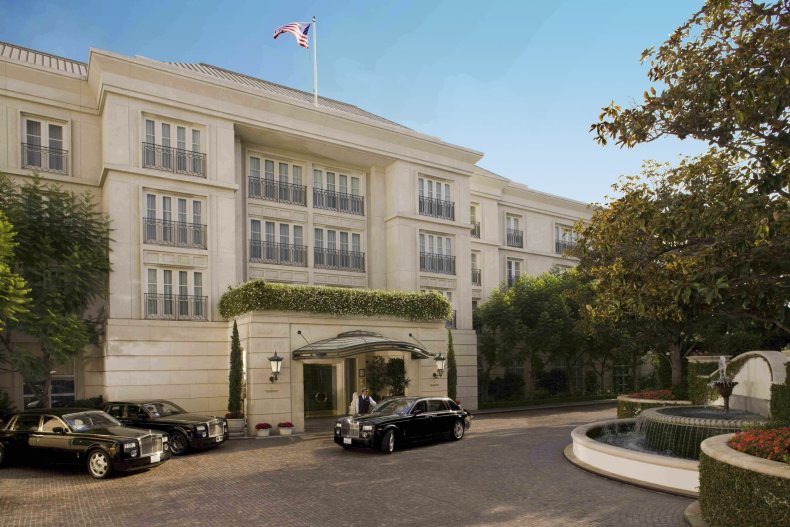 Through gold-and-glass doorways, polished marble flooring extends through the intimate lobby check-in area to The Living Room where women sip afternoon tea (pinkie up) and nibble on mint and violet-colored Ladurée macaroons under wide brimmed hats. A chandelier the size of a New York studio twinkles overhead.
The chandelier is one of the très glam trademarks of the hotel that guests will look for now that the gradual refresh of the 195-guestrooms, suites and villas is complete (with the exception of two villas where the extended-stay "guests" are loving life as is.)
Still in the works: the brand new spa set to open this month. Two dry saunas (one for ladies, one for men) will feature a pink Himalayan salt crystal wall. The salt, activated by heat, is said to help release serotonin to improve mood and symptoms of jet lag. Other adds include a blow-dry bar and updated relaxation area in hues of pink and gold.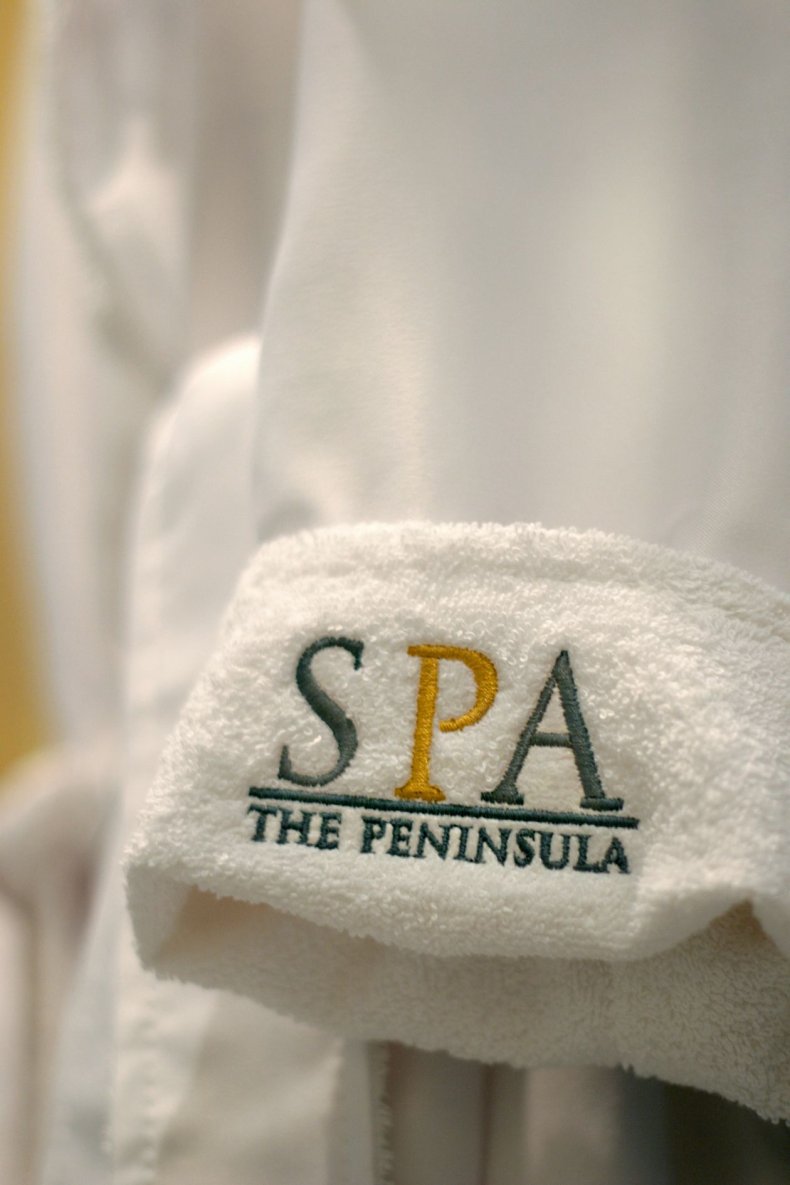 After breezing through check in, I learn that the Peninsula has their own brand of "flexible" 24-hour check in/check out; keep them updated on your arrival and departure and they will accommodate your plans. The personalized perks—monogrammed initials on your super-wide pillow and an oddly charming fax machine with a printed welcome message—are unexpected delights that make you feel like you're in a L'Oréal commercial.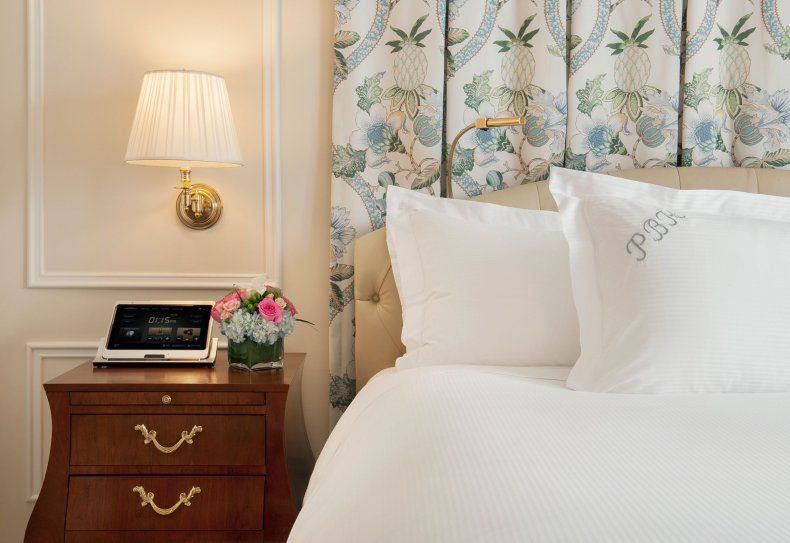 The Peninsula is within walking distance of Rodeo Drive and Wilshire, but make sure to ring the concierge to request a ride via Rolls-Royce Phantom house car. If the Phantom is not available, you can always slum it in an Escalade, Mercedes Benz or BMW.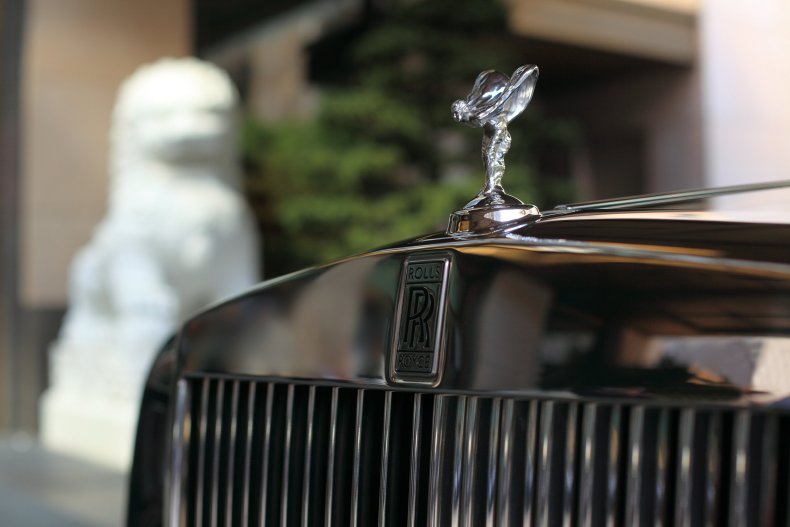 Summertime tip: The rooftop pool scene is hot and the cabanas are new. Put in a request ASAP to reserve cabana 501: This coveted lounge area is situated at the left corner of the pool and receives optimal rays all day with the view of downtown Los Angeles to the left and the Hills to the right.
Dine
Lunch at the Belvedere
You won't travel far for a memorable meal. The Belvedere restaurant is tucked away through the handsome Club Bar on the lobby level of the Peninsula Hotel. Although the restaurant is hardly a secret—it's the only AAA Five Diamond-rated restaurant in Los Angeles—there are private entrances for discerning diners. As Executive Chef David Codney notes, if you want to see and be seen, you'll go to the Four Seasons. Here, the Belvedere's intimate dining room feels like a private shore club in the Hamptons with blue-and-white plaid print seating, white tablecloths and blue banquets.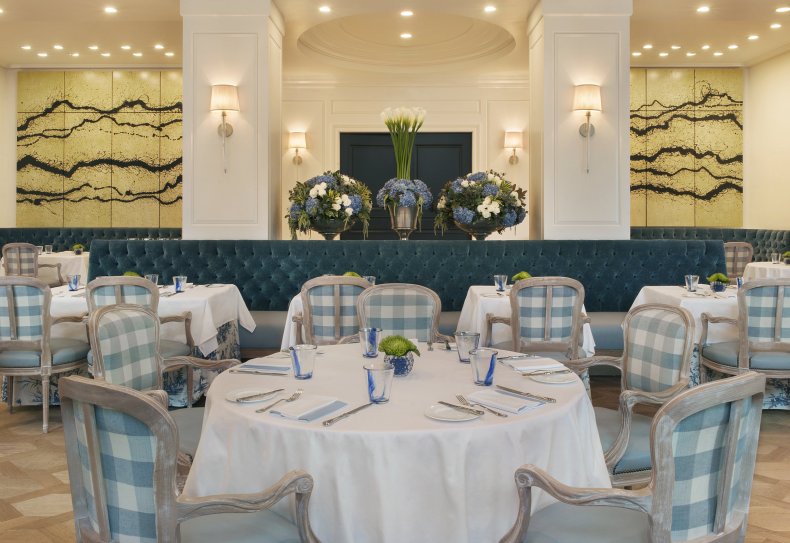 Get a table: Lunching mid-week and closer to 2 p.m. is a good time to request a table by the back windows to take in the view of priceless art from the hotel owner's private collection and, of course, interesting diners. We sat next to a 2018 Academy Award nominee who appeared to be researching a role as "mute woman who tolerates dude decked out in glasses-to-goulashes Gucci". Although I admit I barely said a word between saucy bites of duck confit orecchiette and savory lamb-bulgur meatballs made with raisins and pine nuts. And the fish you never knew you loved? Vermillion snapper. This meaty yet delicate beauty is substantial like a Great Lakes cod, and the Belvedere is only restaurant in town that serves it.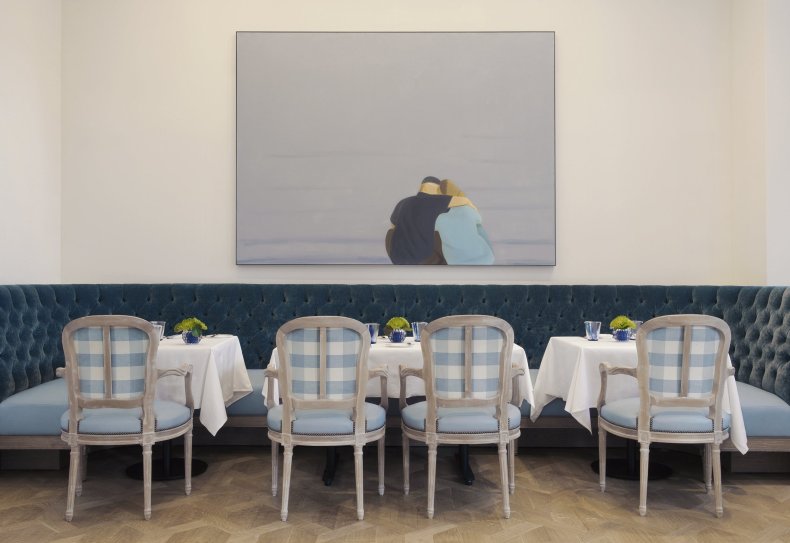 Top Chef Tip: Chef David is a trip. He is a smorgasbord of great stories and Beverly Hills knowledge. Let the kitchen know you'd like to chat with him (bring your best anecdotes about his hometown Cleveland and hunting wild game), or look for him following the lunch rush. Note: If you want to order off the menu, Chef David can make it happen. A diner next to us requested brisket tacos—and it wasn't Taco Tuesday (which is a thing)—and was damn happy with the dish.
Beloved garlic noodle savant Helene An re-opened Crustacean late last year following a $10 million dollar renovation, and people are still going crazy for the updated menu and the restaurant's artful design. Diners "walk on water" over curious koi in a serpentine aquarium on the way to the main dining room. The menu is revamped and playful—tuna cigars with caviar that arrive in a smoking box—which elicits a lot of attention, but the "secret kitchen" staples crab and garlic noodles are always a star.
Most Coveted Chair: At the Chef's Counter, diners can watch the magic happen with views of the open-glass kitchen. But there's only room for eight—and no reservations—you have to check with Chef Tony for availability.
Day Drinking in Neiman Marcus
Nothing is more dangerous than hitting the sauce and shopping, but you're in Beverly Hills darling! Bar on 4 is—you guessed it—on the fourth floor of the Men's Department in the luxury retailer on Wilshire.
Order: The Man-Mosa made with orange vodka, orange liqueur, Stella Artois, orange juice and topped with cuvée brut.
Enjoy the California Sunshine
When the Will Rogers Memorial Park opened in 1915, it was actually part of the front lawn of the Beverly Hills Hotel. Today, the public park still feels like a hidden gem (perhaps avoided by some re: the George Michael scandal of 1998) with towering iconic palm trees, well-manicured grounds, a fountain and benches throughout.
Pack a picnic: Grab some gourmet goods (Russian Ossetra caviar, cured chorizo, Alian Milliat juices) from Heritage Fine Wines (maybe you'll run into John Legend; he helped design the space) before heading to the park on Sunset Ave.
Post-Nap Drinking
The Honor Bar is usually packed with an energetic, stylish crowd (read: no flip flops and tanks, you animals) and a first-come, first-serve basis. Put your name in and walk two blocks up to the flagship Frida Mexican Cuisine where a boisterous mix of margarita-and-quesadilla lovers (the chicken quesadilla is yum) converge on high-top tables and crowd around the bar. Chilled shots of tequila are served in small goblets on beautiful blue-and-white flower dishes. After a drink (or two), head back to Honor Bar where they are probably about to call your name.
Tequila Tip: Frida was the first restaurant in LA to receive the T Certificate Award that verifies that all tequila served here has passed quality standards as the best tequila in the world.
Sidebar to story:
Boeing jet cancelation?
Time for a road trip! Head south from Beverly Hills to majestic beach blooms in Carlsbad and an unforgettable meal in San Diego.
Carlsbad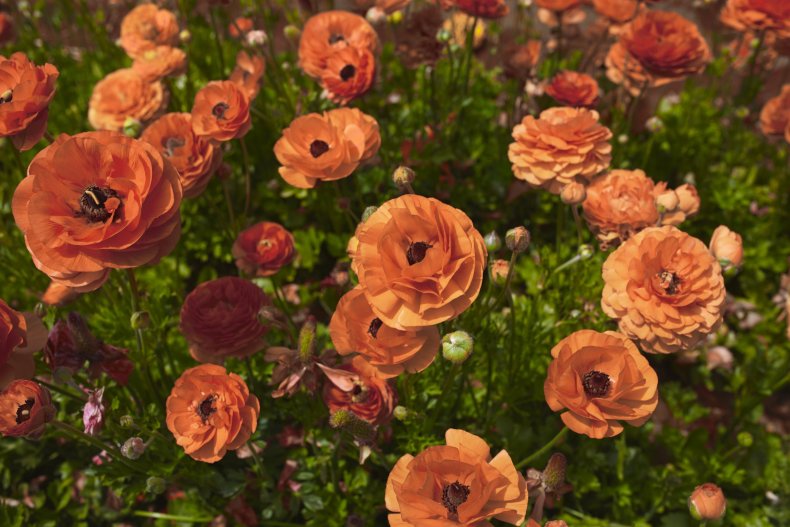 Flower Fields at Carlsbad Ranch: The nearly 50 acres of vibrant Giant Tecolote Ranunculus flowers bring thousands of visitors to the area each spring. New this year: Petal to Plate program incorporating 13 area restaurants and wellness programs; food trucks and sunset wine tastings.
Stay: Built atop the bluffs, the Cape Rey Carlsbad has ocean-view rooms and suites just 150 steps from the beach (we counted a bit more, but you get the point). The pool and on-site restaurant also have views of the water, and a pedestrian walk way leads down to the semi-sandy shore. Note: Expect people wearing name tags, cute dogs and families headed to LEGOLAND. Rates start at $150.
San Diego
Vistal restaurant: Local San Diego chefs Amy DiBiase and Paul McCabe collaborated on the menu at Vistal for "a fresh perspective on coastal cuisine." I felt like I was seeing San Diego for the very first time—and I was hooked. The menu is thoughtfully local from the olive oil and seasonal beet hummus with the bread service to Baja prawns and duck confit dinners. Order the following for a captivating taste of the town: Baby beets and Burrata; Hirmasa Crudo; Corn-meal Dusted Sturgeon; Butterscotch crème for dessert.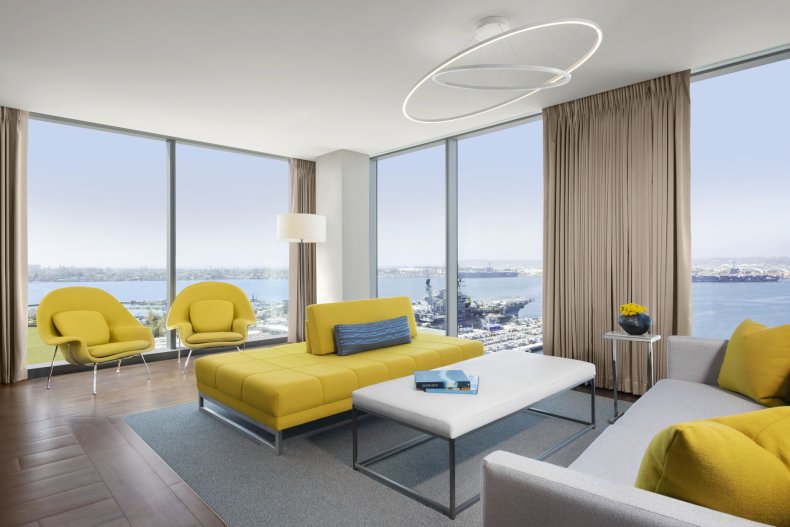 Stay: The sleek new InterContinental San Diego opened last September in downtown. Rooms and suites have floor-to-ceiling windows that overlook the San Diego Bay and are decorated in neutral hues of sand, blue and white that help bring the sky and sea into each room. Bonus: Feel free to enjoy the rooftop pool a little longer—you're only 3 miles from the San Diego International Airport. Rates start at $279.