The crime was so bizarre and gruesome, it looked like something from a crossover episode of Black Mirror and Law & Order: Special Victims Unit. In the spring of 2014, two 12-year-old girls in Waukesha, Wisconsin, lured a friend into the woods, stabbed her 19 times, then left her to die. Their justification: A supernatural horror character, Slenderman, made them do it. The stunning act was also a grave betrayal of friendship, defying everything we think we knew about girlhood and innocence in the internet era.
As trials against the two young perpetrators, Morgan Geyser and Anissa Weier, gear up to begin later this year, an HBO documentary, Beware the Slenderman, out January 23, tells the grisly story of how a childhood friendship went horribly awry, and how an obsession with an internet meme ended in attempted murder. Emmy Award–winning director Irene Taylor Brodsky (One Last Hug: Three Days at Grief Camp) gained extraordinary access to the families of the two attackers, starting just a couple months after the crime.
Beware the Slenderman opens with a Blair Witch–style montage: A young girl lurches through the dark woods, frantically shining a flashlight at leafless branches as she gasps for air. A strange buzzing hums in the background. Suddenly, the camera holds on a figure hovering behind some brush, dressed in a dark suit and tie, with a featureless white face. It's Slenderman, a mythical internet creature with long, thin arms and tentacles protruding from his back, that stalks children, incites "slendersickness" (coughing fits, memory loss) and has the power to remove your organs or drive you to madness. "Hey! Over here!" the girl yells at him. "Please!" He vanishes, but a moment later, he appears right in front of the camera. There's a scream, a clash of harsh sounds, and a barrage of eerie, pixelated images. Then the screen goes black.
Related: The girls who tried to kill for Slenderman
The moment is meant to scare, and it just might if you're watching the movie cold, but if you've been following the "Slenderman stabbing" for the past two years, your gut punch comes a few scenes later. After a short montage of news clips debriefing us on the who, what, where, when, why and how of the crime, we come face-to-face with Morgan as a toddler, babbling adorably in a high chair. Brodsky sprinkles home videos throughout the two-hour film—Anissa and her mother singing, "My Bonnie lies over the ocean"; Morgan dressed in pink, tossing leaves in the yard—to remind us that the perpetrators of this atrocious act are children. She then sets out to explain what went so wrong.
Between clips from police interrogations and courtroom hearings, and drone-style footage of Waukesha and nearby Nicolet National Forest, Brodsky retraces the girls' steps leading up to the crime. To celebrate her 12th birthday, Morgan has invited two 12-year-old friends over for a sleepover party, Payton Leutner, her best friend since fourth grade, and Anissa, a more recent acquaintance. Morgan's mother, Angie, recalls it as a joyful evening: "They were being normal little girls," she says. "They were running up and down the stairs, holding hands, and giggling."
She had no idea that her daughter and Anissa had made a sinister pact months earlier to become "proxies" of Slenderman by murdering Payton at the party. The girls planned to cover Payton's mouth with duct tape, stab her in the neck, pull the covers over her and then run for Slenderman's mansion, which they believed was somewhere in Nicolet, nearly 200 miles away. That night, however, they decided to wait until the next day. "I wanted to give her at least one more morning," Morgan later told police.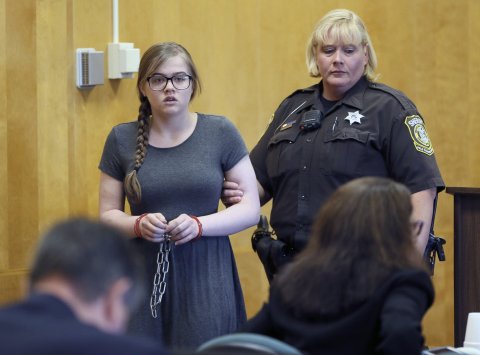 In the morning, the three girls ate doughnuts and strawberries for breakfast, then headed to a local park. Before leaving, Morgan grabbed a knife from the kitchen, hid it in under her jacket, and told her mother that she loved her. At the park, they went to the public bathroom. That's where Anissa and Morgan had agreed they would attack Payton. "There was a drain for blood to go down and then we were gonna sit her on the toilet, lock the door and then leave for Nicolet," Anissa said during her interrogation. She'd read online that it was easier to kill someone while they were sleeping or unconscious, so at some point she said she hit Payton's forehead, pushing her into the concrete wall. Morgan handed over the knife, then panicked, so Anissa hugged her. It's not entirely clear how much of this back-and-forth Payton witnessed, or where in the bathroom she was at this point, but somehow Anissa and Morgan smoothed things over with Payton just enough to convince her to leave the bathroom and play a game of hide-and-seek with them. Payton didn't want to, but her friends promised she could choose the next game.
"Morgan and I were gonna be like lionesses, chasing down a zebra," Anissa told police. She explained that she led Payton to a hiding place in the woods, and as soon as Morgan found them, the two girls pounced. Anissa pushed Payton down and sat on her, but when Payton shouted that she couldn't breathe, Anissa got off her, worried her screams would attract attention. Morgan handed Anissa the knife and said, "I can't do it. You know where all the soft spots are." Anissa took the knife, then gave it back to Morgan, saying, "You do it. Go ballistic. Go crazy."
"I'm not doing it until you tell me to," Morgan replied.
Anissa took a few steps back, then said, "Now!"
Morgan tackled Payton, sat on her legs and said, "Don't be afraid, I'm only a little kitty cat." Leaning her face into Payton's, she whispered, "I'm so sorry," then started stabbing her in the arms, legs and torso, piercing her stomach, pancreas and liver, and missing a major artery near her heart by one millimeter. "It didn't feel like anything. It was like air," Morgan later told police, making a stabbing motion with her right arm.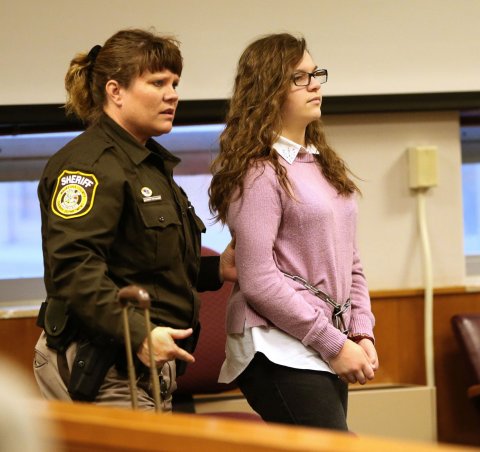 "I hate you!" Payton screamed when Morgan finally got off of her. "I trusted you!" Payton managed to stand up and started stumbling toward a nearby road, but Anissa grabbed her arm and told her to lie down while she and Morgan looked for help. Instead, the two girls fled for Nicolet. Payton eventually crawled to a sidewalk, blood soaking into her black fleece jacket, and lay there until a bicyclist discovered her and called 911. Some hours later, Anissa and Morgan were found walking along a local highway, en route, they said, to Slenderman's mansion.
How could two 12-year-olds commit such a shocking act? Beware the Slenderman turns to a panel of experts to recount the history of Slenderman, from his birth in 2009 during a Photoshop contest to his rise as internet folklore. "Slenderman is the modern-day boogeyman," says Trevor J. Blank, a digital folklorist. "He's the creature that lives in my closet. He is the guy in the windowless white van. The faceless stranger who kidnaps kids.… Really, Slenderman can be whomever you want him to be." The internet is a petri dish of ever-changing Slenderman lore, from shoddy YouTube videos and Tumblr posts about alleged sightings, to captivating video games. The scene where kids play online Slenderman games with a mix of terror and infatuation is powerful proof of how the internet really is a new world, a new language, a new religion.
Anissa and Morgan were charged with attempted first-degree murder and each face up to 65 years in prison. Beware the Slenderman ends as soon as the judge determines that both girls will be tried as adults. "That was the biggest moral question here," says Brodsky. "Not whether they did it, but how accountable do we hold children that commit crimes we call adult crimes?"
The film does fine work digging into the Slenderman stabbing through technology, psychology and girlhood friendships, but its most powerful feat is humanizing Anissa and Morgan's parents. (The Leutners declined to participate.)
In the Geysers and Weiers, we find parents unraveling because of a nightmare they never saw coming. With exhausted, stunned looks almost permanently glued to their faces, they lament the signs they missed and yearn for explanations. "One thing about Morgan that always struck us as a little odd was that she didn't react the way you would expect her to react, like at the movies," says her mother, Angie. "Like if something bad happened to the main character, she wouldn't have empathy for them." Cut to a clip of Bambi's mother being shot. "Morgan just said, 'Run, Bambi, run! Get out of there! Save yourself!' She wasn't sad about it."
Anissa's mother, Kristi, remembers how much time her daughter spent alone in her bedroom, attached to her iPad. "It just gave her a way kinda not to socialize with the family," she says. "I totally regret the iPad." One of the most provocative moments in the film is a montage of clips from Anissa's YouTube history, which includes videos of a bunny eating a raspberry, a young woman feeding her serval a live mouse and multiple video polls claiming to ascertain if you're a psychopath. "Officer, cuff me!!! I got the right answer," Anissa commented on one of them.
Anissa's father, Bill, says he kept a close watch over her computer use. "Apart from sitting in the corner and watching every move she makes, I don't know how much more involved I could have been," he says. Anissa once showed him a drawing she'd made of Slenderman and Jack Skellington, a character from The Nightmare Before Christmas. "At the time, it doesn't seem to be anything inherently dangerous. I had no inklings that I would need to research this further." The trauma of the past few years made Bill anxious about his younger son getting his first iPad in school. "I don't think anybody can really begrudge me for thinking the way I do about a bunch of fifth graders getting a bunch of iPads, based on what this family has been through," he says as his son plays a video game involving a duck set on fire. "At the same token, I don't want to hinder his learning. I guess I just need to get over my own reservations about it. If I had my way, he wouldn't have one."
The Geysers and Weiers faced another hurdle in their recovery: making sense of the psychiatric diagnoses that came out during the trial—Anissa has schizotypy, a disorder that makes it hard for her to determine what's real, and Morgan is schizophrenic. Turns out Morgan's father, Matt, has schizophrenia too. "I have, right now, there's patterns of light and geometric shapes," he says. "It's like, always racing. Always. Right now. I always wanted to know if she sees that stuff too." With tears in his eyes, he adds, "I know the devil's not in the back seat, but the devil is in the back seat, you know? Sometimes you know it's not real, but it still smells and tastes and looks real, so, it's real."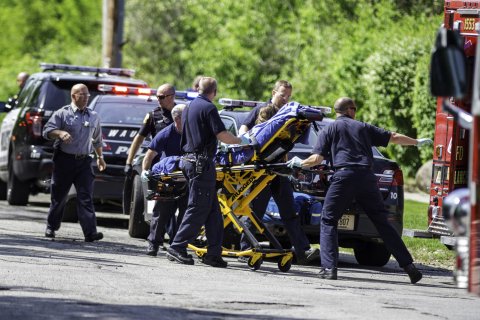 The diagnoses help explain some of the damning details that emerged in court, like Morgan boasting about having Vulcan mind control, as well as an ability to see unicorns and Snape, a wizard from the Harry Potter books. In her bedroom, police found Barbies with the arms and feet chopped off, and drawings of Slenderman with phrases like, "I want to die!" and "Help me escape my mind."
Angie hopes Morgan will be sent to a mental health facility, where she can get help, rather than prison. "Her mother really values getting her medicated, but being married to a schizophrenic, she understands mental illness in a compassionate way," Brodsky says. "She knew when Morgan started taking medication and her delusions subsided, she'd realize just how horrible her situation was. That first year, Angie had this solace that her daughter was still surrounded by [imaginary] friends, even though she was alone in a room."
The only time the Geysers look genuinely happy is when they're sifting through an art project Morgan made while in Washington County Juvenile Detention Center. "She just put so much detail into it, it's amazing," Angie says. "She's not allowed to have scissors, so all of these tiny little pieces she ripped by hand."
Angie holds up miniature components of a dollhouse: a TV with cartoon characters on it, a salad, a piece of pizza, a laptop with details on the screen. "Look at the cute little heart on the front of the computer?" Angie says, smiling at the tiny piece of paper as if it were Morgan herself.
"No one's gonna come out of this with a silver bullet," Brodsky says. "The more you come to understand the world [Morgan] inhabited, the more you don't understand it."