Beyonce Adidas x Ivy Park: What Times Does Swimwear Collection Launch?
Earlier this year, Beyonce's Adidas x Ivy Park released its Icy Park line, sportswear ideal for the winter months.
Now it has moved very much to summer with its upcoming swimwear launch.
The swimwear line, called Flex Park, features items for all genders and sizes, making it an inclusive launch of more than just teeny bikinis.
When Does Adidas x Ivy Park Flex Park launch?
The Adidas x Ivy Park Flex Park line launches on the Adidas website at 2 p.m. ET on July 22.
After that, on July 23, the line will be available to buy in select Adidas stores around the world.
The line was announced in June via Instagram, when an image from the marketing campaign of Flex Park appeared on the Ivy Park Instagram page.
From there, further images of the items on sale and the videos from the campaign were shared, showing the fluorescent orange clothing in all their glory.
Included in the range is more than just swimwear, as there are also shirts and T-shirts, hats and pool sliders up for grabs.
A pop-up was then opened in New York City on July 17, which had a man-made beach with seats and an umbrella, and a large countdown clock to prepare fans for the sale.
People queued to have their pictures taken at the installation, where they could relax on beach chairs and play with beach balls in the middle of the city.
However, none of the items were on sale there, as they have their exclusive launch online.
Items range in size from XS to 4X, with sizing guides available for users to purchase the right item for a loose or tight fit.
Prices range from $45 to $75 for the main swimwear items, and accessories go up to $120, such as the beach tote bag.
All of the designs are in the same orange color, featuring the iconic Adidas white stripe.
What Is Ivy Park?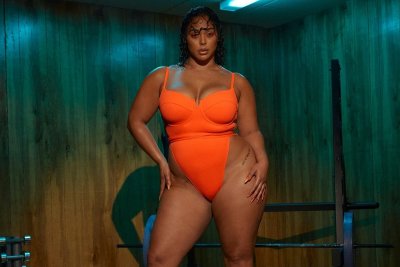 Ivy Park is a sportswear brand launched in 2014 as a joint venture with Beyonce and Topshop owner Sir Philip Green.
Ivy Park items were sold in Topshop, and it was introduced through a video where Beyonce set out her stall as a brand manager.
She said: "I would wake up in the morning, and my dad would come knocking at my door, telling me it's time to go running. I remember wanting to stop, but I would push myself to keep going.
"It taught me discipline. And I would think about my dreams. I would think about the sacrifices my parents made for me. I would think about my little sister and how I was her hero.
"I would look at the beauty around me, the sun shining through the trees. I would keep breathing. There are things I'm still afraid of. When I have to conquer those things, I still go back to that park.
"Before I hit the stage, I go back to that park. When it was time for me to give birth, I went back to that park. The park became a state of mind. The park became my strength.
"The park is what made me who I am. Where's your park?"
In 2018, Parkwood Entertainment, Beyonce's management company, acquired sole ownership of the brand, and she has worked in conjunction with Adidas since then.
There have been three drops before the upcoming swimwear line.
The first came out in January 2020, and featured white, burgundy and orange sportswear of different varieties, with tracksuits being the main focus.
The second launch came out in October 2020, which was a more colorful line including pastel colors, and also included items like a suit jacket and catsuit.
The third launch, Icy Park, was in February 2021, and included duffle and faux fur coats in the line, as well as icy colors like pale blue and white alongside bright pink and caramel.