Beyoncé Blows up Twitter With Retracted Jay-Z Concert Announcement
Beyoncé fans have long-waited for a reprise of 2014's On the Run Tour, which was a collaborative effort with her husband, rapper Jay-Z. The BeyHive thought its prayers were answered Monday when a listing for a joint tour surfaced on Ticketmaster and the singer's Facebook page.
The "Formation" singer, 36, and "Empire State of Mind" rapper, 48, hadn't confirmed or denied the existence of a second combined tour. But that didn't stop an eruption of excitement when it appeared that "Beyoncé & Jay-Z - On the Run 2"—a potential stadium tour—would begin July 30 at Philadelphia's Lincoln Financial Field. Presale for the tour was scheduled to begin Wednesday at 10:00 a.m. EST for Tidal subscribers, whereas the general public would have had to wait until March 12 to buy tickets.
But the excitement was quickly extinguished when the listing was deleted, pulled from both Ticketmaster's website and Facebook within minutes after its arrival to the disappointment of many fans.
Stil, that didn't stop Beyoncé supporters from trying to make lemonade out of some social media lemons. Some fans held out hope that the new-deleted listing was a hint at an actual tour, while others jumped to conclusions and assumed that the mistake indicated that new Beyoncé music is on the horizon.
The couple's most recent collaboration was featured on DJ Khaled's latest single "Top Off." But in December, Jay-Z and Beyoncé also worked with A Wrinkle In Time director Ava DuVernay on the music video for the duo's song "Family Feud." The track, which details the disparities among old and new hip-hop artists, was originally featured on the rapper's most revealing album to date, 4:44. The song's nearly-eight-minute-long video recruited a long lineup of A-list talents from Mindy Kaling to Michael B. Jordan to Brie Larson.
In the past, the power couple teamed up for songs "Drunken Love," "Tom Ford," and "Crazy in Love," among others.
While the joint tour proved to be a mistake listing, Beyoncé is still scheduled to perform this year at Coachella in April. Festivalgoers in Indio, California, will see the singer headline day two of the event after she pulled out last year. At the time, she was pregnant with twins and her decision followed "the advice of her doctors to keep a less rigorous schedule," festival organizers said in February 2017.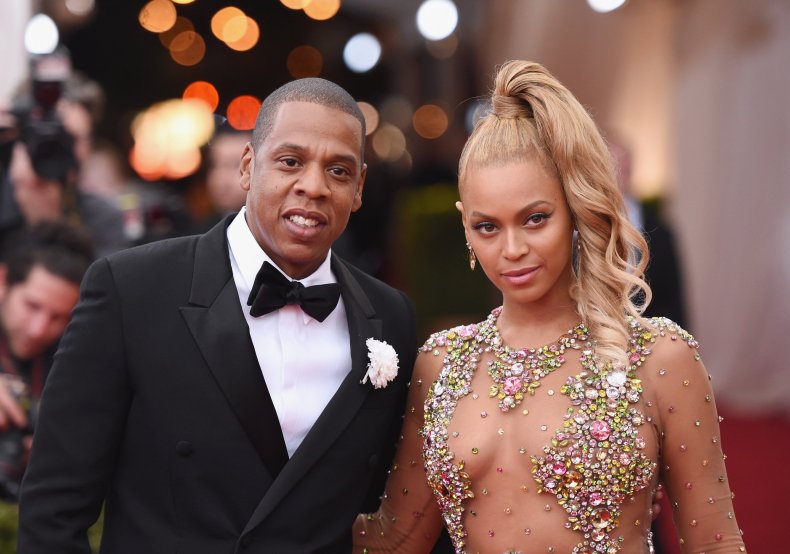 In preparing for Coachella, Beyoncé announced her intentions to embrace a completely vegan diet. "Vegan Time!! Click the link in my bio to join me," she wrote Saturday on Instagram before her 112 million followers while sharing a photo of her vegan-friendly meal. The singer also shared pictures of the dance and fitness training she's incorporating into her festival preparations.
Representatives for Beyoncé and Ticketmaster did not immediately return requests for comment on the listing snafu.