Celebrating 39 Years of Beyonce Because It Really Should Be a National Holiday
Today is the 39th birthday of Beyoncé Giselle Knowles-Carter, first of her name, icon entertainer, queen of the Beehive, the generous humanitarian, mother of Blue Ivy, Rumi and Sir, wife of Shawn "Jay-Z" Carter.
For some reason unbeknownst to her legion of fans, September 4, the date of Beyoncé's birth, isn't a global holiday. Although considering the imprint Beyoncé has made on the world for more than half of her life, it certainly should be. But since we all can't take the day off to light up the shrines and to pay homage to the woman who delivered independence anthems like "Irreplaceable" and club bangers like "Drunk in Love," we'll just celebrate her by reminiscing on some of the incredible moments she's gifted us over the course of her career.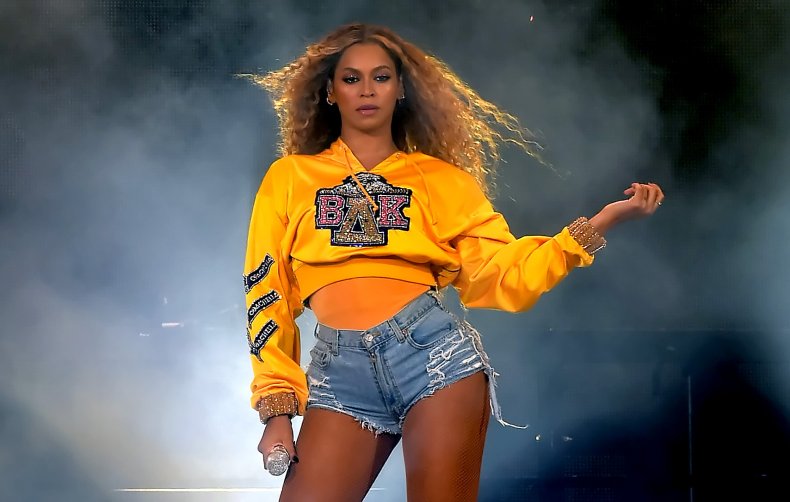 Star Search, 1993
At just 12 years old, Beyoncé made her big stage debut when she appeared on an episode of Star Search with the "hip-hop rappin' Girl's Tyme." Nobody knew, at the time, that she'd grow up to be one of the greatest entertainers that ever lived—that's probably why the judges decided to give the win to the girl group's competitors, rockers Skeleton Crew. As history would have it, that loss only pushed Beyoncé to work harder and three years later, she formed what would become one of the most successful groups of all time.
Destiny's Child debut album release, 1998
Not long after losing Star Search, Girls Tyme morphed into Destiny's Child. Beyoncé was the lead vocalist of the four-person group, which featured former Girls Tyme members Kelly Rowland, LaTavia Roberson and newcomer LaToya Luckett. The main single off the self-titled album was the upbeat R&B track, "No No No," of which Wyclef Jean joined them for the remix. Overall the album didn't create as big of a splash as the group may have hoped.
"The first record was successful but not hugely successful," Beyoncé recalled in a 2006 interview with The Guardian. "It was a neo-soul record and we were 15 years old. It was way too mature for us."
Writing's on the Wall, 1999
If Destiny's Child didn't garner enough attention with their debut album, they certainly did with their second record, Writing's on the Wall, which featured jams like "Say My Name," "Jumpin' Jumpin' and "Bills Bills Bills." The album peaked at No. 6 on the Billboard 200 chart and scored the group six Grammy nominations.
As successful of a year it was, it wasn't without its controversies. Months after the album's release the group ruptured when Luckett and Roberson left Destiny's Child citing favoritism and their manager Matthew Knowles' mishandling of finances. The women even filed a lawsuit against Knowles and their former bandmates, which was later resolved in a settlement.
The new Destiny's Child, 2001
Talk about a comeback! After group disputes, legal battles and a media frenzy, Destiny's Child bounced back from all of it and reconstructed the group from four members to three: Beyoncé, Rowland and new member Michelle Williams. They released their third studio album, Survivor, which debuted at No. 1 on the Billboard 100 chart and earned the group three Grammy nominations.
Beyoncé also made her acting debut in 2001 when she appeared alongside Mekhi Phifer in the MTV original film, Carmen: A Hip Hopera.
"Crazy in Love," 2003
Still a member of Destiny's Child, Beyoncé struck out on her own to release her debut solo album, Dangerously in Love. The album's lead single, "Crazy in Love," which featured her future husband Jay-Z, was a hit. It sat pretty at the top of the Billboard 100 chart for weeks on end and won Beyoncé two Grammy Awards for Best R&B Song and Best Rap/Sung Collaboration.
Her final album with Kelly Rowland and Michelle Williams, Fulfilled, came the following year, after which Beyoncé offically went solo.
Dreamgirls, 2006
After appearing in Carmen, Beyoncé began landing more movies, playing roles like the sensual Foxxy Cleopatra in the 2002 Austin Powers in Goldmember film and beautiful singer Lily in 2003's The Fighting Temptation. However, her biggest role came when she appeared as Deena Jones, the lead singer of The Dreams in the 2006 blockbuster Dreamgirls, which featured Hollywood heavy hitters like Jamie Foxx, Eddie Murphy, Danny Glover and Jennifer Hudson, who won an Oscar for Best Supporting Actress for her role as Effie White.
Secret Wedding, 2008
Beyoncé shocked the world when she married Jay-Z in a private and intimate wedding ceremony in the hip-hop mogul's New York City apartment. The pair were incredibly tight-lipped regarding their romance and barely addressed the dating rumors swirling them before their nuptials, so fans weren't exactly expecting the lovebirds to tie the knot. But there's a reason for that.
"What Jay and I have is real. It's not about interviews or getting the right photo op. It's real," Beyoncé said of her marriage in an interview with Essence magazine that year, adding that she is a "traditional woman" and opted to keep the wedding small and intimate to avoid a media storm and drama.
"It's been my day so many days already," she added.
Inauguration Ball, 2009
Beyoncé was given the opportunity of a lifetime when she was asked to sing at President Barack Obama's Neighborhood Ball following his inauguration. She serenaded the first Black president and his wife, First Lady Michelle Obama, with a cover of Etta James' "At Last" during the couple's first dance. When Barack Obama was elected for a second term, Beyoncé performed once again—this time at the actual inauguration ceremony when she sang the National Anthem.
Welcoming motherhood, 2011
Beyoncé nearly brought the entire MTV Music Video Awards audience to tears when she revealed an adorable baby bump hiding under her jacket during her performance of "Love on Top."
"Tonight I want you to stand up on your feet. I want you to feel the love that's growing inside of me," she said at the start of the performance, leaving fans gobsmacked when quite literally dropped the mic at the end of the set, unbuttoned her dazzling purple sequins blazer and began rubbing her belly.
In an interview with Harper's Bazaar shortly after the performance, Beyoncé said she thought long and hard about how she wanted to share the news of her pregnancy.
"I put a lot of thought into how I wanted to unveil it. It was important to me that I was able to do it myself," she said at the time. "I was extremely nervous. It was the toughest red carpet I ever did ... I decided to say nothing and proudly show my baby bump. I felt it was more powerful to see the love and enthusiasm as opposed to saying anything."
In January 2012, Beyoncé and Jay-Z welcomed their first daughter Blue Ivy.
Super Bowl XLVII Halftime Show, 2013
The superstar gave a heck of a show when she took to the stage at the Super Bowl for the first time, performing a 13-minute melody of her biggest hits like "Crazy in Love," "Baby Boy," "Halo" and "Single Ladies (Put a Ring on It)." Of course, the moment was only magnified when she brought out her Destiny's Child sisters, Kelly Rowland and Michelle Williams, to perform classics like "Bootylicious" and "Independent Women."
Beyoncé's Super Bowl performance was only one notch on the 2013 belt, though. Later that year she surprised everyone when she dropped a self-titled album out of the blue—no pre-released singles, no album campaigns or annonucements. Despite doing no promotion, the album still topped Billboard's 200 chart.
On the Run Tour, 2014
While Beyoncé and Jay-Z had collaborated plenty of times on their music over the years, the duo didn't didn't team up for an actual tour together until much later. Following their separate world tours—Beyonce's The Mrs. Carter Show and Jay-Z's Magna Carter Tour—they went on the road together for the On the Run Tour. The worldwide tour grossed more than $100 million in ticket sales. The success of it all led the power couple to do it once again with the On the Run 2 Tour in 2018.
Vogue cover, 2015
Beyoncé made history when she became the first Black woman to grace the cover of Vogue magazine's September issue. And get this: She didn't even do an interview with the mag.
She made history once more when she appeared on the magazine's September cover in 2018 and enlisted photographer Tyler Mitchell for the photo shoot. Mitchell marks the first Black photographer to ever have their images featured on the cover of the fashion magazine.
Lemonade, 2016
Ever the queen of surprises, Beyoncé left jaws on the floor once more with her sudden release of Lemonade, her sixth studio album, and its accompanying 65-minute film of the same title. To date, it's considered one of Beyoncé's most acclaimed albums of her career and was dubbed the greatest album of the year by Associated Press. The album topped the Billboard charts and landed Beyoncé nine Grammy nominations, two of which—Best Urban Contemporary Album and Best Music Video—she won.
Pregnancy Photo, 2017
Beyoncé broke the internet quite literally with her second baby announcement. There was no flashing lights and big stages this time around though. The singer merely posted a photo of herself on Instagram sitting in a bed of flowers and cradling her baby bump. It was Instagram's most-liked photo of 2017 and has more than 11 million likes to date. Sir and Rumi were born later that year in June.
Beychella, 2018
Perhaps the biggest show of Beyoncé's career was when she performed at the Coachella Valley Music and Arts Festival in 2018. To call the two-weekend performance an event would be an understatement. The elaborate spectacle, which was an ode to historically Black colleges, featured an ensemble of 64 musicians and dozens of dancers, majority of whom were Black performers, bright lights, pyrotechnics, the whole shebang. Kelly Rowland and Michelle Williams made an appearance. Jay-Z made an appearance. Even Beyoncé's sister Solange Knowles came out to "drop down low and sweep the flo' with it" to Beyoncé's hit, "Get Me Bodied."
The following year Beyoncé released the Netflix documentary, Homecoming, which revealed how the artist brought her vision for her Coachella performance to life.
Lion King, 2019
Disney enlisted Beyoncé to voice the character Nala in its live-action version of The Lion King, which originally debuted in 1994. Beyoncé produced a companion album to the film, The Lion King: The Gift, which featured 20 artists from the United States, Nigeria, South Africa, Ghana and Cameroon.
In 2020, Beyoncé delivered the visual component for the album, Black Is King, which released on Disney+ in July.