Beyoncé 'Homecoming' Album Tracklist: Every Song on the Live Album
The Wednesday arrival of Beyoncé's anticipated Netflix documentary Homecoming came with an extra, major surprise for the singer's devoted Beyhive: a surprise album.
The 37-year-old dropped Homecoming: The Live Album on all major streaming services—from Spotify to Tidal—on Wednesday. The record features 40 tracksrecorded during Beychella, which is otherwise known as Beyoncé's historic headlining effort at Coachella Music Festival in 2018.
Homecoming: The Live Album is the Grammy winner's fifth live record to date. it comes after her I Am... World Tour album debuted in 2010. It's also the first record Beyoncé's released since she teamed up with husband Jay-Z for The Carters, their musical pairing, to unveil Everything Is Love in June 2018.
Queen Bey dropped Homecoming on music streaming services without warning her dedicated fanbase. She's used this method to release Beyoncé, her fifth solo record, in 2013 and Everything Is Love.
Beyoncé​'s Homecoming album accompanies her newly released Netflix documentary, which she also directed. The film gives viewers a closer behind-the-scenes look at what went into making her Coachella performance—that allowed her to become the first black woman to headline the festival—a reality. Since she was gearing up for Coachella after giving birth to twins Rumi and Sir Carter, she shared what it took to get her back into the mindset of performing.
"It's not like before when I could rehearse 15 hours straight," Beyoncé said the documentary. "I have children, I have a husband, I have to take care of my body."
Ahead of the Homecoming documentary's release, fan speculation suggested that Beyoncé was working on B7—her seventh studio album. On Tuesday, Genius' website showed a new Beyoncé album was expected to arrive on April 18, according to Variety. It was initially titled "B7" and has since been replaced with the lyrics to Beyoncé's Homecoming album.
Us Weekly reported on April 3 that apparent sources claimed Beyoncé has recorded a "couple of new tracks [for] a deluxe album filled with old songs," but there was no indication of her releasing a full-length album in this report. In the meantime, below is the entire tracklist for Beyoncé's Homecoming: The Live Album: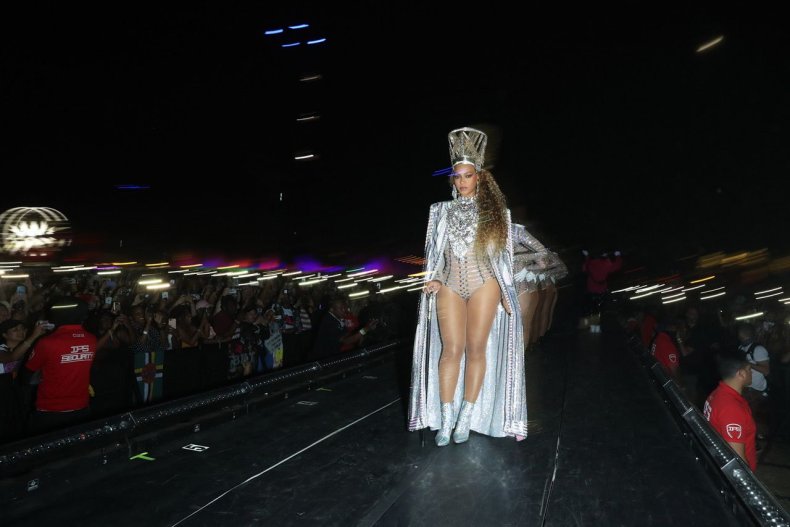 "Welcome"
"Crazy In Love"
"Freedom"
"Lift Every Voice and Sing"
"Formation"
"So Much Damn Swag"
"Sorry"
"Kitty Kat"
"Bow Down"
"I Been On"
"Drunk in Love"
"Diva"
"Flawless Feeling Myself"
"Top Off"
"7/1"
"Bug A Boo Roll Call"
"Party"
"Don't Hurt Yourself"
"I Care"
"Partition"
"Yoncé"
"Mi Gente (feat. J. Balvin)"
"Baby Boy"
"You Don't Love Me (No, No, No)"
"Hold Up"
"Count Down"
"Check On It"
"Deja Vu (feat. Jay-Z)"
"The Bzzzz Drumline"
"Run the World (Girls)"
"Lose My Breath (with Kelly Rowland and Michelle Williams)"
"Say My Name (with Kelly Rowland and Michelle Williams)"
"Soldier (with Kelly Rowland and Michelle Williams)"
"Get Me Bodied"
"Single Ladies (Put a Ring on It)"
"Lift Every Voice and Sing - Blue's Version"
"Love On Top"
"Shining (Thank You)"
"Before I Let Go"
"I Been On"