Beyonce and Jay-Z's Basquiat Tiffany Campaign Sparks Debate
A new Tiffany campaign fronted by Beyonce and Jay Z has sparked a debate over its use of a never before seen painting by Jean-Michel Basquiat.
The famous couple is the face of the luxury jewelry brand's 2021 "ABOUT LOVE" campaign which signals a new direction for the designer.
The campaign is described as a result of a close collaboration and a shared vision between both the Carters and Tiffany & Co.
Photos from the promotion have gone viral as pop culture and art fans marvel at the never before seen painting from the late painter who is considered one of the most influential artists of the 20th century.
The painting itself dates from 1982 and is titled Equals Pi. It had belonged to a private collector until Tiffany's acquired the piece, which uses the brand's signature robin-egg blue color.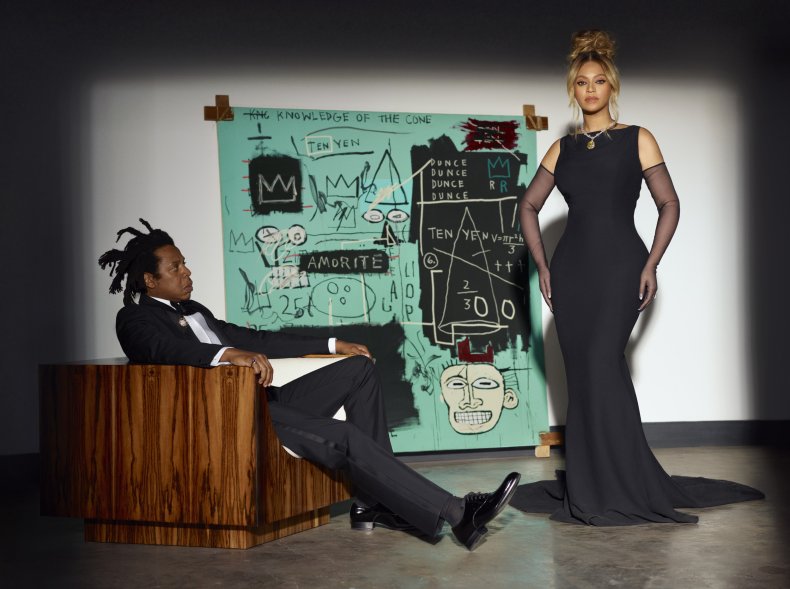 Alexandre Arnault, VP of Tiffany has said that Basquiat's use of the color is "so specific that it has to be some kind of homage."
Speaking to WWD, Arnault explained: "We don't have any literature that says he made the painting for Tiffany.
"But we know a little bit about Basquiat. We know his family. We did an exhibition of his work at the Louis Vuitton Foundation a few years back. We know he loved New York, and that he loved luxury and he loved jewelry. My guess is that the [blue painting] is not by chance."
He went on to say that the artwork will go on to be permanently displayed in Tiffany's flagship boutique on New York City's Fifth Avenue.
"It's a way to modernize Tiffany blue," he said.
The use of the unseen Basquiat has sparked a debate on social media about art, consumerism and the late painter himself.
While some argued that he would not have wanted his painting to be used for a such a commercial purpose, others argue the opposite, that Basquiat's love of pop culture would mean he would be happy to be involved.
"they been hiding a basquiat for decades just to use it for a Tiffany's ad?" asks one commenter.
Meanwhile, another asked: "Now everyone is suddenly a Basquiat enthusiast? "He wouldn't want this" did he tell you this via oujia board?"
On the other hand, some are questioning why such an artwork was owned by a private collector for so long and not available to the public.
"insane to me that rich people can just buy art from artists who have passed and no one else gets to see it, kinda gross imo like these pieces should be able to be seen by everyone, thats literally what basquiat woulda wanted," one person said.
Conversely, another person said Basquiat "enjoyed" selling his works to private buyers.
"The irony of it all. Suddenly these non educated idiots on here wanna 'protect' Basquiat Skull. Chile in his life documentary showed when he was alive he was around the most richest ppl in NY, he WAS one of them and enjoyed all the riches of selling his paintings to rich buyers."