Beyonce and Jay Z skipped the red carpet and turned up to the Golden Globe Awards during the ceremony. What's more, they turned up to the Moet-sponsored event with Jay Z's own champagne, Armand de Brignac, nicknamed Ace of Spades due to its logo. But what is the Ace of Spades champagne price and where can you buy it?
Ace of Spade Champagne
From this photo of Beyonce and Jay Z entering the awards ceremony, it looks as though their bodyguard, Julius de Boer, is holding two bottles of the Armand de Brignac Brut Gold. Jay Z bought the champagne from Sovereign Brands in 2014, so it's no surprise he wanted to show it off at the Golden Globes. Plus, Jay Z probably couldn't have been seen drinking Moet when he owns his own brand of champagne.
The brand is also popular with Rihanna, who served it at the launch of her visual autobiography at the Guggenheim Museum in October 2019.
According to its website, the Ace of Spades Brut Gold champagne is described as "the most iconic cuvée in the range."
"Rich with the old-world tradition of champagne blending, it is a trio of vintages from some of the most lauded terroirs of the region, resulting in a cuvée expressing vibrant and fresh fruit character with a soft texture."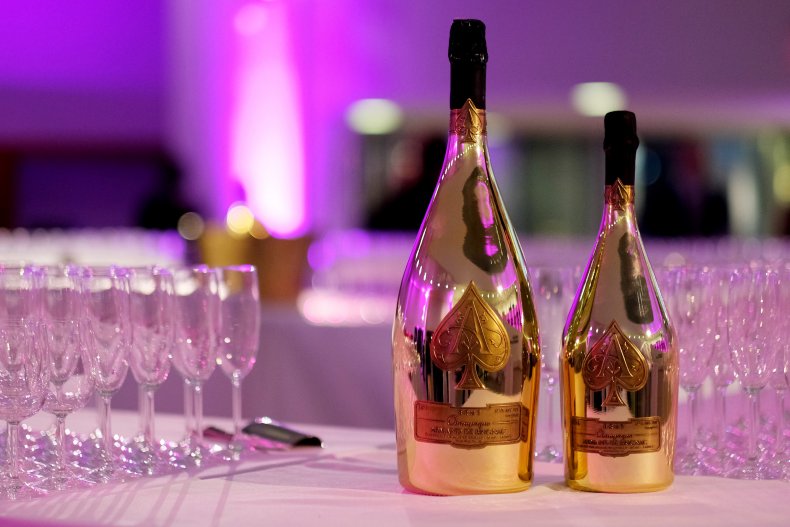 It's made up of 40 percent Pinor Noir, 40 percent Chardonnay, and 20 percent Pinot Meunier. According to the brand, the Ace of Spades champagne has peach, apricot, red berry aromas, as well as crystallized citrus, orange blossom and hints of brioche. The palate is "rich with exotic fruit, cherry and a touch of lemon, vanilla, and honey."
The wine is made by Jean-Jacques Cattier and his son Alexandre, who are 12th and 13th generation winegrowers, and their family has grown vines in their region for more than 250 years.
Where to Buy Ace of Spades Champagne
Armand de Brignac comes in 187ml, 750ml, 1.5L, 3L, 4.5L, 6L, 9L, 12L, 15L, and 30L bottles. There are four other champagnes in the range: Blanc de Noir, Blanc de Blancs, Rosé, and Demi Sec.
A standard-size 750ml bottle of Ace of Spades is selling for $299.99 on Wine.com. A 15L Nebuchadnezzar bottle—which is 20 times the size of a standard bottle—is selling for $15,999.95. The biggest size, a 30L Midas bottle, sells for $64,999.99.
Use the store locator on the Armand de Brignac website to find your nearest store selling bottles of Ace of Spades, or to find your local bar serving the champagne.
Newsweek has affiliate partnerships. If you make a purchase using our links, we may earn a share of the sale.