If Not Rumi and Sir, Who Were the Twins in Beyoncé and Jay-Z's On the Run II Tour Intro Video?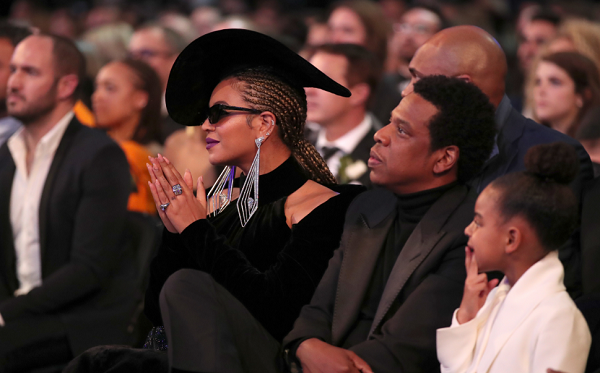 Beyoncé and Jay-Z kicked off their On the Run II tour with an intro video featuring twins, except the babies used in the video weren't their children, Rumi and Sir Carter. Since giving birth last June, Beyoncé and Jay-Z have kept their twins out of the spotlight.
The couple teased fans with a video that played during opening night of their tour in Cardiff, Wales, Wednesday. Hundreds of concertgoers took to their social media to share snapshots of the images, where Beyoncé is shown holding a baby in each arm while Jay-Z holds the twins in another photo. The photos were separated by a title card that reads "Love Never Changes" and "Love is Universal."
Though some fans got their hopes up, Rumi and Sir stand-in twins were used for the images. Beyoncé reps confirmed, "It's not," the Carter twins in a statement to Buzzfeed. The identity of the twins used in the intro video was not revealed.
Rumi and Sir did eventually make a cameo appearance during the concert—albeit a brief one. During a performance of Jay-Z's 2009 hit, "Young Forever," the couple shared another video appearing to be from their vow renewal ceremony. Rumi and Sir can be seen in the video wearing all white attire along with their 6-year-old sister Blue Ivy. Beyoncé and Jay-Z celebrated their 10-year anniversary in April.
In addition to clips from their vow renewal, the message, "THIS IS REAL LOVE," is projected during the film.
The footage marks the first time Beyoncé and Jay-Z have shared photos of their babies since Beyoncé posted an image of them on Instagram one month after their birth.
Beyoncé and Jay-Z twins will celebrate their first birthday on June 13.