Beyoncé's Mom Tina Lawson Says Jussie Smollett's Jail Sentence Was 'Racist'
Beyoncé's mother, Tina Lawson, branded Jussie Smollett's imprisonment for faking a hate crime against himself a "racist act."
Empire star Smollett, 39, was on Wednesday released from Chicago's Cook County Jail, pending his appeal, less than a week after a judge had sentenced him to 150 days behind bars.
The actor was in December found guilty of lying to police about being the victim of an alleged racist and homophobic attack on the streets of Chicago in 2019.
In the hours before Smollett's release, Lawson spoke out against the sentence he had been given, stating that the punishment was disproportionate to the crime.
Sharing a photo from last Thursday of Smollett at his sentencing hearing, the matriarch wrote: "No matter what opinion you have of whether or not Jussie [Smollett] did what he is accused of or not. The punishment does not fit the crime."
Lawson then went on to discuss those who have killed Black people and are "walking free," as well as "the people involved in the treason at the White House," in reference to the January 6 Capitol riot.
"People walk away free from killing our people everyday," she went on. "How many instances of our young black people have been murdered in the last year, and the people whom they were with are walking free! And what about the people involved in the treason at the White House? Most went unpunished!
"And then they give this man five months in Jail. Are you kidding me? This is unjust. This man is not a threat to society. This is an example of the disparities between how we are treated as opposed to our white counterparts."
"Black people we cannot afford to let this slide!" Lawson continued. "Trust me you and your family might be next! So let's make some noise about this and ask for probation!"
During Smollett's sentencing, Judge James Linn issued a damning assessment of the case, calling the screen star a "charlatan" whose "hypocrisy is just astounding."
The judge also sentenced Smollett to 30 months of felony probation with no travel restrictions, and ordered him to pay $120,106 in restitution to the city of Chicago and a $25,000 fine.
Continuing her post, Lawson stated: "The judge was obviously biased and very disrespectful and they wanted to disrespect and discredit the District Attorney Kim Foxx who is a black woman."
During an initial police investigation into whether Smollett had fabricated his attack, Foxx and the state attorney's office dropped all charges against him in 2019, in exchange for the actor performing community service. The investigation was later taken over by special prosecutor Dan Webb, leading to Smollett's conviction.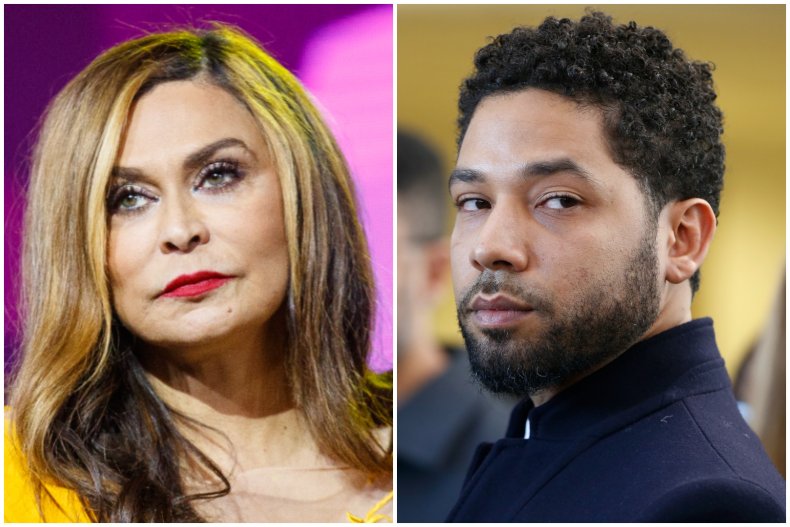 "Please do your research about the case and look at the crime he is accused of and look at the time given him," Lawson added. "[T]hey want to destroy this man."
She concluded: "Black people wake up don't let them do this, it is the start of something very dangerous for our people make some noise sign petitions call the politicians in your jurisdiction please.
"Please call your congressman and sign petitions. Do not let them get away with this racist act!"
Newsweek has contacted the Circuit Court of Cook County for comment.
On Wednesday, the Illinois Appellate Court directed Smollett to be released from jail after he agreed to a $150,000 recognizance bond.
Reacting to the news, Smollett's lawyer, Nenye Uche, said in a statement shared on the actor's Instagram account: "I'm going to put it in layman's terms and not legal talk: The case sucks, the case is bogus against him, and they released him.
"And that says a lot about what the appellate court thinks of this case."
However, Uche added that they "still have a long battle ahead of us."