Beyoncé Officially Endorses Joe Biden in Instagram Post: 'Come Thru, Texas! #VOTE'
Beyoncé has given her official presidential endorsement for the 2020 election. In an Instagram post shared on Monday, the superstar performer rocked a face mask printed with the "Biden-Harris" logo, indicating her support for Democratic candidate Joe Biden and his vice presidential pick, Senator Kamala Harris.
In the giphy, Beyoncé also tugs on her wide-brim hat, showcasing an "I VOTED" sticker.
Meanwhile, in the photo caption, the Houston native encouraged the people of her home state to get out to the polls on election day. "Come thru, Texas! #VOTE," the singer wrote.
Beyoncé's support of Biden should come as no surprise. The mother-of-three was a strong supporter of President Barack Obama and his administration, during which Biden served as Vice President for two terms, from 2008 to 2016. Beyoncé performed at Obama's Inauguration Ball in January 2009 and she later sang the national anthem at Obama's second inauguration in 2013.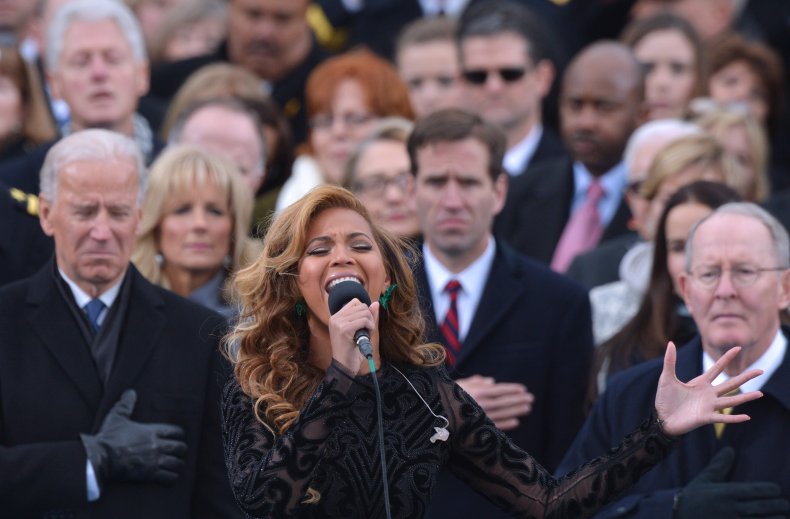 Following months of marches over racial injustice and police brutality, the 39-year-old "Black Parade" singer urged fans to continue to let their voices be heard and exercise their right to vote while dedicating her BET humanitarian award to protesters in June.
"I want to dedicate this award to all of my brothers out there, all of my sisters out there inspiring me, marching and fighting for change. Your voices are being heard, and you're proving to our ancestors that our struggles were not in vain. Now we have one more thing we need to do to walk in our true power, and that is to vote," Beyoncé said. "I'm encouraging you to continue to take action, continue to change and dismantle a racist and unequal system. We have to continue to do this together. Continue to fight for each other and lift each other up, because there are people banking on us staying at home during local elections and primaries happening in states across the country."
She added: "We have to vote like our life depends on it, because it does. So please continue to be the change you want to see."
Beyoncé joins a long list of celebrities who have officially endorsed Biden for president.
In October, Jennifer Lopez and her fiancé Alex Rodriguez gave their stamp of approval while appearing in a campaign video with Biden and his wife Dr. Jill Biden. "We're thrilled and we're excited to vote. I think our voice has never been more important," Rodriguez said in the video.
Lopez chimed in and said that she was hoping a Biden administration could bring U.S. citizens together.
"For me, it's unifying the nation again. Getting rid of this hate, thinking about my kids walking around in a world where, you know it's OK to be racist or prejudiced because our administration says it's OK," Lopez said. "That to me is really sad because it's not the country I grew up in."
Billie Eilish, Dwayne "The Rock" Johnson, Cardi B, Tracee Ellis Ross, Bruce Springsteen, Howard Stern, Larry David, Mark Cuban, Jon Stewart, Billie Jean King, John Legend and Barbara Streisand are among the many celebrities who have encouraged Americans to vote for Biden.