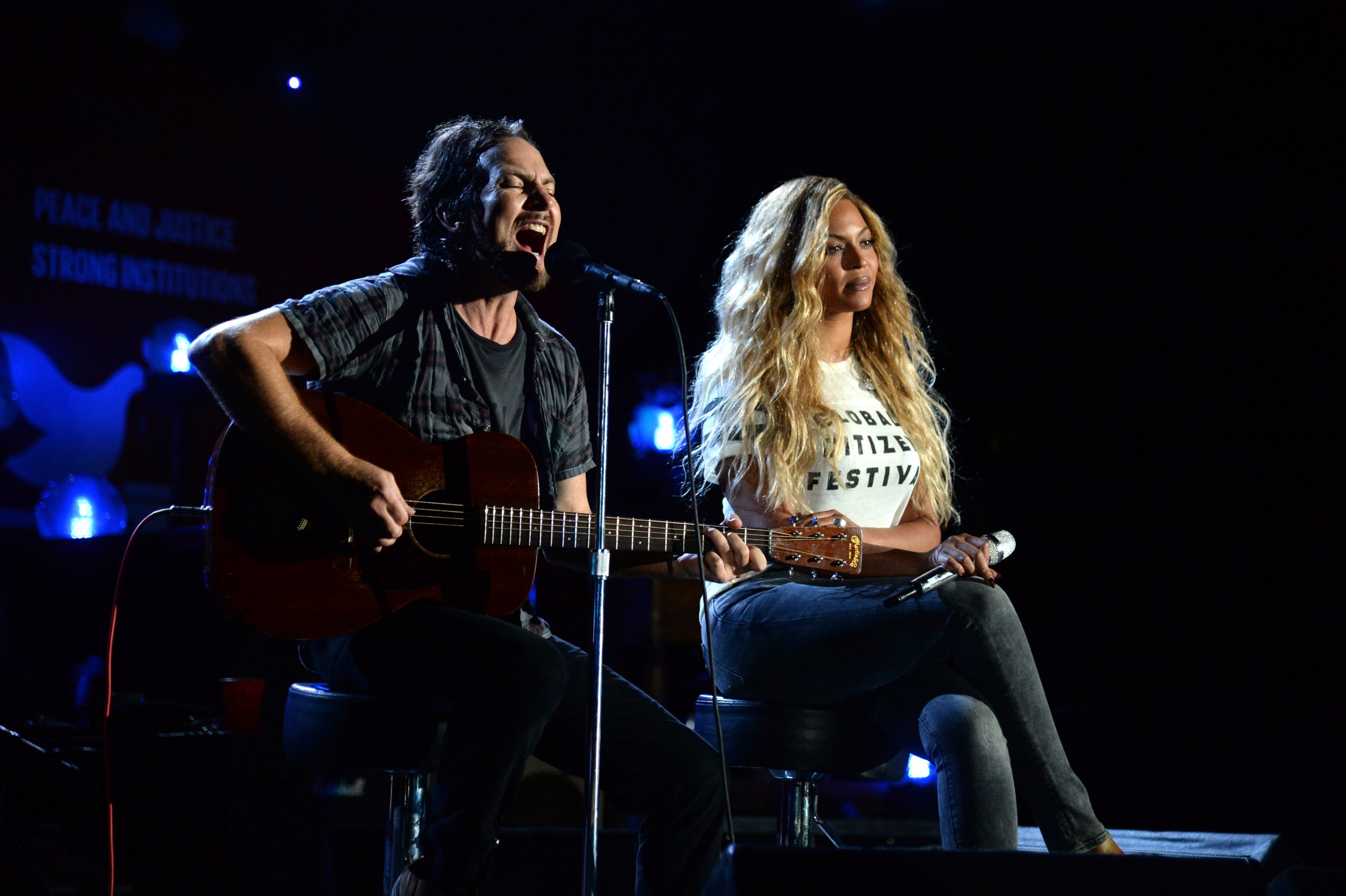 The moment the Global Citizen Festival opened to concertgoers on September 26, fans decked out in Beyoncé T-shirts raced toward the front of the stage. They had waited in line outside of Central Park in New York City for hours, and they'd have to wait several more before it was Beyoncé's turn to perform. They likely didn't mind sitting through sets by Coldplay (with Ariana Grande), Ed Sheeran, Tori Kelly and Common (with Sting), but they seemed to lose interest during presentations on the 17 "global goals" recently announced by the United Nations, for which concert organizers hoped bring attention.
The camera phones came out when Leonardo DiCaprio, Vice President Joe Biden and event hosts Stephen Colbert and Hugh Jackman took the stage. But other times, concertgoers seemed more interested in the red and white beach balls dancing across their fingertips than applauding every time a company representative or head of state announced donations. Even Salma Hayek Pinault couldn't hold their attention after hinting that Beyoncé would soon perform. "Be patient for a little bit longer," she said, sounding like a teacher nearing the end of class. "Just five more minutes. This is important."
Beyoncé eventually sang 18 or so songs and made three costume changes. And though her lyrics and video projections promoted female empowerment, she appeared to do little else to address the point of the concert—ostensibly to encourage social action around the 17 goals. After closing with "Single Ladies," Beyoncé introduced first lady Michelle Obama. But having seen what they came for, concertgoers began trickling out, even as the first lady was speaking. Moments later, when the first lady passed the mic to Bono, anyone who wasn't sticking around for Pearl Jam began leaving in droves.
The event was the fourth annual festival organized by Global Citizen, part of the Global Poverty Project, an education and advocacy organization focused on ending extreme poverty, defined as living on less than $1.25 per day. To score free tickets, attendees had to complete prompts such as contacting politicians or donating clothing. (Hours before the concert, scalped tickets were going for $700 on StubHub.)
Does a festival like Global Citizen truly make a difference? Several attendees who spoke with Newsweek said they found the prompts easy; one couldn't immediately recall the specific world leaders to whom she tweeted.
Still, Hugh Evans, CEO of Global Poverty Project and co-founder of Global Citizen, told Newsweek their members aren't armchair activists, a pejorative term meaning people who expect to effect social change through social media posts.
"Most armchair activists focus just on awareness," Evans, 32, recently said from the Project offices in the SoHo neighborhood of Manhattan. "Awareness is effectively useless when it comes to poverty alleviation because people know there's poverty. They don't need to be more aware. They need to know how to take action."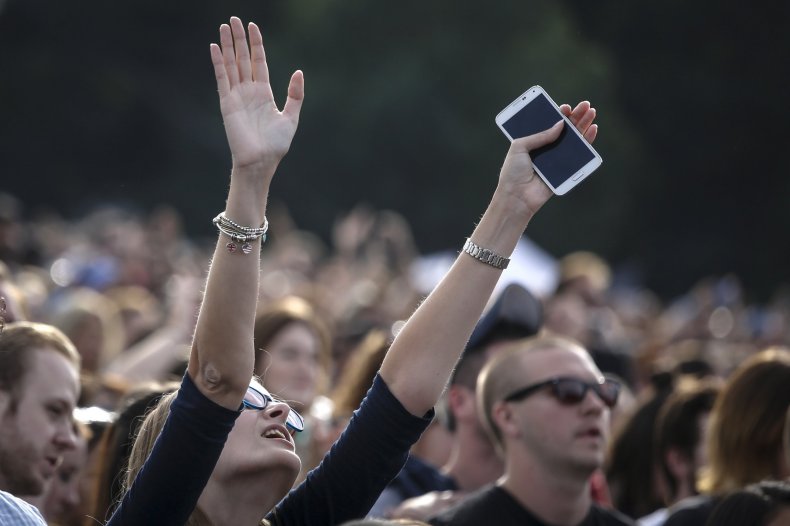 Some social media–fueled campaigns have proved less successful (#kony2012). Others, however, have proven the skeptics wrong. Following the ubiquitous "ice bucket challenge" videos posted to social media last year, intended to raise money for amyotrophic lateral sclerosis (ALS) research, the ALS Association reportedly received $15.6 million in contributions, compared to $50,000 over the same time period the previous year.
Global Poverty Project numbers show its methods work too. Prior to his co-hosting the festival, Stephen Colbert asked people to tweet at Norwegian Prime Minister Erna Solberg, asking her to commit $500 million over five years to increasing girls' education worldwide. The campaign was a success, and the prime minister spoke at the festival.
"World leaders have been responding because literally millions of global citizens have been calling on them to create change," Evans said.
Global Citizen now has more than 6 million members and the Global Poverty Project has 100 full-time staff, Evans said. It also has celebrities helping out, such as Chris Martin of Coldplay, who has committed to the organization for 15 years.
The United Nations announced the 17 goals for sustainable development prior to the event and adopted them on September 25. They pick up where the Millennium Development Goals from 2000 left off. A previous goal to confront extreme poverty was achieved, cutting the world's population of extreme poor in half—"the most successful anti-poverty push in human history," Evans said. The new set includes goals related to confronting poverty, climate change, gender inequality and lack of clean water and sanitation.
"It's a historic year," Evans said, adding that the concert was to "make the new global goals famous and also to really build a lasting movement to ensure that they can be achieved over the years to come."