Despite its reputation for being an app exclusively for Generation Z, TikTok has become a platform for viewers—and creators—of every age. One pint-sized chef has made his mark on the video app by sharing cooking videos creating everything from dumplings to pumpkin pie.
Oliver, or ChezOliz as he is known on the app, first posted a video in March when he was still sitting in a high chair. Of course, this video was a little less involved than his newer videos—showing him whisk an egg or two. Fast-forward to today, Oliver is standing on his own in the kitchen whipping up concoctions with the help of his parents from off camera—he is a toddler after all.
What makes his videos extra cute is the captioning placed on the videos emphasizing some of this toddler-isms. "Shoogie" is a popular one, which is the little chef's version of "sugar." And when he needs a little help? "Help me peesh" he asks his mom who is standing just off camera.
Baby Oliver is not the only person shaking up the age stereotype on the app. Just a few years older than Chez Oliz is Grandad Frank. Since posting his first video in November 2019, Grandad Frank has amassed 4.7 million followers on the app.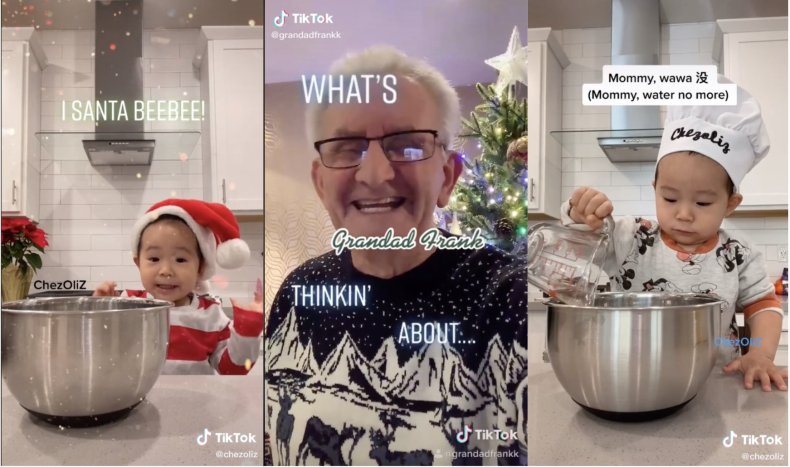 Grandad Frank, who is from the United Kingdom, brings many laughs to his followers. He often reenacts popular trends from the app though brings his special, grandpa charm. As his TikTok profile reads, he's "just a grandad hopping on the trends."
In his videos, he talks about his wife, his grandchildren and his love of biscuits. In one instance, Grandad Frank made a side by side dance video—or a duet—with a popular TikTok star Noah Beck, hoping Beck would do the same. A few days later, Beck duetted Frank's video—which in the world of TikTok is a big deal.
In a Youtube video, Frank explains that given his age he has been quarantining since before the countrywide lockdowns went into place. Despite the pandemic, Frank has kept a smile on his face and a pep in his step.
Grandad Frank and ChefOliz are not the only people who have looked to TikTok during the pandemic. The app took off this year especially in the wake of the sweeping stay at home orders when millions of people were left with more time on their hands than they knew what to do with. As of August, TikTok had about 100 million monthly active U.S. users, which was up nearly 800 percent from January 2018, according to CNBC. The same report noted that the app had been downloaded about 2 billion times globally.