Beyond Bacon? Plant-Based Meat Company Reveals Plans For Fake Steak and Pork Products
You long for tasty, crispy slices of meat to go with your morning breakfast, but you've rid your life of pork and the fatty, delectable goodness of bacon doesn't fall in line with these new lifestyle changes. Turkey and beef bacon could be a solid alternative, but that's not necessarily helping the crusade for better environmental and animal practices either. What's a hungry person to do?
Well, Beyond Meat may soon have a solution for you.
Following the massive success of its signature plant-based Beyond Burger, the company announced plans to create a meatless alternative to cow and pig products like steak and bacon. The new plant-protein products are a part of Beyond Meat's longer-term efforts to expand the company's portfolio while giving consumers more options, the company's CEO Ethan Brown told CNN Business on Tuesday.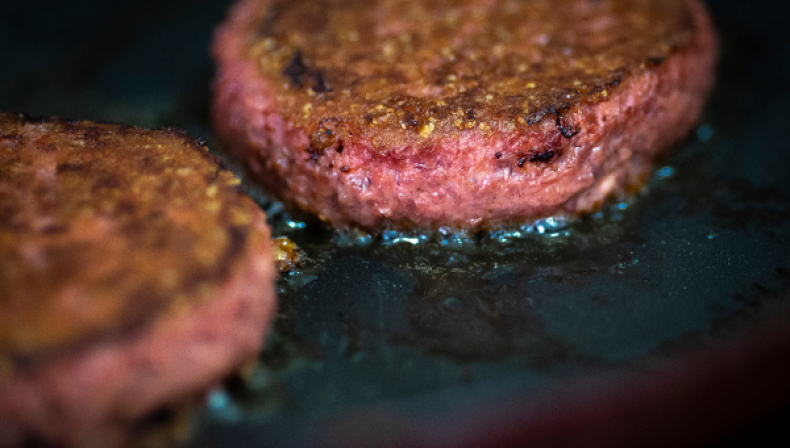 At the moment, Beyond Meat scientists are merely working on creating bacon and steak alternatives. Brown said the development team would need a "surprise breakthrough" to give consumers the newest products in the company's catalog in the near future.
When researchers finally do cook up the perfect recipe, fake bacon and steak will likely have a huge impact on Beyond Meat's mission to combat animal grazing while giving people satisfying options as more folks decide to reduce their meat intake for health and environmental purposes.
The company has already had a major impact on the food industry, reporting sales north of $40.2 million within the first quarter of the year, CNN reported. The odds of Beyond Meat sales continuing to increase seem likely, especially now that the company has tapped into the breakfast industry. Beyond Meat partnered with Dunkin' Donuts to release a new breakfast sandwich made with the plant-based supplier's vegan sausage on Wednesday. It's currently available at 163 Dunkin' Donuts locations in Manhattan with nationwide expansion plans in the pipeline.
The company's growth and success is on track with the entire plant-based industry, which saw overall retail sales grow 11 percent within the past year, according to a Plant-Based Foods Association and Good Food Institute report released in July.
Beyond Meat's biggest competitor Impossible Burger is similarly eyeing expansion into other meatless products. While the company is primarily focused on efforts to get their popular Impossible Burger and ground beef into grocers across the nation, the company recently announced plans to develop an alternative to commercially fished seafood using heme—the protein ingredient used in Impossible Foods' fake meat.