Plant-Based Burger Company Beyond Meat Goes Public, Surges Above IPO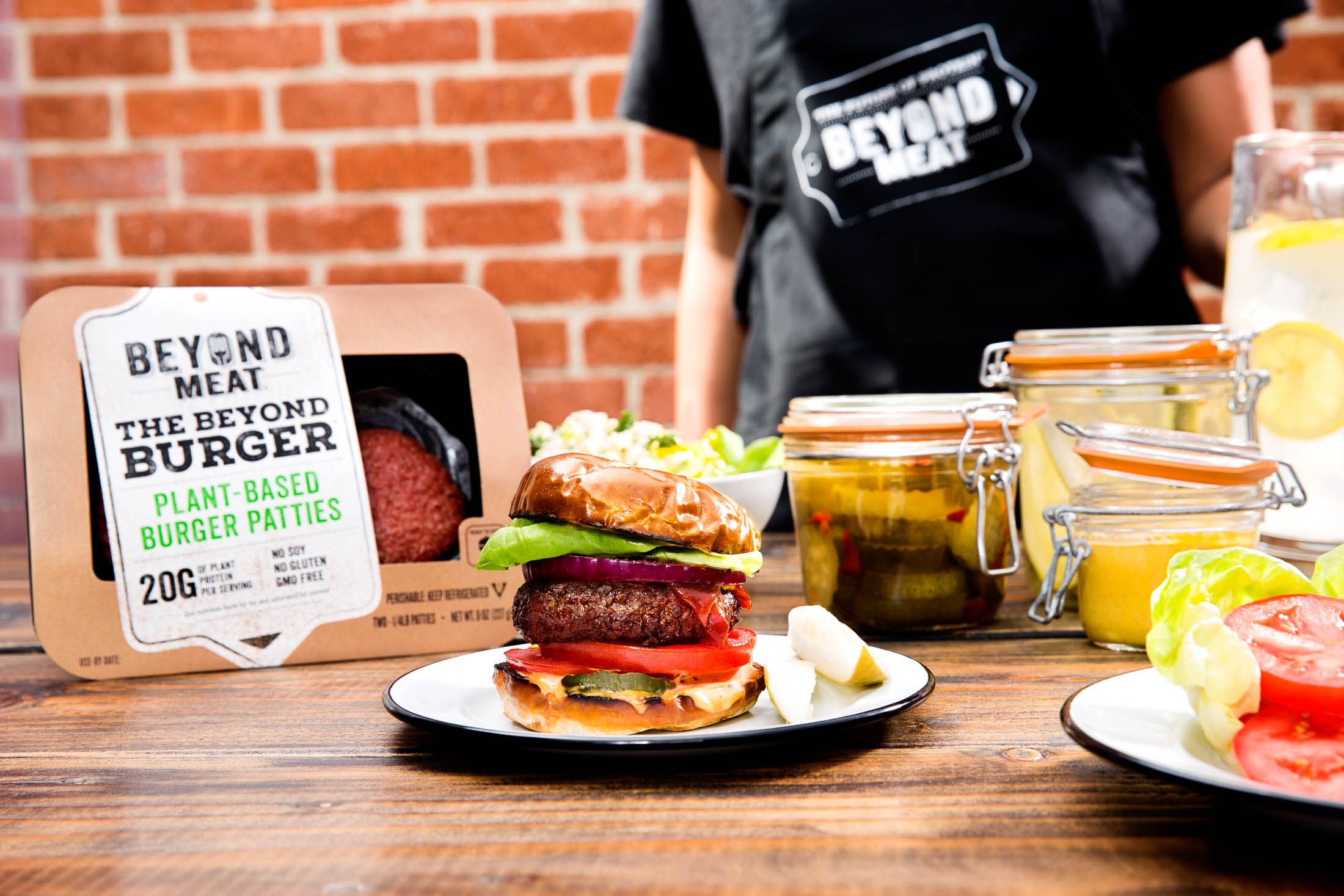 Beyond Meat claimed to have engineered "a better way to feed the planet," and investors agreed. After launching on the Nasdaq stock market early Thursday, plant-based protein company Beyond Meat saw its stock price surge to $62, up from its initial public offering of $25 a share. It is the first plant-based meat alternative company to go public on a major exchange.
Plant-based meat alternatives have taken off in recent years. According to the pro-alternatives nonprofit The Good Food Institute, sales of plant-based food products grew 23 percent last year while sales of animal-based foods grew less than 5 percent. Plant-based meats currently account for less than 1 percent of the retail meat marketplace, though plant-based milks were in a similar market position a decade ago and now account for 13 percent of milk sales.
Why plant-based alternatives are growing so rapidly at this moment is an open question that investors are hoping to better understand.
"Once a niche segment catering to vegans and vegetarians, the plant-based proteins market has gained traction with consumers across the dietary spectrum," Karen Formanski, health and nutrition analyst at market research firm Mintel, told Newsweek.
"Where consumers once had to venture to a natural foods grocer, specialty store, or co-op to find plant-based options, these products are now readily available at mainstream retailers as well as major restaurant chains."
Beyond Meat aims to completely disrupt the meat-dominant status quo of the food industry. In the company's prospectus, founder Ethan Brown writes that he envisions "a future of farmers growing higher value protein crops for more direct human consumption via plant-based meat." In a conversation with Newsweek, Brown compared the introduction of plant-based meats to the displacement of horse-drawn carriages by cars and landlines by mobile phones.
"I was really motivated by the question of climate and how to address climate. I felt that clean tech in particular, the area I was in, was a really promising way to do that," Brown said. "If we focused on the food sector as a climate issue, in the same way we focus on the transportation sector, what would the results be?"
The type of agriculture employed in the production of plant-based proteins uses "93 percent less land, 99 percent less water, and 46 percent less energy" than raising livestock for meat consumption does, according to the company.
The building blocks of Beyond Meat's products are protein, which they derive from peas, mung beans, and brown rice. The company uses beets and pomegranate juice to provide their burgers with a typically meaty appearance. Coconut oil and potato starch are added to regulate the texture.
The United Nations found that emissions from raising livestock account for around 15 percent of total greenhouse gas emissions globally. And according to the World Resources Institute, the average American could cut their environmental footprint in half by eating less meat and dairy. Beyond Meat has entered the marketplace at a critical juncture for evolving diets and urgency on climate change. Traditional meat producers have taken notice.
Up until recently, meat giant Tyson Foods had a 6.5 percent ownership stake in Beyond Meat, before selling the shares in order to develop its own line of plant-based products, according to Axios.
In Beyond Meat's SEC filings, the company announced plans to use $40 to $50 million of the proceeds from its market debut to bolster its manufacturing operations and reinvest an additional $50 to $60 million in its R&D activities.
"Nobody was focused on it," Brown said. "We'd be at these meetings at the Department of Energy and we'd be wringing our hands. And then we'd all go to lunch or dinner and people would be ordering steak."