Beyond TPS: A Permanent Fix for Afghans in the United States | Opinion
When the Biden administration recently announced that it would protect Afghans in the United States from deportation by granting them Temporary Protected Status (TPS), those of us who have been working on evacuating and resettling tens of thousands of Afghans breathed a sigh of relief. It was a designation that was long overdue and necessary given the dire humanitarian and security crisis in Afghanistan—but it was also a stark reminder that we must find a permanent solution for these newly arrived Afghan Americans.
With the Afghan TPS designation, the Biden administration has done right by Afghans in the United States who have been living in fear of being sent back to certain suffering and harm in Afghanistan. President Joe Biden must now use his bully pulpit to urge Congress to pass a bi-partisan Afghan Adjustment Act.
TPS—a form of immigration status provided to people of certain countries experiencing conditions that make it difficult or unsafe to return—has benefited from steady bi-partisan support for the last three decades, but its limited validity of up to 18 months and renewal subject to the discretion of the Department of Homeland Security create an uncertainty unbearable for many Afghans.
For several months, advocates, congressional staff and members of the Biden administration have gone back and forth on whether an immediate grant of TPS for Afghans would be appropriate or wise. These conversations haven't focused on whether conditions in Afghanistan support Afghan TPS or whether there is historical precedent for such a designation. Instead, the discussion has been about strategy.
While organizations like ours, the Afghan-American Foundation, continued to press the administration for TPS for Afghanistan, many—including some immigration advocates and policy makers—expressed a sincere belief that members of Congress wouldn't act with urgency on a permanent immigration solution for Afghans if TPS was granted to them by the Biden administration. Their concern, which we took seriously but also took issue with, was that Congress would be glad to leave Afghans on the well-worn path of indefinite TPS renewals and perpetual uncertainty that so many other groups living in the U.S. have taken. If ever there was a perfect example of how broken our immigration system is, how untethered it has become from our principles and values as a country, and the frustration it rightly engenders, it is captured in this concern.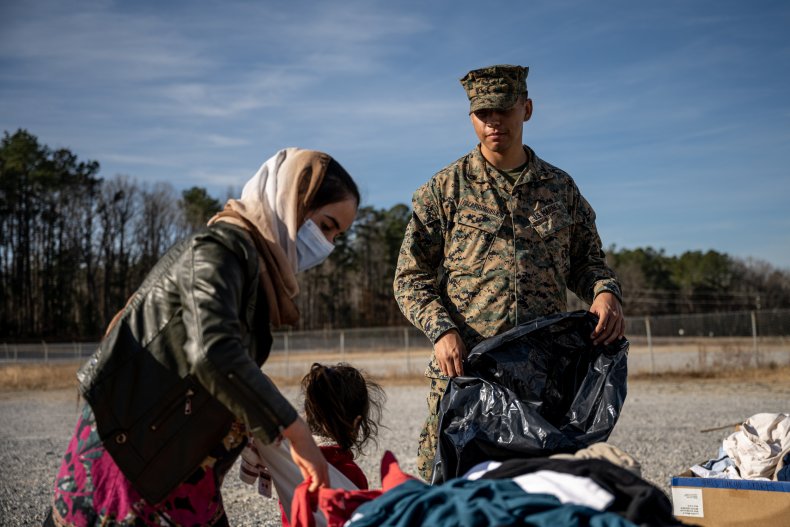 To think that people, some desperate enough to chase an American Air Force C-17 down a runway in Kabul, could make it to safety in the U.S. only to then have to outrun the defeatism of our polarized politics is deeply disturbing. If nothing else, it should serve as a wake-up call for Democrats and Republicans alike, who have spoken of fulfilling America's commitment to its Afghan allies and partners, and other at-risk Afghans.
Nearly 80,000 Afghans have been evacuated to the United States since the fall of Kabul in August 2021 and thousands more are headed here. Together they will constitute one of the most closely vetted refugee groups to ever come to the United States.
President Biden promised a whole-of-government effort to assist Afghans to whom the United States had promised refuge. After some delay, his administration has made significant progress in meeting this promise through its grant of TPS. Now it's up to Congress to do its job—without further delay and without playing politics—and deliver to the president's desk a bill for him to sign that creates a path to real, lasting safety for Afghans in the United States.
Just as with Afghan TPS, there is precedent to work from for this critically important legislation. The United States created this pathway to becoming Americans for Cuban political refugees in 1966 through the Cuban Adjustment Act (CAA), for individuals fleeing southeast Asia following the Vietnam war through the Indochina Migration and Refugee Act of 1975, H.R. 7769 (1977) and the Indochinese Parole Adjustment Act (2000), and for Iraqi nationals through multiple bills culminating with the National Defense Authorization Act of 2008. We have the roadmap; Congress must now find the will and the clarity of purpose to follow it.
Leaders in Washington, as well as advocates, should take a lesson from recently arrived Afghans—hopeful for a new life here—and from the many selfless Americans who have come together to help in the historic resettlement effort of the last seven months: This is no time for cynicism.
Joseph M. Azam is a lawyer, policy advisor and the board chair of the Afghan-American Foundation, a non-partisan, nonprofit organization focused on advancing the interests of Afghan Americans. He also serves as a member of the National Welcome Council of Welcome.Us. He lives in Oakland, Calif.
The views expressed in this article are the writer's own.