Beyond Veterans Day: Treating the Invisible Wounds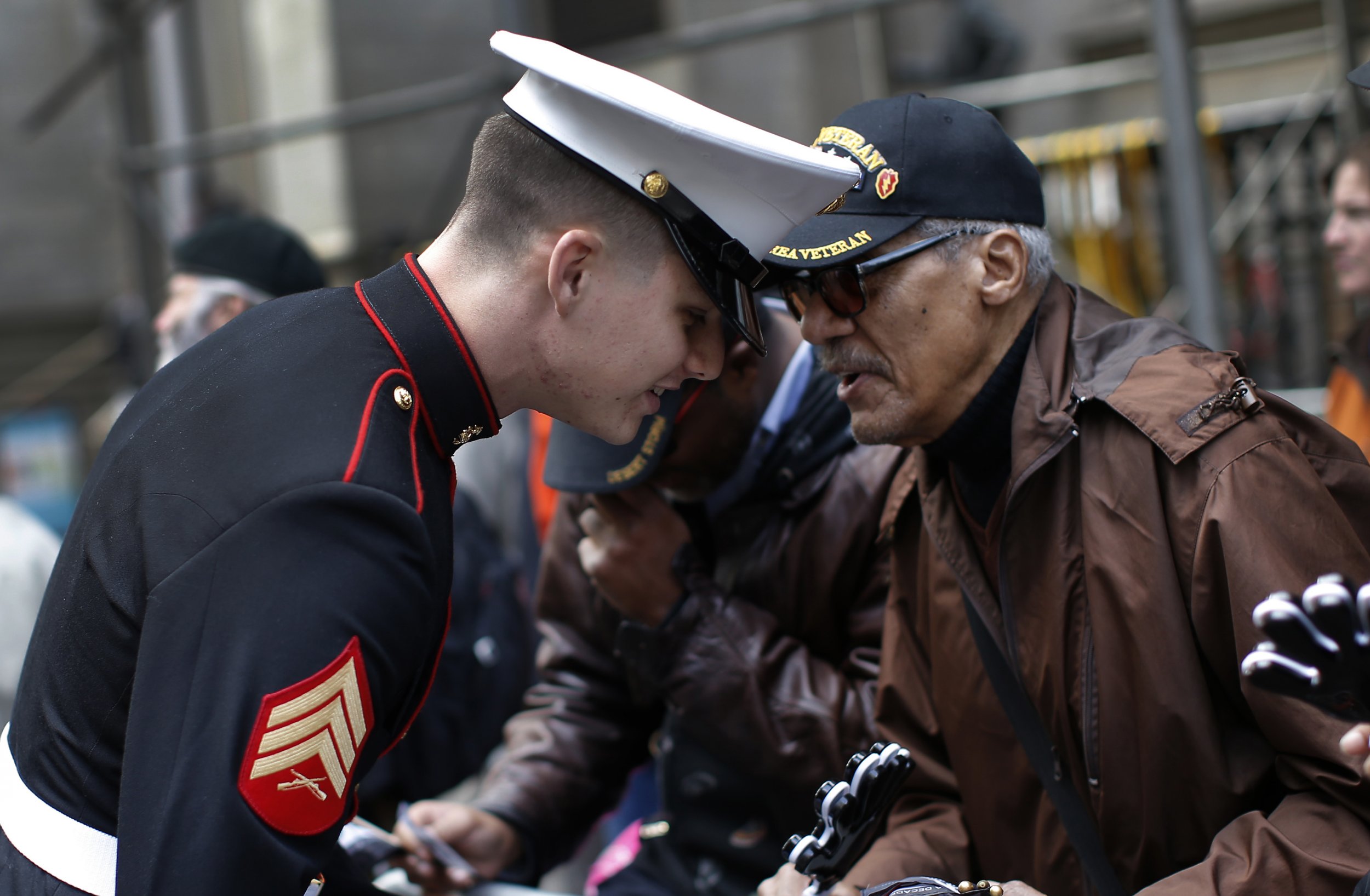 "It was hell on Earth," said Ken Smith, speaking at Madison Square Park at an opening ceremony for Tuesday's Veterans Day parade in Manhattan. Smith, who served in the 25th Infantry Division, wasn't talking about his time in Vietnam. He was speaking about his return home.
Standing beside Smith was Laurence Lynch, who served in Cu Chi in the south of Vietnam in 1968 and 1969. "We were being spat on" by those opposed to the war in Vietnam, Lynch told Newsweek from under a camouflage cap adorned with medals. "Back then it really hurt. We kept a lot of pain inside."
New York City's annual Veterans Day Parade, the largest in the nation, according to organizers, with 27,000 participants and 600,000 spectators expected, honors veterans and members of the active military with much fanfare. But beyond the speeches, the clapping and the upbeat music of the military bands is the daily reality of veterans still dealing with the aftermath of their service, tending to both physical and emotional wounds.
"As moving as these tributes are here in New York City and around the country, one day out of the year is simply not enough," Steven Nardizzi, executive director of the Wounded Warrior Project, said at the parade's opening ceremony. His organization helps wounded veterans adjust and do well in their lives after combat.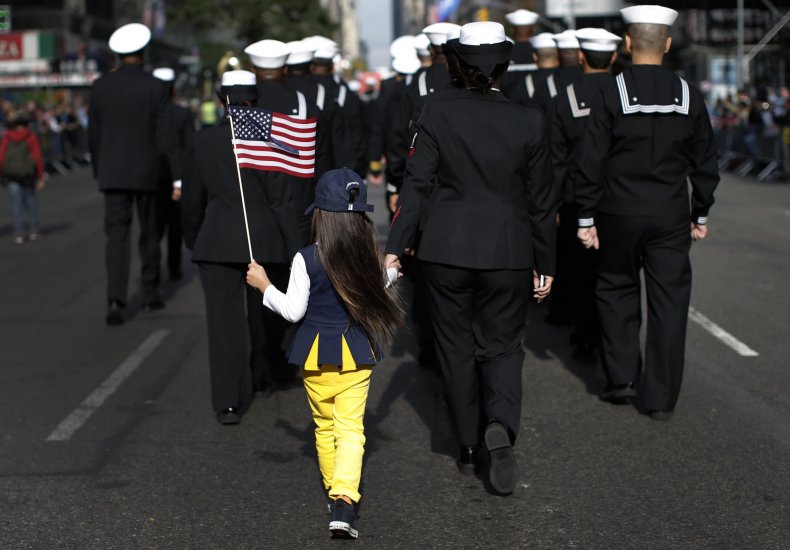 In Focus
Around 600,000 spectators were expected at Tuesday's annual Veterans Day Parade in New York City, which had the theme "Land of the Free, Home of the Brave."
Launch Slideshow

11 PHOTOS
The crowd before him was dotted with military uniforms of various colors and from multiple eras. White and gray peeked out from under the caps of some veterans from World War II, Korea and Vietnam, who were joined by their younger counterparts from the wars in Iraq and Afghanistan.
"All of our veterans face challenges as they return home to civilian life," Nardizzi said, "and today's wounded warriors are facing extraordinary obstacles year-round caused by their physical and their invisible injuries."
According to a 2012 report from the U.S. Department of Veteran Affairs, an average of 22 veteran suicides occurred each day in 2010, with the number hovering between 18 and 22 throughout the preceding decade.
"Every veteran who comes home deserves not half help, not three-quarters help, but full help," said New York's senior U.S. senator, Charles Schumer, at the ceremony. "And we have more to do: jobs, housing, mental health issues—the rate of suicide is far too high, [and] we need more screening."
On Monday, Schumer joined local veterans and service members in Syracuse, New York, to advocate for the Jacob Sexton Military Suicide Prevention Act, which would require every member of the U.S. armed forces to go through a mental health screening at least once a year.
The bill, written by Senator Joe Donnelly, D-Indiana, and co-sponsored by Senator Roger Wicker, R-Mississippi, extends beyond active duty military personnel to those serving in the Reserves, and would require the Department of Defense to submit an annual report to the Senate and House Armed Services Committees, which would include "the number of members referred for care and services based on mental health conditions detected."
It would also require the secretary of defense, with a working group drawn from different agencies, to review and make recommendations to improve mental health services for members of the National Guard and the Reserves, and report on best practices for improving the identification and treatment of mental health problems and traumatic brain injury.
"What you suffered mentally stays with you forever," said Lynch, who attends a post-traumatic stress disorder support group in the Bronx with fellow combat veterans. "We help each other out tremendously. It's very important."
When you leave service, "you don't have that unit that you had when you were still in the military," said Tegan Griffith, who served in the Marine Corps and was deployed to Iraq in 2008. Griffith works with Iraq and Afghanistan Veterans of America, an organization that represents and supports post-9/11 veterans. In the last year, she has been organizing monthly "VetTogethers" for veterans near her hometown of Madison, Wisconsin.
With the VetTogethers—which could be anything from a night of bowling to an ice-fishing excursion—"you kind of establish a new unit, new battle buddies," Griffith told Newsweek. "It's done wonders for us, especially in Wisconsin because it's so rural. The peer support network is huge."
Patrick Gualtieri, executive director of the United War Veterans Council and the Veterans Day Parade in New York, told Newsweek the United States has come a long way from terms like "shell shock" and "battle fatigue."
"A person could have a Purple Heart for being wounded, but what about the mental wounds?" Gualtieri asked. The system has taken leaps forward since Vietnam to acknowledge PTSD and other problems that plague returning veterans, he says, but there's more to do.
Despite the improvements in mental health services, other factors prevent some veterans from getting the help they need.
"Some of them feel bad about going to help," Michael Ortiz, who served in Germany in the 1980s and has family and friends who served in Iraq and Afghanistan, told Newsweek. There's still the stigma among some of his fellow veterans, he said, that "if I seek help I'm going to be looked at as weak."
At Tuesday's ceremony, for the first time Ortiz met Iraq veteran Joe Raicaldo and Eric Alameda, who served as a medic in the U.S. Army from 1986 until 2001 in Germany, Panama and Iraq. The three stood at the corner of Madison Square Park long after the opening ceremony had ended, chatting, sharing stories and comparing scars.
"Back in society, I was telling them," Alameda said, pointing to Ortiz and Raicaldo, "sometimes you get a flashback. You hear a firework, firecrackers, [and] you duck and cover without realizing it.
"It comes back with you," he said. "The scars are with us."
Correction: An early version of this article incorrectly stated that Joe Donnelly is a Senator from Idaho. He is a Senator from Indiana.