Bhad Bhabie Blows 'Kardashians' Ratings Away With Snapchat Reality Show Premiere
Rapper Bhad Bhabie, real name Danielle Bregoli, welcomed her new reality show to Snapchat with shockingly high ratings. The series, titled Bringing Up Bhabie, which premiered Monday on the social media app, had 10 million viewer in its first 24 hours, Snapchat told TMZ. That's far beyond most reality television shows on TV now.
Keeping Up With The Kardashians, one of the most popular, current reality shows, brings in an average of 1.5 million viewers per episode. That means Bregoli's show brought in six times as many viewers in the pilot as compared to any one episode of the Kardashian's show, which has been airing since 2007.
The show follows Bregoli, who is 15, as she navigates the world of fame and music. And the social media premiere for her most personal excursions yet seems fitting: she became famous from a viral outburst on laughter and hate when she appeared on Dr. Phil in 2016. There, she told the audience to "Catch her outside," which became a meme nearly overnight.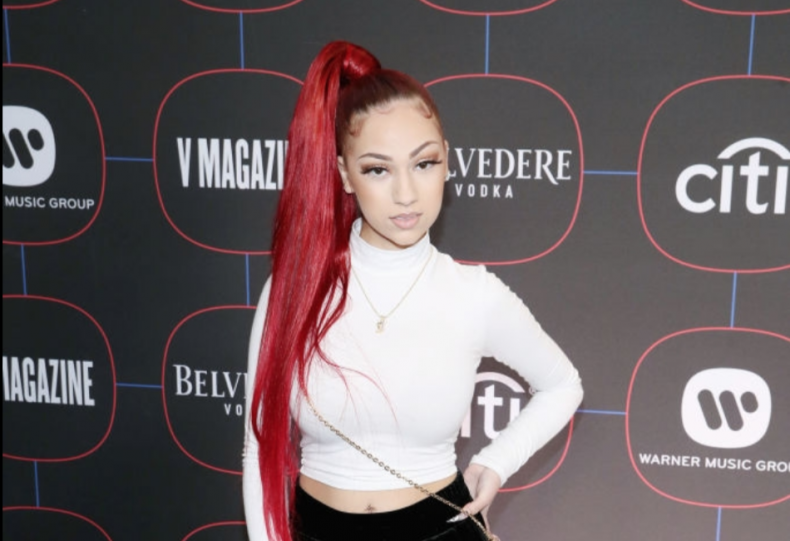 Newsweek subscription offers >
Now, Bregoli has the connections and the fame to keep her going. She said she realized she could do anything after Dr. Phil in an interview with Time. "When I became famous and realized that I could literally do whatever I wanted," Bregoli said. "Music was the first thing I wanted to do."
Bregoli has released one full album. With money from music, and a whopping $900,000 makeup sponsorship deal, the 15-year-old has an estimated net worth of $3 million. She has around 4,166,000 listeners per month on Spotify. She'll be going on tour in the spring.
In a preview of the first Bringing Up Bhabie episode, Bregoli's notoriously rebellious attitude is on full display. "I'm the bad kid that my mother can't control, so she put me on a TV show," says Bhabie in the preview posted by People. "I went from sleeping on the floor in a trailer to having a gold record in six months."
The artist explained she's just trying to grow up without anyone telling her to calm down. "They all think I'm their baby and they don't want to let me grow up," she says. "Bitch, it's time."
Newsweek subscription offers >
Despite her age and time in the spotlight, Bregoli has already been subject to a handful of controversies. In 2017, Bregoli allegedly punched another passenger on a plane because they said her mother was moving too slowly putting a bag in the overhead compartment, according to Billboard. This resulted in both Bregoli and her mom being banned from Sprint airlines.
Bregoli also made headlines when she threw a drink at rapper Iggy Azalea at a Fashion Nova sponsored event in November.
Bhad Bhabie Blows 'Kardashians' Ratings Away With Snapchat Reality Show Premiere | Culture