Biafra: Appeals Court Withholds Judgment as Nnamdi Kanu Case Drags On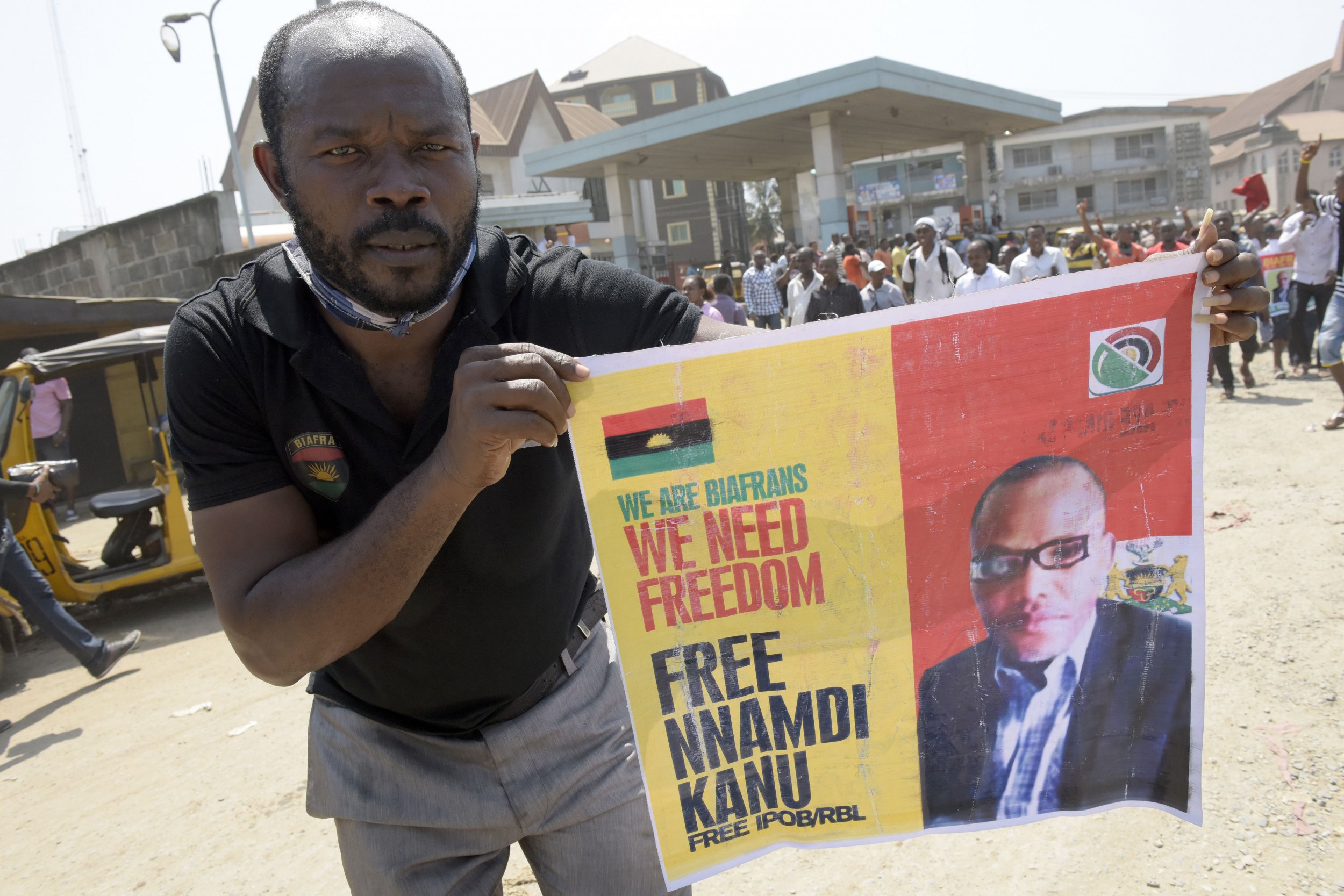 Pro-Biafra activist Nnamdi Kanu suffered a further setback in his bid for freedom after a Nigerian appeals court withheld judgment on his bail application on Thursday.
Nigerian security forces arrested Kanu—the leader of the Indigenous People of Biafra (IPOB)—in October 2015 as the U.K.-based activist was visiting Lagos. He is facing six counts of treasonable felony, which he denies and which carry a maximum life sentence in Nigeria. Kanu, who also directs the underground media outlet Radio Biafra, campaigns for the independence of Biafra, which existed as a federal republic in southeast Nigeria between 1967 and 1970 before it was forcibly reintegrated at the end of a bloody civil war.
Kanu and two other co-defendants, David Nwawusi and Benjamin Madubugwu, brought the appeal to the Abuja Division of the Court of Appeal after Judge John Tsoho ruled in March that witnesses in the case should be allowed to testify from behind a screen. This followed a previous contrary decision in February by the same judge, who said witnesses should appear in public when testifying and could not wear masks, International Business Times reported.
Kanu's team has accused the judge of bias and requested that the trio be granted bail, according to Nigerian newspaper Vanguard. But the court has reserved judgment on the matter, and it appears Kanu is unlikely to be released on bail before the trial gets underway again on June 20.
Nigerian President Muhammadu Buhari has previously described Kanu, who holds dual U.K. and Nigerian nationality, as a flight risk and suggested that he should not be granted bail. Buhari has also said that Nigeria "will not tolerate" pro-Biafra activists interfering with Nigerian security or the economy.
Speaking to Newsweek in April, one of Kanu's lawyers, Ifeanyi Ejiofor, said that the Nigerian government "have nobody to come and testify against our client" and that the defense team had lost faith in Judge Tsoho.
Nigerian security forces and pro-Biafra activists have ramped up their rhetoric in recent months, with IPOB accusing the security forces of killings scores of its members while the security forces say pro-Biafra activists have been guilty of ethnic violence against Fulani tribesmen, AFP reported.
Nigerian military officer Odumegwu Ojukwu declared Biafran independence in 1967, sparking a three-year civil war between the Nigerian military and pro-Biafra forces. More than a million people were killed in the war, many due to starvation when a blockade was enforced around the borders of Biafra.