Biafra: Nigerian Police Chief Warns Protesters Not to Carry Guns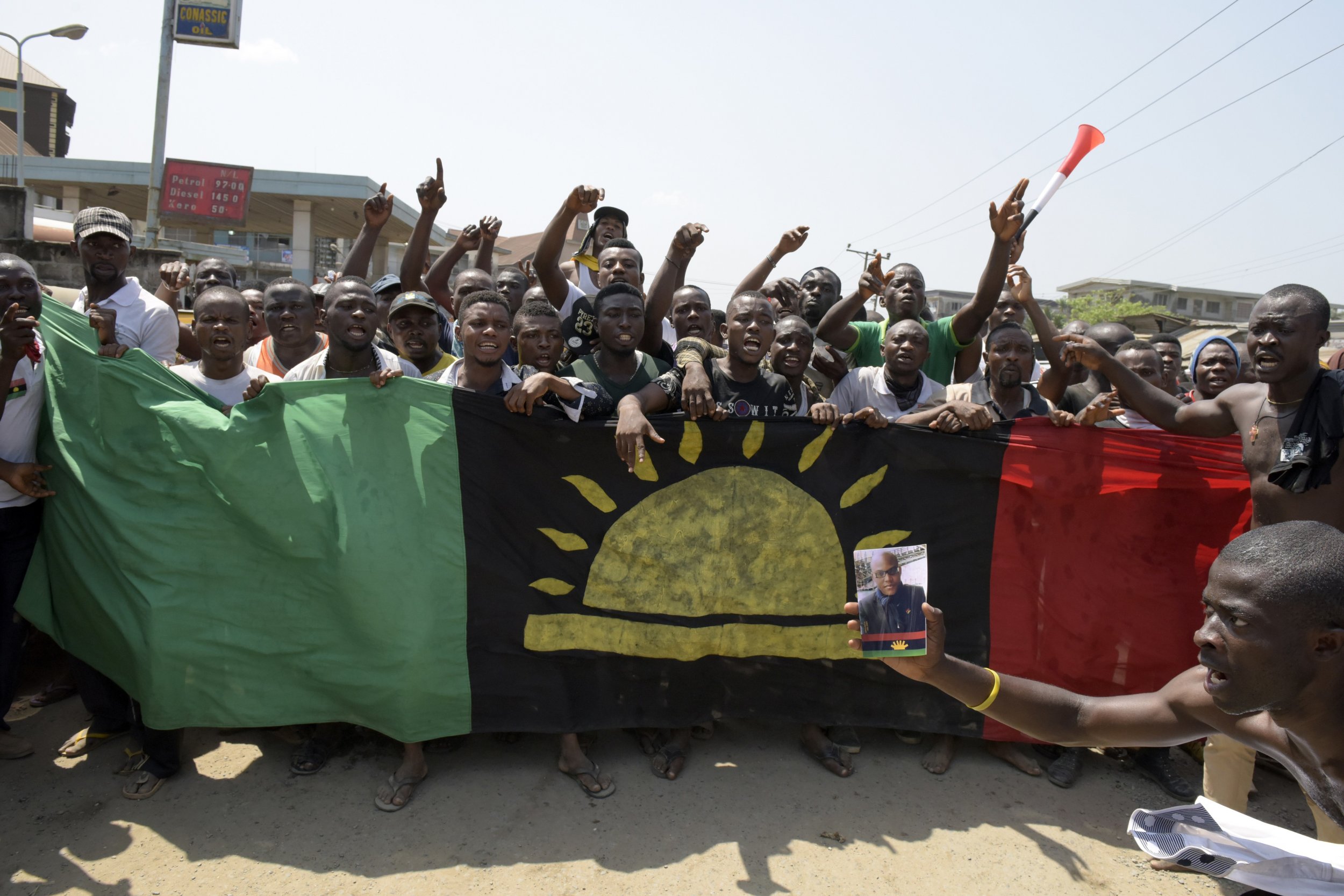 The head of Nigeria's police force has warned pro-Biafran protesters not to take up arms, as Amnesty International tells Newsweek it is investigating alleged killings and human rights abuses of protesters.
Pro-Biafran protests in Nigeria were sparked by the detention of Nnamdi Kanu, a U.K.-based activist and leader of the Indigenous People of Biafra (IPOB), by Nigerian security forces in October 2015. Since then, protesters and police have clashed as pro-Biafrans demand Kanu's release and a referendum on the independence of Biafra, a region of southeast Nigeria which existed as an independent republic between 1967 and 1970. At least 22 protesters and two police have been killed in the demonstrations since October 2015, AP reported on January 18, although pro-Biafran groups maintain the figure is much higher.
Biafrans "will now be in the mode of self defense" after allegedly suffering repeated attacks by Nigerian security forces, according to an IPOB statement issued on February 9 and seen by Newsweek . "We shall defend ourselves with everything and anything necessary to avoid the continual killing of our mothers, fathers and children. This is the time for all Biafrans to rise and defend themselves," said the statement, which also claimed that security forces had killed at least 50 people since October 2015.
Solomon Arase, the Inspector-General of Police (IGP) in Nigeria, warned secessionists that they should "follow appropriate avenues in ventilating their grievances" and that anyone found to be carrying firearms "will be decisively dealt with," in a statement reported by Nigeria's Premium Times.
Amnesty's Director in Nigeria, M.K. Ibrahim, told Newsweek that the human rights organization was investigating allegations of killings, arbitrary arrests and violations of the right to peaceful protest of pro-Biafran groups. These abuses are reported to have occurred in at least four locations—Aba, Enugu, Onitsha, which are all cities in southeastern Nigeria, and Port Harcourt, the state capital of Rivers state in southern Nigeria.
One recent clash between pro-Biafrans and security forces occurred on February 9 in Aba, Abia state, southeastern Nigeria. Kanu's movement claims that 10 pro-Biafrans were killed when Nigerian police and army soldiers allegedly dispersed a private gathering in Aba, Abia state. Brigadier General Lawrence Fejokwu, commanding officer of a local army brigade in Abia state, denied that soldiers killed any protesters but said that some were arrested and handed over to police.
While Amnesty refuses to comment on the legitimacy of Biafra's claim for independence from Nigeria, it will investigate allegations that Kanu has been tortured while in prison. The pro-independence leader has been detained since October 2015, and is due in court on Friday charged with treasonable felony, for which the maximum sentence is life imprisonment. Nigerian President Muhammadu Buhari said in December 2015 that Kanu, a dual U.K.-Nigerian citizen, would not be bailed because he posed a flight risk.
The declaration of Biafran independence in 1967 by Nigerian military officer Odumegwu Ojukwu sparked a three-year civil war with the Nigerian military. More than one million people died in the war, many due to hunger after the Nigerian forces blockaded Biafra's borders. The majority of the population of Biafra came from the Igbo ethnic group.