Biafra: Nigeria's Vice-President Says Secessionists and Ethnic Inciters Will 'Face Full Force of Law'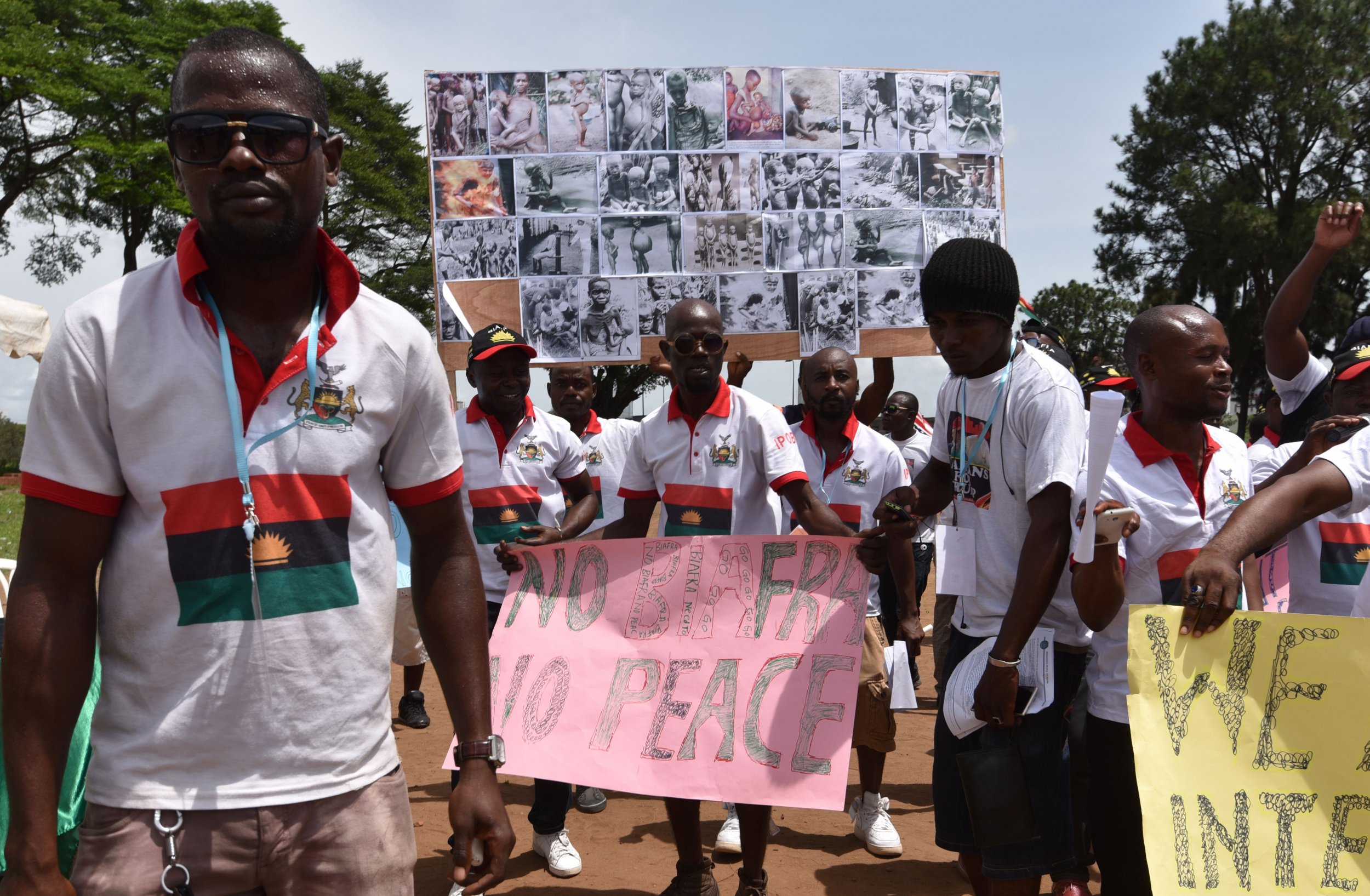 Nigerians agitating for the secession of Biafra or trying to whip up ethnic tensions in the country will be met with the "full force of the law," according to the country's vice-president.
The West African country has witnessed a rise in pro-Biafra sentiment in recent years. Biafra was an independent republic that existed between 1967 and 1970 in southeast Nigeria; it was reintegrated into the country after a brutal civil war, in which at least a million people were killed.
In response, a coalition of groups from northern Nigeria—calling itself the Northern Youth Groups— issued an ultimatum earlier in June, calling for Igbos—an ethnic group that made up the majority of Biafra's population—to leave the north, where the biggest ethnic group is the Hausa-Fulani, or face forced eviction.
The call, which came weeks after commemorations were held for the 50th anniversary of the declaration of Biafra's independence, was condemned by Nigerian politicians. The governor of Kaduna State, where the ultimatum was issued, ordered the arrest of the group's leadership.
Get your unlimited Newsweek trial >
Read more: Ahead of the Biafran War anniversary, ethnic tensions are flaring up in Nigeria again
Vice-President Yemi Osinbajo—currently the acting president as President Muhammadu Buhari recovers from an unknown illness in the U.K.—met with traditional Igbo rulers from southeast Nigeria at the state house in Nigeria's capital, Abuja, on Sunday.
Osinbajo stated that both "the agitations for secession and the ultimatum to leave the Northern states are wrong and a violation of our constitution," according to a statement from the Nigerian government.
"Let us not be in any doubt about the fact that the federal government [of Nigeria] is committed to ensuring that our country remains united. And that anyone who violates the law in the manner such as we are seeing all over the place will be met with the full force of the law," said Osinbajo.
Get your unlimited Newsweek trial >
Calls for Biafran independence have been on the increase particularly since Nnamdi Kanu, a British-Nigerian and the leader of the Indigenous People of Biafra (IPOB), rose to prominence. Kanu was arrested in the Nigerian city of Lagos in October 2015 and charged with treasonable felony. He was held for almost two years without trial before being released on bail in April.
Kanu's detention led to widespread IPOB protests, some of which ended in violence. Amnesty International said that Nigerian security forces had killed at least 150 pro-Biafra activists between August 2015 and November 2016; some were reportedly killed in extrajudicial executions. The Nigerian military denied it had used unnecessary force and said that the protesters were violent.
The Biafran war began in July 1967 after an ex-Nigerian military officer, Odumegwu Ojukwu, declared Biafra's independence on May 30, 1967. Nigerian military forces—with overseas support from countries including Britain—blockaded Biafra's borders, forcing many in the territory to starve to death.
The war was preceded by the flight of many Igbos from other parts of Nigeria to their traditional homelands in the east. Igbos had faced persecution following a 1966 military coup carried out by mainly Igbo officers.
"Nigeria's unity is one for which enough blood has been spilled and many hundreds of thousands of lives have been lost. Many have paid for the unity of this country with their lives and it will be wrong of us as men and women of goodwill in this generation to toy with those sacrifices that have been made," said Osinbajo.
The vice-president has been leading Nigeria for much of 2017 as President Buhari—who fought on the Nigerian side in the civil war—has remained conspicuously absent from office.
Buhari spent almost two months in the U.K. earlier in the year to receive treatment for a mystery ailment. He returned to Nigeria in March, only to depart again on May 7. The Nigerian government has provided little information on his health and has not set a date for his return.
Biafra: Nigeria's Vice-President Says Secessionists and Ethnic Inciters Will 'Face Full Force of Law' | World