Biafran Groups Deny Responsibility for Hijacking Ship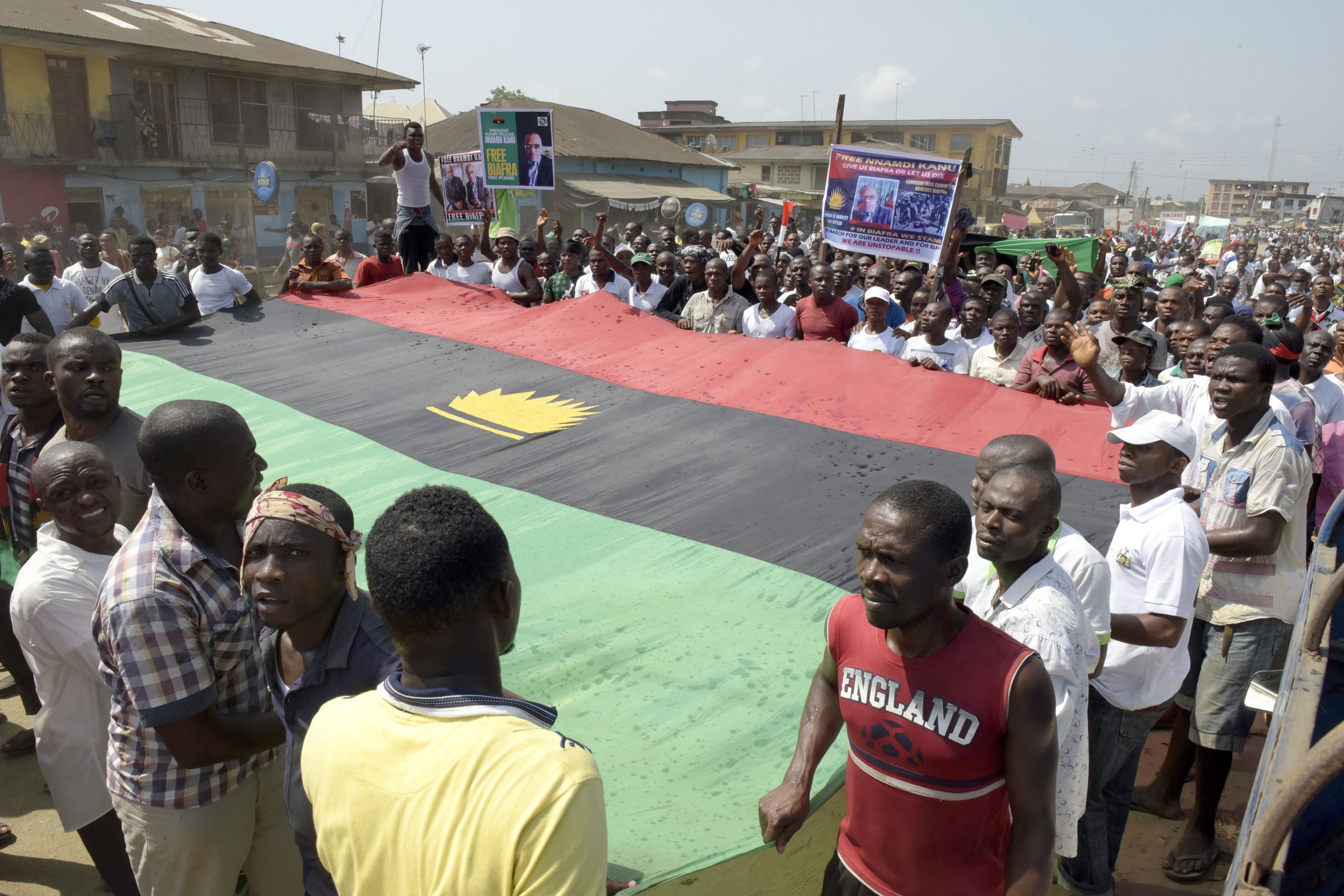 Two prominent pro-Biafran groups have denied responsibility for hijacking a ship off the Nigerian coast and demanding the release of Nnamdi Kanu as a ransom.
Militants claiming to support the Biafran cause hijacked a merchant ship in the Bakassi Peninsula, a disputed region between Nigeria and Cameroon, on Friday. A spokesman for the hijackers known only as General Ben reportedly issued an ultimatum to the Nigerian government to release Kanu within 31 days or they would blow up the ship with crew onboard. Brigadier General Rabe Abubakar, spokesman for the Nigerian military, confirmed the incident to Newsweek on Monday, calling it an "act of sabotage."
Kanu, the leader of the Indigenous People of Biafra (IPOB) group, has been detained by Nigerian authorities since October 2015. The charges against him include treason. He was denied bail on January 29 and his case was adjourned until February 9.
"Many people are sympathetic to the Biafran actualization cause because of the treatment meted to the entire Biafran land," says IPOB's media officer, Emma Powerful whose comments were reported in the Nigerian newspaper Vanguard on Wednesday. She added that "no IPOB member has a hand" in the hijacking.
Another pro-Biafran group, the Movement for the Actualization of a Sovereign State of Biafra (MASSOB), has also denied responsibility for the incident. It went further and suggested the act was carried out by former militants involved in the destruction of oil pipelines and facilities in the Niger Delta during the mid-2000s. Uchenna Madu, a MASSOB leader, said that General Ben was not a separatist angling for a sovereign state of Biafra, but that "some Niger Delta militants have shown interest in working with us," according to AP.
Military spokesman Abubakar told Vanguard that the ship, which he described as a tanker named MT Leonidas, was not in Nigerian waters but was being guarded by the navy of Benin. Newsweek tried to contact Abubakar to confirm these details but he was not immediately available.
Demonstrations calling for an independent state of Biafra have swelled in recent months, particularly following Kanu's arrest in October. Biafra existed as a republic between 1967 and 1970 after Nigerian military officer Chukwuemeka Odumegwu Ojukwu annexed a region of southeastern Nigeria in 1967. The annexation sparked a three-year civil war in which more than one million people died, many due to hunger after the Nigerian military imposed a blockade on Biafra's borders.
Biafran Groups Deny Responsibility for Hijacking Ship | World