Ukraine's collection of Western weapons is set to expand again as Germany is planning to deliver amphibious tanks to Ukrainian troops, who are continuing to defend the country from Russia's invasion.
On Friday, Germany's Federal Minister of Defense Christine Lambrecht announced the decision to deliver a package of 16 BIBER tanks to Ukraine, with the first shipment of six vehicles to begin in the fall. The other ten will follow in 2023.
"With the BIBER, the Ukrainian troops can overcome water or obstacles in battle," the defense ministry said in its statement. "The overall package includes sixteen armored bridge-laying vehicles as well as transport, repair and training."
The package is the latest round of military aid from one of Ukraine's Western allies. Last week, the White House announced that the U.S. would send four more HIMARS missile systems—bringing Ukraine's HIMARS count to 16—as part of its latest round of security assistance to the country.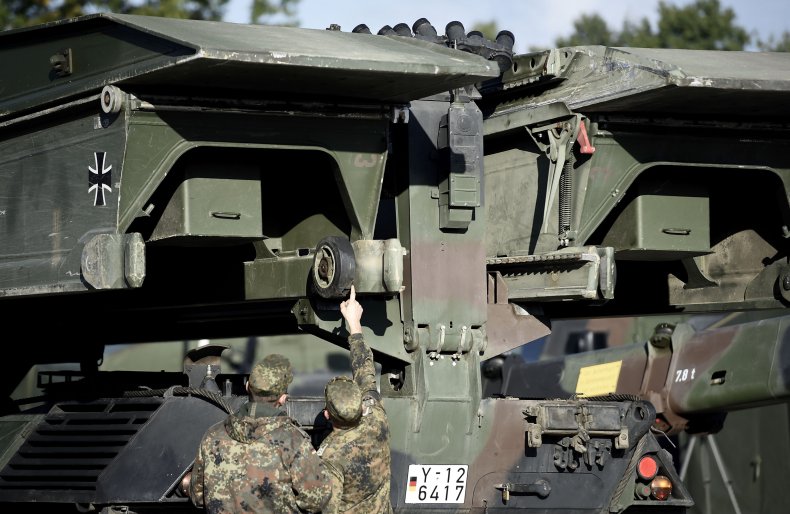 BIBER tanks are armored bridge-laying machines that can be used to help Ukrainian forces cross ravines, ditches or other terrain obstacles that may be up to 20 meters wide.
Recently, Germany has also agreed to transfer three MARS II rocket systems, ten tank howitzers and five anti-aircraft tanks to Ukraine.
Der Spiegel also reported this week that the nation has approved the request from defense company Krauss-Maffei Wegmann to produce an additional 100 tank howitzers, worth 1.7 billion euros, for Ukrainian troops.
The Panzerhaubitze 2000 model howitzers would take several years to complete, and it is unclear when the first package of weapons would be delivered.
Ukraine's growing arsenal comes amid pleas from the Eastern European country for the West to send more artillery as the war continues into its fifth month.
In an address to the U.S. Congress last week, Ukrainian first lady Olena Zelenska told lawmakers, "I'm asking for something I would never want to ask, I am asking for weapons."
"Weapons that would not be used to wage a war on somebody else's land, but to protect one's home and the right to wake up alive in that home," she said. "I'm asking for air defense systems in order for rockets not to kill children in their strollers."
Asked about Americans who don't want the U.S. to spend any more dollars on the war in Ukraine amid rising inflation, Ukrainian President Volodymr Zelensky told Piers Morgan, "These things are secondary."
"Inflation is nothing, COVID is nothing," Zelensky said. "Ask those people who lost their children, their peace, their property at the beginning of the full-scale Russian invasion. Who is thinking about masks and COVID? Who is thinking about inflation?"