Bibi and Obama Make Nice in Washington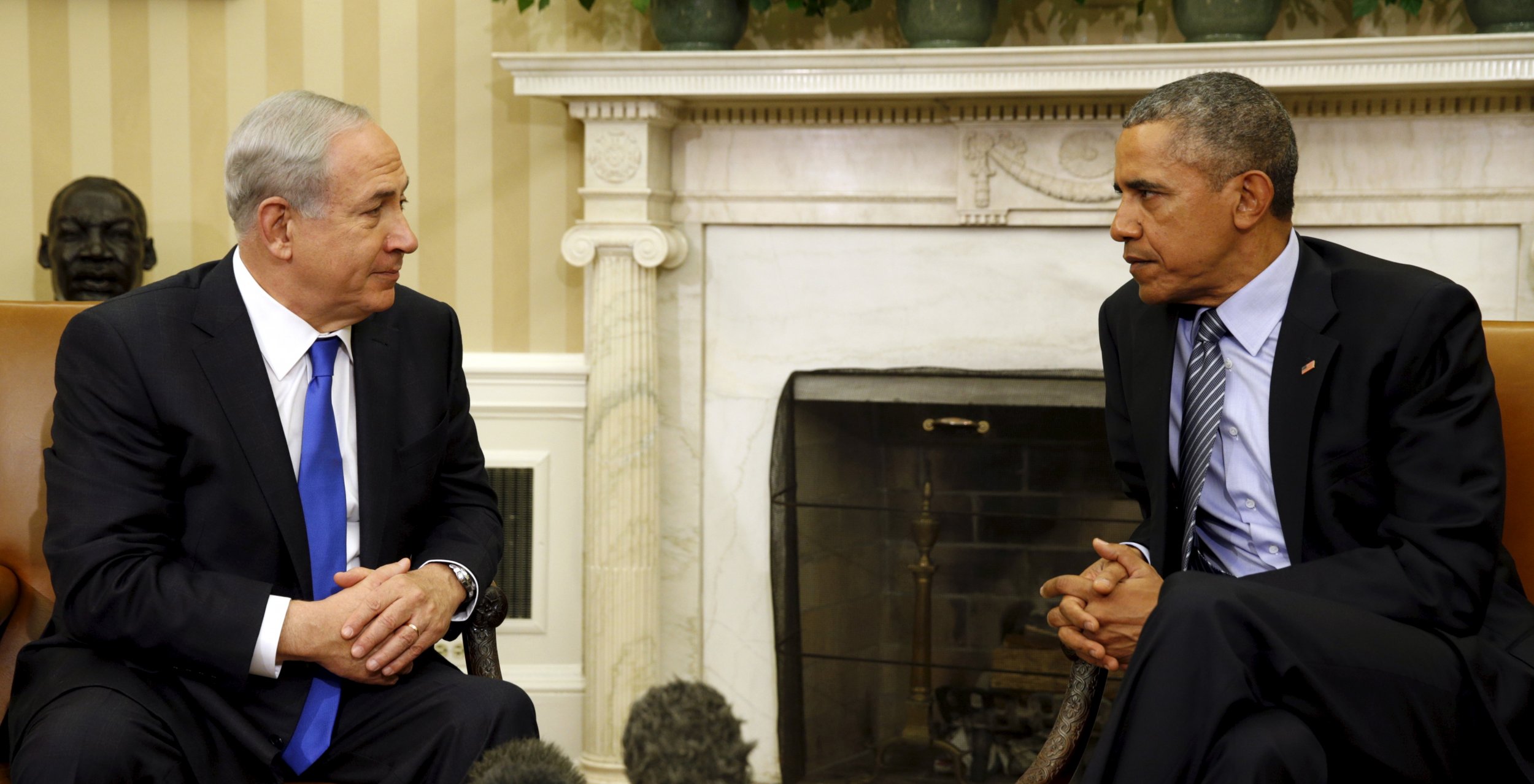 Sitting beside President Barack Obama at the White House on Monday, Israeli Prime Minister Benjamin Netanyahu said he remained committed to a two-state solution with the Palestinians. But after the two leaders met behind closed doors, there were no signs that the stalled Middle East peace process might resume and little indication that the frosty personal relations between Obama and Netanyahu have thawed.
The meeting was the first in more than a year for the two leaders and represented an attempt to repair their relationship, which has been strained by Netanyahu's outspoken condemnation of a U.S.-backed nuclear deal with Iran. The low point came in March when Netanyahu came to Washington at the invitation of Republican leaders and slammed Obama's negotiations with Iran in a speech before Congress.
During a brief photo opportunity before their talks on Monday, the two men appeared awkward and stiff as they made their opening statements. Netanyahu's remarks seemed to contradict a speech he gave in March in which he said a Palestinian state would not occur on his watch. "I want to make it clear that we have not given up our hope for peace," the prime minister said. "I remain committed to a vision of peace of two states for two peoples, a demilitarized Palestinian state that recognizes the Jewish state."
Netanyahu's statement was seen as an attempt to mollify Obama while continuing to insist upon conditions for peace supported by the Israeli leader's right-wing coalition. Palestinians have consistently rejected Netanyahu's demand for recognition of Israel as a Jewish state, arguing that doing so compromise the rights of non-Jewish Israelis who make up 20 percent of the nation's population. They also argue that they've already recognized Israel as a country.
The meeting came at a tense time in Israel. Since the beginning of October, 77 Palestinians have been killed in shootings and clashes with Israeli forces in the occupied Palestinian territories and Israel, while 10 Israelis have been killed in knife and gun attacks by Palestinians.
In his statement, Obama condemned the latest round of Palestinian violence and said he supports Israel's right to defend itself. But he also said he wanted to discuss Netanyahu's ideas on how Israel can "lower the temperature between Israelis and Palestinians" and "how we can make sure that legitimate Palestinian aspirations are met through a political process."
During the remainder of his time in office, however, the president has written off resolving the Israeli-Palestinian conflict, White House officials said, adding the best he can hope for is to help the two sides put a damper on the recent violence. The officials say Obama doubts Israelis and Palestinians can even resume negotiations following the collapse of a U.S. brokered peace effort last year.
"This is really the first time since the first term of the Clinton administration where we have an administration that faces a reality where the prospect of a negotiated two-state solution is not in the cards in the time that's remaining," Robert Malley, Obama's top Middle East adviser on the National Security Council said in a November 6 conference call with reporters.
Netanyahu came to Washington on Monday with a set of what Israeli officials called "confidence-building measures" to reduce friction with the Palestinians, Israeli officials said. The measures included the removal of Israeli checkpoints and other ways to ease the movement of Palestinians in the West Bank. Other proposals are aimed at improving economic conditions for Palestinians living in West Bank areas under Israeli control, such as easing restrictions on water usage, infrastructure projects and other building plans.
These measures will not include an Israeli freeze on the construction of new Jewish settlements in the West Bank or additional homes in existing settlements, the Israeli officials said. A freeze on settlement activity is a key Palestinian demand for the resumption of peace talks, which they hope will result in the creation of an independent Palestinian state in the West Bank, with most of Arab East Jerusalem as its capital.
Netanyahu did not mention these measures in his opening statement—an omission that analysts ascribed to political sensitivities within his ruling right wing coalition. Some hard-line members oppose any gestures toward the Palestinians until the current round of violence stops.
On Monday, Obama and Netanyahu also discussed a new 10-year agreement on U.S. military aid to Israel after the current one expires in 2017. Under that deal, the U.S. has provided Israel with $3.1 billion in military assistance annually, making the Jewish state the largest recipient of U.S. foreign aid. Israeli newspapers quoted Netanyahu as saying he hoped to boost the level of U.S. military aid to $5 billion a year under the new agreement.
In what appeared to be an effort to counterbalance his troubled personal relationship with Netanyahu, Obama noted that U.S. security cooperation with Israel has been unprecedented during his administration. "The military assistance that we provide we consider not only an important part of our obligation to the security of the state of Israel," he said, " but also an important part of U.S. security infrastructure in the region."
U.S. officials said their discussions on the next decade of U.S. military assistance would create parameters for number of Israel's military requests, including one for state-of-the-art F-35 warplanes. The officials made a point to mention that, contrary to some reports, the U.S. has no plans to provide Israel with its Massive Ordnance Penetrator, a 30,000-pound bomb that can destroy fortified underground installations like those that make up portions of Iran's nuclear program. "The Israelis don't have a bomber that can deliver it," said Michele Flournoy, who served in the Obama administration as an undersecretary of defense for policy.
The discussions over future military aid also represented a tacit acknowledgement by Netanyahu that the Iran agreement he so forcefully opposed is now a done deal. Earlier this year, Netanyahu rebuffed a U.S. proposal to begin the talks on military aid, saying he preferred to wait and see if Congress succeeded in killing the deal, as he had urged them to do. In his statement, Netanyahu sidestepped the Iran nuclear accord, while Obama said "it's no secret that the prime minister and I have had a strong disagreement on this narrow issue." The president said he would now seek "common ground" with Netanyahu to make sure sure Iran doesn't acquire nuclear weapons.
Netanyahu's visit was clouded by a controversy over his appointment of an outspoken conservative critic of Obama as a new government spokesman. Before his appointment, Dan Baratz used his Facebook page to brand Obama an anti-Semite and mock Secretary of State John Kerry as having the intellect of a 12-year-old. White House officials said they didn't expect the matter to come up in Obama's talks with Netanyahu.
But at least one prominent American Jewish leader has called on Netanyahu to fire Baratz. "This whole affair is unfortunate because it comes at a very critical and sensitive moment in U.S.-Israeli relations, a time that was meant for repair," Abraham Foxman, former national director of the Anti-Defamation League, told the Israeli newspaper Haaretz. " If it was a U.S. official saying similar things about Israeli officials, we would be demanding that he be fired."