Bibi's Pyrrhic Victory Over Obama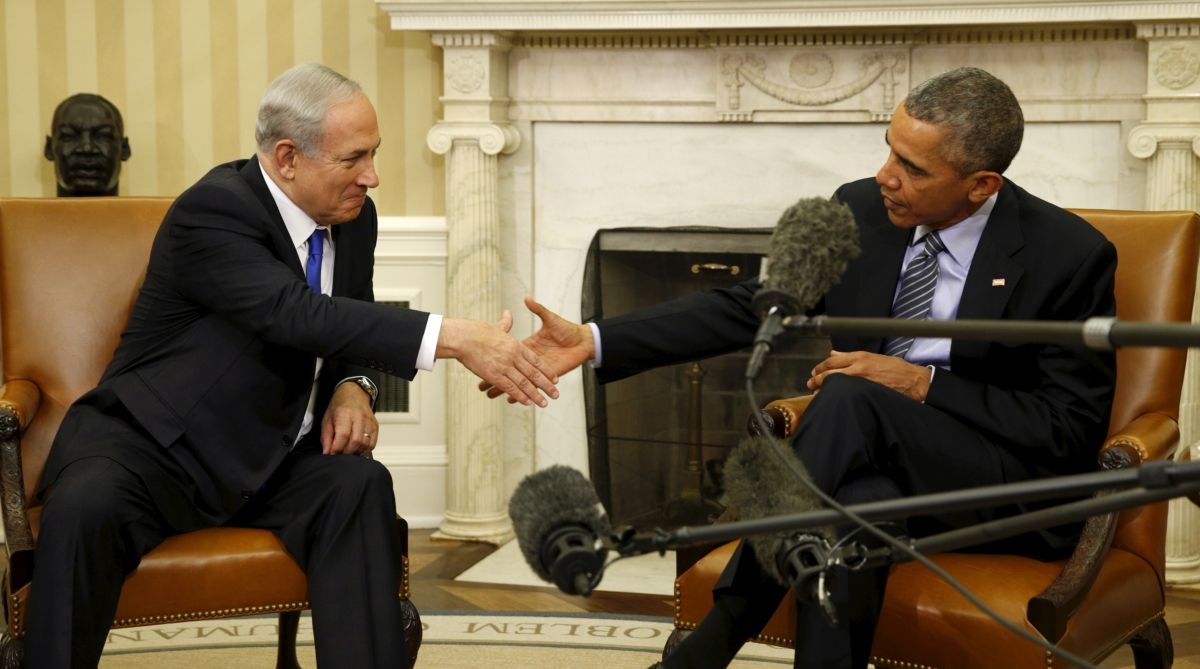 For nearly seven years, Americans and Israelis have watched the relationship between President Barack Obama and Prime Minister Benjamin Netanyahu deteriorate. The breakdown began soon after they both took office in 2009, when Obama demanded a halt to Jewish settlement construction in the West Bank, and Bibi, as he is popularly known, defiantly erected more housing units. Their mutual animosity grew last year with the collapse of U.S.-brokered Middle East peace talks, after which a senior White House official dismissed Netanyahu as "chickenshit." But the relationship ruptured over Netanyahu's opposition to the Iran nuclear deal, which Obama views as his foreign policy legacy. In March, Netanyahu outraged Obama and most Democrats when he accepted a Republican invitation and spoke before Congress, brazenly urging lawmakers to side with him over their own president.
With this toxic backdrop, expectations for a reconciliation were low when Netanyahu came to Washington earlier this week for his first meeting with Obama in more than a year. Yet the Israeli leader came away from his talks surprisingly upbeat. Smiling broadly after his sit-down with the president on Monday, Netanyahu described their tête-à-tête as "fantastic," adding: "It may have been the best meeting that we've ever had."
Netanyahu and Obama aren't suddenly best friends. Yet judging by what was accomplished in Washington, the prime minister's assessment cannot be shrugged off as spin. Bibi, signaling that he now understands the Iran nuclear deal will go forward, agreed to move past his feud with Obama and focus instead on ways the U.S. and Israel can make sure Iran keeps its part of the agreement. Netanyahu's decision not only reduced diplomatic tensions, it also promises to revive the two countries' intelligence sharing, which fell off over the past year.
Better yet for Bibi, most of the two-and-a-half-hour Oval Office meeting focused on boosting American military aid to Israel from $3.1 billion annually to as much as $5 billion a year in the next decade. Over the summer, Netanyahu had refused to talk about the new aid package, fearing it would compromise his principled opposition to the deal. Now that it's done, Netanyahu should see a boost of support at home, as Israel relies on American largess to fund its military and intelligence agencies.
But most significantly for Netanyahu, Obama effectively gave up for now on trying to broker a peace deal between Israel and Palestinians, the other great irritant in U.S.-Israeli relations after Iran. White House officials made it clear the president won't be devoting much time to the thankless Middle East peace process, adding he doesn't foresee a resumption of Israeli-Palestinian negotiations, much less any final peace accord, before he leaves office. Netanyahu told reporters after his meeting with Obama that this time, the subject of Israeli settlements didn't even come up. This is exactly what Netanyahu has always wanted from Obama—relief from American pressure to strike a deal with the Palestinians and, most importantly, U.S. recognition that there is currently no solution to the conflict and that it's preferable to simply manage it until conditions favor renewed diplomacy.
Ben Caspit, a columnist for Al Monitor, an online Middle East publication, notes Netanyahu sought to demonstrate during his Washington visit that he hasn't lost any clout as a result of his running battles with Obama over Iran and the Palestinians. "What Netanyahu is telling the Israelis is, 'Look I proved that it's possible to raise the banner of rebellion, even when confronting the president of the United States. It is possible to stand on principle, rather than succumb, until the very last moment, and it is possible not to pay a price for that,'" Caspit wrote Wednesday.
Obama seemed to view Netanyahu's visit through his customary pragmatic lens, downplaying their differences and emphasizing his commitment to Israel's security. "We have closer military and intelligence cooperation than any two administrations in history," Obama said before he and Netanyahu began their talks. The president also has informed Congress that Israel will be the first foreign country to receive the stealthy F-35 advanced fighter plane next year. On a symbolic level, Obama dispatched Major General Joseph Dunford, the new chairman of the joint chiefs of staff, to Israel last month on his first overseas trip.
Eager to see his policies protected by a Democratic presidential victory in 2016, Obama seemed to see no point in another clash with Netanyahu, especially one with little upside. Such drama would only provide ammunition to Republicans who have never stopped trying to make support for Israel a partisan issue. Netanyahu's outreach to Democrats during his visit also appeared to stanch the bleeding caused by his speech to Congress.
But Bibi's success in Washington remains limited. Just because his talks with Obama went smoothly doesn't mean the two men now agree on Iran, the Palestinians or Israel's challenges. Obama's withdrawal from the peace process means it's now entirely Netanyahu's responsibility to manage an occupied Palestinian population whose youth are already wielding knives against Israelis and who are likely to grow more despairing in the absence of any political process. Obama also doesn't appear to be rushing to Israel's defense as the European Union, the country's largest trading partner, implements regulations that now require some goods produced in Israeli-occupied territory to be labeled "made in settlements, rather than "product of Israel."
Aaron David Miller, a former State Department Middle East adviser and now vice president at the Wilson Center, adds there is still a possibility that before Obama leaves office, he could make a final attempt at diplomacy by publishing the secret parameters for Israel's borders that he drew up last year, leaving them as a guideline for his successor, which would likely irritate Netanyahu. "Then the only question," Miller wrote Wednesday in Foreign Policy, "is how long it will take the new president and Bibi to start annoying one another."