Bicyclist in Alaska Survives Attack by 500-Pound Bear
A man was riding his bicycle along a riverbed in Alaska on Tuesday, when police said he was mauled by a brown bear.
As he was riding his bike in Cantwell, Alaska, the man, who police didn't identify, said he saw the bear running towards him from 10-15 yards away. He got off of his bicycle and started yelling at the bear.
"Just prior to the bear making contact, the victim fell to the ground and onto his back, covered his head and believes he kicked at the bear," according to a description of the incident written by the Alaska Department of Public Safety.
The bear bit the man's lower right leg just below his knee. After making contact, the animal "immediately retreated into the vegetation the same way it approached," Alaska Wildlife Troopers wrote.
The victim estimated that the bear weighed 500 pounds and said he didn't "notice anything out of the ordinary prior to the mauling but did say he noticed bear tracks in the snow."
Following the attack, the man called a friend to ask for a ride. He then went to a medical clinic to treat puncture wounds and laceration but didn't seek further medical care, according to police.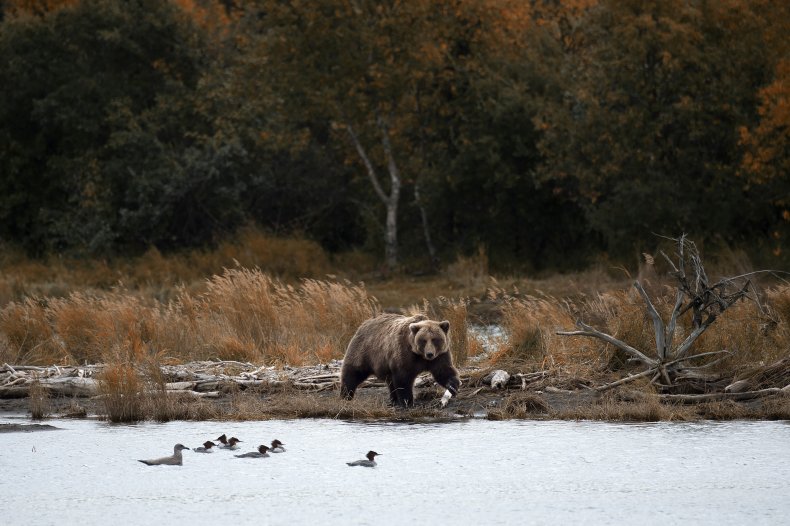 Troopers said that the man was carrying a firearm at the time of the attack but didn't use it. They say that no "additional response or investigation is required" following the mauling.
According to the National Park Service, bear attacks are rare, and that the animals are typically "only interested in protecting food, cubs, or their space." The park service advises those who are attacked by brown or grizzly bears to play dead by lying flat on their stomachs and clasping their hands behind their neck.
"Fighting back usually increases the intensity of such attacks," the National Park Service warns. However, it adds that if the attack "persists," victims should "fight back vigorously" and attempt to hit their bear in the face.
On October 16, a hunter in Wisconsin was bitten by a black bear while perched in a tree nearly 20 feet above the ground. The bear climbed up the tree and bit the man on the right side of his back before retreating.
In September, a couple was attacked by a black bear while picnicking in North Carolina. Both individuals went to a nearby hospital and received treatment for injuries following the attack. They were released from the hospital later that day.