Bicyclist Attacks Anti-Masker in Vancouver, Smashing Car Window
A man was sitting inside a vehicle participating in what he said started as a "peaceful" car rally in Vancouver when another man began striking the vehicle with a bicycle, eventually causing a window in the vehicle to shatter.
Alexander Lasarev, who identified himself as a stand-up comedian online, shared video footage of the incident on YouTube, which Lasarev wrote in the video caption took place on March 28. In the video, Lasarev is seen sitting in the passenger seat of a vehicle while speaking into a megaphone to passers-by on the sidewalk.
Lasarev repeats encouragement to prevent the spread of COVID-19 by social distancing and wearing masks in what he called sarcasm.
"Isolate yourselves. Wear your masks. Social distance. Just trust the narrative," Lasarev said near the beginning of the video. "You've never been lied to about anything. The government loves you. Trust the media. You're all doing a great job. Keep wearing those masks, guys."
About three minutes into the video, Lasarev continues: "There is definitely not a psychological operation happening when you're convinced of a reality that's based on fear that has nothing to do with what's actually happening."
As he finishes his sentence, a maskless man runs up to Lasarev's window and yells, "f*** you" and "shut the f*** up." The man begins hitting Lasarev's megaphone, to which Lasarev responds: "You shut the f*** up."
The man then picks up his bicycle and begins slamming it into the passenger door. Lasarev briefly rolls up the window before rolling it back down and continuing to speak into the megaphone. Lasarev tells the man with the bicycle he is "insane" and says he is trying to "wake up" people who he says have been "psychologically manipulated."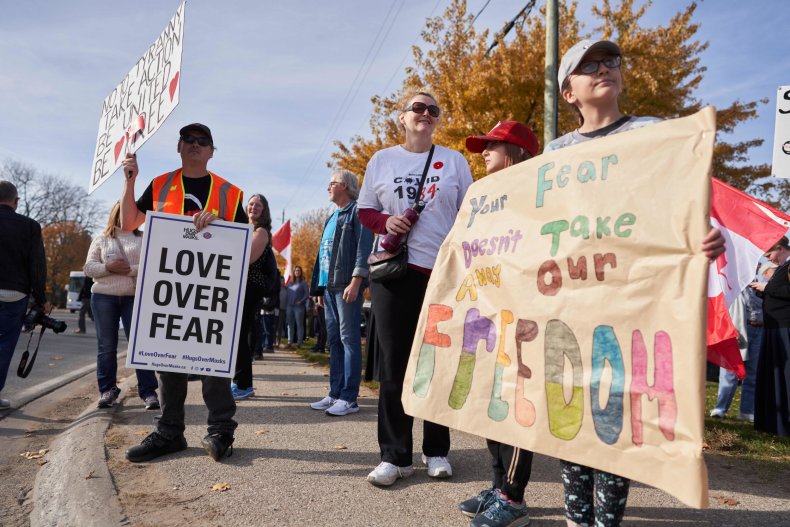 The man with the bicycle then reappears and, as the passenger seat window is once again starting to roll up, the man smashes the bicycle into it, causing the glass to break. At that point, the man with the bicycle walks away from the vehicle and back onto the sidewalk.
"Are you happy now?" Lasarev asks after the window shatters.
"I am," the man with the bicycle can be heard responding.
Lasarev continues speaking into the megaphone before the vehicle drives further down the street and lets Lasarev out to shake off the glass.
According to the Victoria News, Vancouver police recommended assault charges against the man with the bicycle and took him into custody.
Newsweek reached out to Lasarev and the Vancouver Police Department for comment and will update this article with any response.