Iraqi Parliament Votes to Outlaw Americans in Bid to Reverse Trump Ban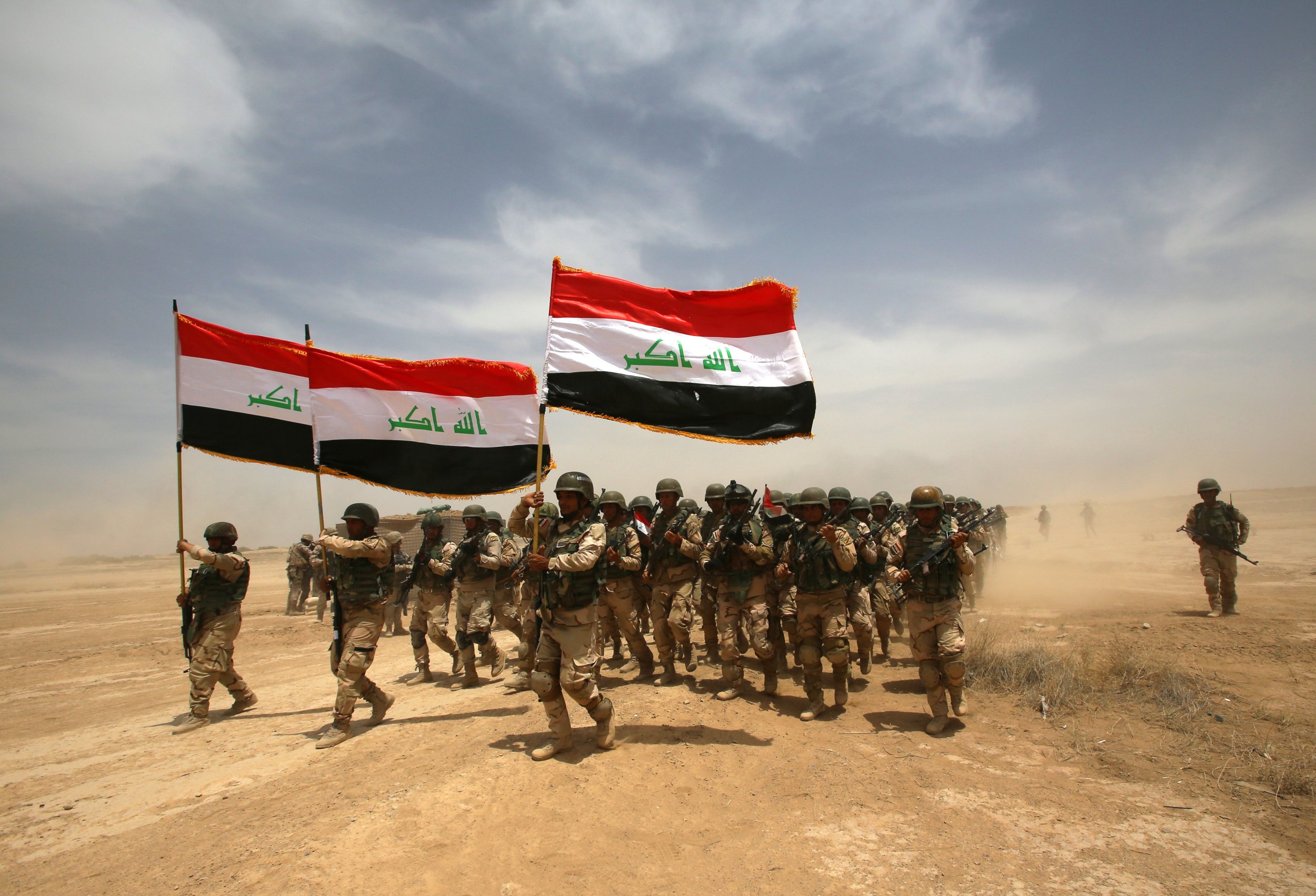 As the outcry against President Donald Trump's travel ban continued in Baghdad on Monday, Iraqi lawmakers voted to call on the coalition government to implement an identical visa ban on Americans if it did not withdraw the ban.
The vote to demand a tit-for-tat measures against the new U.S. administration passed by a majority, lawmakers told the Associated Press. It remained unclear if the call was for a blanket ban on all American nationals, or if government and military personnel were to be exempted.
Iraqi officials told Newsweek, however, that while the government is likely to enact countermeasures if Trump does not climb down, U.S. personnel involved in the fight against the Islamic State militant group (ISIS) were likely not to be included.
Ahead of the vote, an Iraqi security official confirmed that Baghdad is "thinking that they should start with Americans who have nothing to do with the government and those who are outside the embassy and the international coalition." He said it would not "affect the need of Americans in Iraq for battles against ISIS."
The source continued: "[Iraqi Prime Minister Haider] al-Abadi is very embarrassed in front of the parliament parties and must disrupt the visas for American civilians and non-military [personnel]."
Trump's order to outlaw Iraqis from entering the U.S. for 90 days—alongside six other majority-Muslim countries in what he said in an executive order was a bid to increase American safety from "radical Islamic terrorists"—bewildered Iraqi officials and left many feeling betrayed.
Thousands of the country's forces have waged the ground battles that wrestled the Iraqi cities of Tikrit, Ramadi and Fallujah from ISIS control. They are now mid-way through an assault on the country's second largest city, ISIS-held Mosul, alongside Shia paramilitary groups, Kurdish peshmerga forces and the backing of U.S. airstrikes and some 5,000 American troops.
Lukman Faily, who completed his role as Iraqi ambassador to the U.S. in June last year and who will not be able to travel to the U.S. as a consequence of Trump's ban, said the vote, kickstarted by Trump's order, will "certainly have an adverse impact" on the war against ISIS.
"We are in a crazy time. If our parliament decides certain issues, it will become very difficult for our prime minister not to follow it up," he said before the vote.
"I think anything associated with the war, with the fight against Daesh , that will be put on exception. Everything else is up to negotiation," he said, using an Arabic acronym for ISIS.
Read more: U.S. spy veterans say Trump's Muslim-country visa ban will hurt recruitment
The U.S.-led coalition against ISIS, in its first comments on the vote, said in a statement to Newsweek that it would be "inappropriate to speculate on the ramifications of today's parliamentary measure."
Writing in an email, L. Col. John Dorrian, acting coalition spokesman, said: " We continue to support our Iraqi partners in the fight against ISIL, including air and artillery strikes, advice and assistance, training and intelligence surveillance and reconnaissance. President Trump has made clear that the defeat of ISIS is a top priority, and we will continue the campaign in that interest."
Anger in Baghdad was initially fueled earlier this month when Trump told the CIA that it should have stolen Iraq's oil after invading the country. Another strain on U.S.-Iraqi relations is the Trump administration's referral to 9/11 in the executive order, an attack that involved no Iraqi. The grouping of Iraqis into nationals banned by the world's largest country is a dent to the pride of a people hoping to emerge from more than a decade of war.
"We are not clear where are the boundaries in the U.S. and their relationship to Iraq. Last week, they were talking about oil, now they are talking about banning Iraqis," says Faily. "In the executive order, it talks about 9/11, there is no association of 9/11 with Iraq. It is unjust and unfairness. Iraqis feel they are being betrayed."
U.S. diplomats have expressed similar alarm at the executive order. A memo from the U.S. embassy in Baghdad, obtained by the Wall Street Journal, listed the potential ramifications of the order. It said that a top Iraqi general fighting ISIS would not be able to visit family, while 62,000 Iraqis who had hoped to be relocated for helping the U.S. in the country would be left in limbo.
Looking to pre-empt the parliament vote that would call for a ban on Americans, the Iraqi Foreign Ministry on Monday called on the Trump administration to reconsider the travel ban. "It is necessary that the new American administration reconsider this wrong decision," it said in a statement. "We affirm Iraq's desire to strengthen the strategic partnership between the two countries."
But Faily, while hoping that both sides continue to cooperate, believes that Trump is heading down the wrong path, one that has left a feeling of mistrust in Baghdad and reminders of the U.S. troop withdrawal in 2011. It could ultimately force Iraq to deal with the threat of ISIS on its own, he says.
"In 2011, U.S. troops left without defending Iraq, now these actions are similarly considered by the Iraqis as the U.S. not being a reliable partner. These steps are targeted at the wrong people. It's propaganda," he says. "We don't want to [fight ISIS] alone, but, if we have to, then unfortunately that's a step we have to take."