In a Bid to Weaken America, China Extends a Hand to the States | Opinion
On April 19, Hu Xijin, the editor-in-chief of the Global Times, one of the leading official English-language newspapers in China, wrote a disturbing piece titled "Cooperate with US states on virus fight, not federal government." Of course, Hu must be a member in good standing of the Chinese Communist Party, as is expected for the leader of one of China's most important outward-facing propaganda organs. As a result, his article can be considered as official policy—unlike, say, an opinion piece by his counterpart at The New York Times.
Hu's piece lays out one of China's efforts to compound America's challenges as we seek to rebound from the coronavirus outbreak.
He begins with the justification: America—and specifically, President Donald Trump and his Cabinet members—have been "way too mean toward China." In retaliation, the China should prioritize U.S. states' "purchase orders for emergency medical materials before dealing with those from the [federal government]."
So as not to be misunderstood, Hu makes things abundantly clear: Ahead of the November election, China will work with the states to counter Washington's efforts to decouple from China. China can do this, Hu writes, because "the international standing of China is built on strength." Hu concludes, "Let's wait and see what Washington can do to us."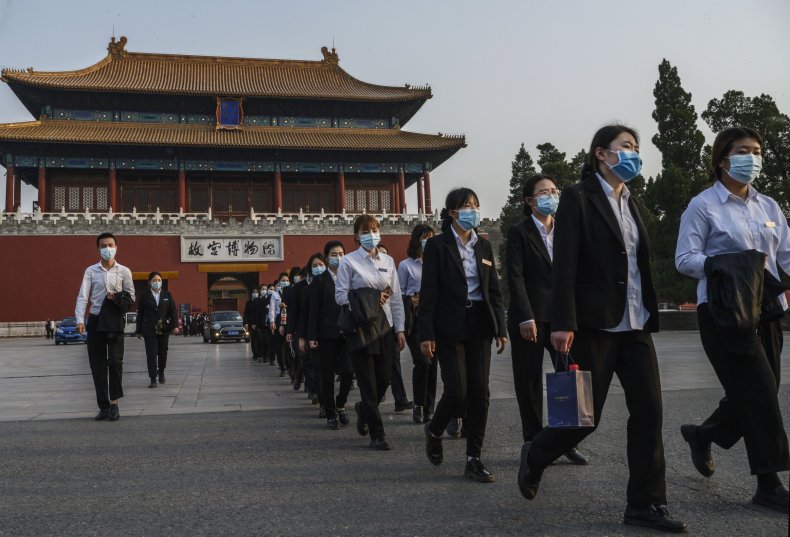 There are also a few threats packed into the Global Times editor's comments, some more obvious than others.
China is attacking our form of government by trying to drive a wedge between Washington and the states. America's federal system is a strength. The Constitution's federal nature does two very important things, one of which isn't well understood. First, it places power where it needs to be, with the federal government having primacy in national defense and diplomacy, while the states focus on matters that can vary from state to state, such as education, the justice system and infrastructure.
The second aspect of federalism is that it serves as a check and balance on government power, just as the national government's three co-equal branches, the legislative, executive and judicial, do. The ultimate purpose of using government power to limit government power is to secure "Life, Liberty and the pursuit of Happiness."
Thus, as governors and mayors have responded differently to the outbreak, with little connection between infection rates and fatalities and the often draconian policies enacted to "flatten the curve," we see an important public debate opening up over when and how to restore some degree of normalcy to America. If there was an inviolable one-size-fits-all federal pandemic decree, this debate would be largely uninformed by the unique circumstances on the ground—in this case, states being the laboratories of democracy in a more literal sense than originally intended.
But this state flexibility also has a downside when it comes to international relations and nations, such as China, that are neither allies nor friends. And even state dealings with friendly nations can be fraught, as seen in how quickly Maryland's purchase of 500,000 COVID-19 test kits from South Korea was politicized against the Trump administration, largely ignoring the personal connection of Maryland's Korean-born first lady.
Other than selectively allowing the exports of non-defective personal protective equipment and other goods useful in the public health effort to counter the virus, how else might China exploit the situation?
We see one example in Italy. That nation, among the hardest hit in the world, has been weakened by a series of corrupt and ineffective governments. China saw this as an opportunity, buying up key Italian industries and staffing them with Chinese nationals.
Now, China, after engaging in a series of hostile actions—covering up the origins of the virus, lying about the virus' transmissibility and maximizing the virus's destruction overseas by encouraging international flights out of Wuhan while simultaneously enacting an internal quarantine on the virus's ground zero—has moved to take further advantage of a situation of its own making by moving to buy Italian businesses selling at a 40 percent discount to their pre-COVID prices.
The Italian government has responded by expanding its so-called golden power rules aimed at protecting strategic industries such as defense, transportation and high-tech, by adding health, finance, insurance, raw materials, robotics and media to the list of sectors subject to protection from foreign acquisition. But bankruptcy still offers an opening for China to strengthen its position in the European Union's third-largest economy (after Germany and France).
Seeing the threat from China, India has also moved to protect key industries from China, amending its foreign direct investment policy on April 18 to require government approval of asset sales from all neighboring nations to "curb the opportunistic takeover" by China of Indian companies struggling with coronavirus crises.
In America, China's path of least resistance to troublemaking will to be focus on those states with the greatest fiscal vulnerability. Before the pandemic, Pennsylvania and Illinois had less than a week's expenses on hand. In addition, both Illinois and California have large, unfunded pension obligations for their government employee unions that have ballooned with the decline in investment values.
Furthermore, California has, since 2008, tried without success to attract investment in its high-speed rail project linking San Francisco to Los Angeles. China might seek to extend its Belt and Road Initiative to California by taking a large equity stake in the state's stalled rail project with the object of giving Trump a pre-election black eye. Opportunities for quick propaganda victories will likely present themselves in other states as well.
In the fight against the coronavirus, governors and mayors should work with Washington, not Beijing.
Chuck DeVore is a vice president at the Texas Public Policy Foundation, a former California legislator and a lieutenant colonel in the U.S. Army retired reserve.
The views expressed in this article are the writer's own.