Biden Up 10 Points Over Trump in Wisconsin Following Nearly Two Weeks of Kenosha Protests
As Democratic presidential nominee Joe Biden heads to Wisconsin on Thursday, new polling shows the former vice president ahead of President Donald Trump by 10 percentage points in the state after nearly two weeks of protests in Kenosha.
The latest polling data from Morning Consult, last updated on Tuesday, showed Trump with just 42 percent support in Wisconsin, while Biden was backed by 52 percent of the state's voters. That marked a slight decline for Trump from a survey Morning Consult carried out from August 21 to 30, when the president was backed by 43 percent of Wisconsin voters, compared with Biden's 52 percent.
On Thursday, Biden will hold a community meeting in Kenosha, which has been rocked by protests and riots in the wake of the August 23 shooting of Jacob Blake in the city. Blake, a 29-year-old Black man, was shot seven times in the back just outside his vehicle by a Kenosha police officer while his children were in the car's back seat. The shooting was captured on video by a bystander, quickly going viral online and sparking widespread outrage.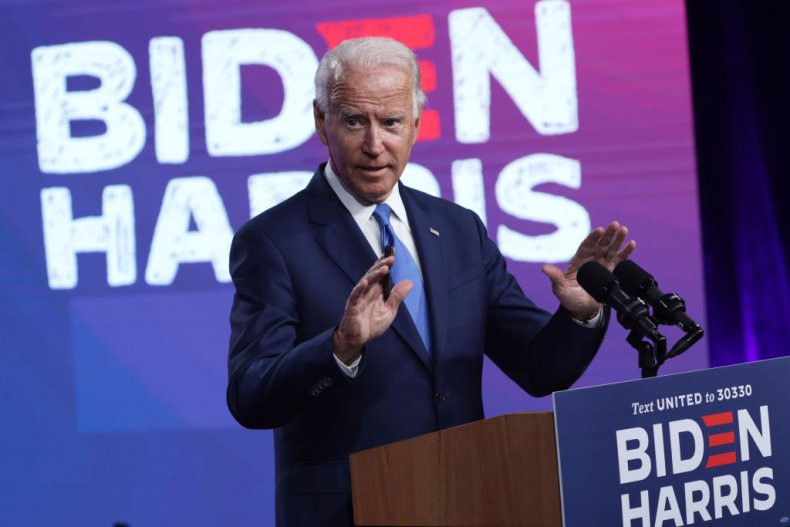 Trump visited the city this week, after a series of incendiary remarks critical of protesters and supportive of "law and order," the president's new campaign slogan. A white 17-year-old supporter of the president, Kyle Rittenhouse of Illinois, was charged with fatally shooting two men as he came to the city along with many others carrying guns and intending to counterdemonstrate. Trump appeared to defend Rittenhouse on Monday, suggesting he was acting in self-defense.
"That was an interesting situation," he said during a press conference. "He was trying to get away from them, I guess it looks like, and he fell, and then they very violently attacked him."
Local leaders, including Wisconsin's governor and Kenosha's mayor—both Democrats—urged the president not to come to the city, raising concerns his visit would lead to more tensions and violence. But the president dismissed their concerns as partisan attacks, once again stressing his law and order message while criticizing Democrats.
Biden has accused Trump of stoking violence across the country. "This president long ago forfeited any moral leadership in this country," the Democratic candidate said in a Monday speech. "He can't stop the violence, because for years he has fomented it."
The Morning Consult poll in Wisconsin appears to give Biden better odds than other recent surveys. But the results of a Fox News poll released this week showed the Democrat ahead by 8 percentage points, with the support of 50 percent of the state's voters, compared with just 42 percent who backed the president. A CNBC/Change Research poll from August showed a somewhat closer race in Wisconsin, with Biden ahead by 5 percentage points.
Wisconsin is seen as a key battleground state in the 2020 election. The state went blue for President Barack Obama in 2008 and 2012. But it narrowly flipped red for Trump in 2016, when the president won 47.2 percent of the vote, compared with 46.5 percent for Hillary Clinton. Before 2016, Wisconsin hadn't gone for a GOP presidential candidate since 1984.